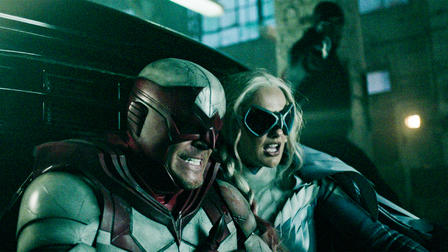 Tytuł odcinka: "Hawk and Dove"
Polski tytuł odcinka: "Jastrząb i Gołąb"
Pierwsza data emisji: 19 października 2019
Reżyseria: Brad Anderson
Scenariusz: Akiva Goldsman
Twoja ocena: [yasr_visitor_votes size="medium"]
Hank Hall znany jako Hawk i Dawn Granger aka Dove są parą mścicieli mających nadzieję na porzucenie fachu superbohaterów po zamknięciu ostatniej operacji. Kiedy Dick pojawia się w ich progu z Rachel, szukając bezpiecznej przystani dla nękanego demonami dziecka, jego ponowne pojawienie się po wielu latach wywołuje konflikt między całą trójką. Wciąż przeżywająca traumę po śmierci matki, Rachel stara się zaufać Dickowi. Ale wszystkie dzielące ich różnice należy odłożyć na bok, gdy niebezpieczna Nuclear Family wysłana przez Organizację zostaje aktywowana wyłącznie w celu schwytania Rachel.
W rolach głównych:
Brenton Thwaites – Dick Grayson/Robin
Anna Diop – Kory Anders (tylko uwzględniona w napisach)
Teagan Croft – Rachel Roth

Gościnnie występują:
Lindsey Gort - Amy Rohrbach
Reed Birney - Dr. Adamson
Alan Ritchson - Hank Hall/Hawk
Minka Kelly - Dawn Granger/Dove 
W pozostałych rolach:
Jeff Clarke – Nuclear Dad Melody Johnson – Nuclear Mom Jeni Ross – Nuclear Sis
Logan Thompson – Nuclear Biff
Farid Yazdani – Charlie Tomaso Sanelli – młody Dick Grayson
Jordan Pettle – oprawca
Joel Labelle – zbir w garażu #1
Steve Rizzo – zbir w garażu #2
---
Odcinek, który mógłby się wydawać tylko wypełniaczem mającym posłużyć do zaprezentowanie dwójki nowych bohaterów okazuje się zdecydowanie lepszy niż pierwszy. Mamy jeden wątek, który nie tylko dobrze pogłębia relację Dicka z Rachel ale także pokazuje w gruncie rzeczy smutny los bohaterów walczących z kryminalistami. Debiut Hanka i Dawn to przykład jak należy wprowadzać nowe postacie. Poznajemy ich dowiadujemy się o trudach ich życia i mimo, że nie wszystko układa się między nimi idealnie, zwłaszcza po przybyciu Dicka, to nie sposób ich nie polubić. Od razu zdobywają sympatię widzów. Sam Grayson wychodzi na bardziej złożoną postać. Chce pomóc Rachel ale ma też liczne obawy i nie waha się kłamać prosto w oczy. Wyraźnie przeraża go to co głęboko w nim siedzi i to co daje upust kiedy walczy ze zbirami. Wiele w nim cech Batmana, z czego pewnie nie jest zachwycony, ale dla widzów to dobrze.

Na drodze bohaterów stają nowi przeciwnicy w osobie idealnej rodzinki zabójców. W tego typu stylizacji rodem ze Stepford zawsze jest coś niepokojącego. Mieszanka humoru i okrucieństwa wydaje się dobrze pasować do "Titans".

Tym razem zabrakło Kory oraz Beast Boya. Wrzucenie ich do tej historii byłoby zbędne, ale dziwnie oglądać drugi odcinek serialu, w którym jeden z głównych bohaterów pojawił się tylko w krótkiej scenie. Takie podejście nie pomaga i można błędnie odebrać, że to Hawk i Dove będą działać razem z Robinem.

Kolejny raz pokazane mamy, że jest to serial w którym twórcy nie martwią się o ograniczenia wiekowe. Jest brutalnie, i trudno sobie wyobrazić jak bardzo musiał być brutalny Batman, by Robin decydował się na tak krwawe i bolesne rozprawianie z przeciwnikami.

"Hawk nad Dove" to odcinek, który oglądając momentalnie wciąga i trwa to do samego końcu. Tak powinno być zawsze i co ważnie po tym autentycznie chce się obejrzeć kolejny.
Ocena: 5 nietoperków

---
Ciekawostki:
W telefonie Dick ma m.in. kontakty do: Lori Elton, Luciusa Foxa, Dawn Granger, Hanka Halla, Alfreda Pennywortha, Donny Troy i Bruce'a Wayne'a. Inne nazwiska należą do ekipy, w tym Tom Flores (współproducent), Tirsa Hackshaw (montażyskta), Christiana Hooks (współproducentka), Kent McCormick, Camille Verschooris, Brendan Steacy (operator), Tony Solomons (montażysta) i Brian Wessel (montażysta).
Furgonetka, z której korzystają przemytnicy pochodzi od Ditko Movers, firmy nazwanej na cześć twórcy postaci Hawka i Dove, Steve'a Ditko.
Rachel ogląda "Grę o tron".
Alan Richson (Hawk) zagrał wcześniej Aquamana/Arthura Curry'ego w serialu "Smallville".
W jednej ze scen Dawn nosi koszulkę z logo Supermana.
---
---