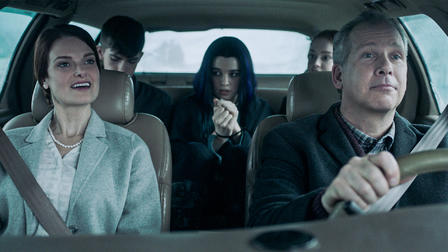 Tytuł odcinka: "Origins"
Polski tytuł odcinka: "Początki"
Pierwsza data emisji: 26 października 2019
Reżyseria: Kevin Rodney Sullivan
Scenariusz: Richard Hatem, Geoff Johns, Marisha Mukerjee, Greg Walker
Twoja ocena: [yasr_visitor_votes size="medium"]
Po tym jak została uratowana przed Nuclear Family przez Kory, Rachel podróżuje z nią do klasztoru, w którym została wychowana – miejscem, które może dostarczyć odpowiedzi na temat przeszłości Rachel i tożsamości Kory. W międzyczasie Dick udaje się w pogoń za Rachel i Kory, tajemniczą kobietą, która ją uratowała – a podróż budzi wspomnienia z własnego sieroctwa i nieortodoksyjnego wychowania w cieniu Bruce'a Wayne'a. Kiedy Dick wreszcie spotyka się z Rachel i Kory, uświadamia sobie, że Rachel znalazła nowego opiekuna w osobie Kory. Ale klasztor nie jest tylko tym czym się wydaje, a Rachel musi polegać na swoich opiekunach, a także nowym przyjacielu, Garze Loganie, aby zapewnić sobie bezpieczeństwo.
W rolach głównych:
Brenton Thwaites – Dick Grayson/Robin
Anna Diop – Kory Anders
Teagan Croft – Rachel Roth
Ryan Potter – Gar Logan
Gościnnie występują:
Reed Birney – dr Adamson
Meagen Fay – siostra Catherine
Liza Colón-Zayas – detektyw Jessica Pérez
Cara Ricketts – Becky
Minka Kelly – Dawn Granger
Alan Ritchson – Hank Hall
W pozostałych rolach:
Tomaso Sanelli – młody Dick Grayson
Melody Johnson – Nuclear Mom
Jeni Ross – Nuclear Sis
Logan Thompson – Nuclear Biff
Jeff Clarke – Nuclear Dad
Ferelith Young – Sharon
William Poulin – Manager
Jill Frappier – starsza kobieta
Steven Puchalski – Travis
Laura Schutt – siostra Ethel
Jarrod Maclean – oficer Jones
Geoff Williams – glina #2
Dan Iaboni – glina #3
Jay Davis – facet w garniturze
---
Wbrew tytułowi nie poznajemy początków większej ilości postaci. Tak naprawdę przybliża się tylko pełne gniewu i chęci odkrycia mordercy rodziców życie młodego Dicka, nim Bruce wskazał mu inne możliwości. Skoro mowa o Waynie to niepokazywanie aktora i ograniczenie się tylko do postury mężczyzny w garniturze nie jest zbyt dobrym rozwiązaniem. Na dłuższą metę takie zabiegi mogą irytować, czy wręcz śmieszyć.

Dostęp do technologii z której korzysta Batman i do zasobów finansowych Wayne'a ułatwia wiele rzeczy Dickowi, ale ma on też ma spore szczęście bo w większości samochodów po krzyku Rachel wybite zostały szyby, ale w Porsche pozostały nietknięte, czego nie można powiedzieć o aucie zaparkowanym obok.

Kolejny raz Gar pojawia się tylko na moment, co prawda w następnym odcinku poznamy go lepiej, ale jak do tej pory trudno uwierzyć, że ma to być jeden z głównych bohaterów. Postać Kory momentami jest zbyt irytująca, niby ma to być twardzielka, ale jej działania nie są zbyt przemyślane. Bo skoro zadbała by ukryć klucz do swojego magazynu, to czemu od dłuższego czasu nie zmieniła ubrań ani koloru włosów. Tak rzucająca się w oczy, nie nadaje się do przeprowadzenia cichego śledztwa. Skoro mowa o włosach, to w przypadku Rachel i Gara kolorowe fryzury pasują do nich. Mamy zagubioną nastolatkę i luzaka, który lubi się bawić i spędzać czas na automatach.

Porównując ten odcinek z poprzednim zaczynam podejrzewać, że gdy zaangażowanych zostaje zbyt wielu scenarzystów, wtedy zbyt odczuwalny jest brak spójności. Pewne wątki można było sobie darować, albo inaczej zmontować odcinki. Chociażby te dotyczące Nuclear Family, która tu zawiodła moje oczekiwania, ale jeszcze powrócą i to z nowym ojcem. Na plus zalicza się odkrywania przeznaczenia Rachel, która już nie tylko jest ścigana przez nieznaną grupę, ale też coraz trudniej jej zapanować nad tym co się w niej kryje. Skąd Kory wiedziała, że Rachel ukrywa się w Waszyngtonie? Jeśli bliższej przyjrzeć się poczytaniem Kory to za dużo dziur można znaleźć, a to nie sprzyja oglądaniu.
Ocena: 4 nietoperki

---
Ciekawostki:
W odcinku dopatrzeć się można pewnych nieścisłości natury geograficznej. W jednej ze scen widzimy znak "Athens 22, Columbus 99". Jedynym stanem w Stanach Zjednoczonych z takimi miastami jest Georgia, ale te miasta są oddalone od siebie o 172 mile. Restauracja nazywa się "Bulldog's Diner", co jest wyraźnym odniesienie do University of Georgia Athletics, który mieści się w Athens. Od kłopotliwego ex-chłopaka dowiadujemy się, że piwo nie może być sprzedawane przed południem, co nie jest niezgodne z prawem obowiązującym w Georgii. Rachel zamawia zaś kurczaka i gofry – typowe danie dla Georgii. Co dziwniejsze wydaje się, że Kory i Rachel podróżują z Michigan do Ohio, a Georgia nie jest po drodze.
Rachel Roth / Raven zostaje nazwana niszczycielką światów.
W odcinku wykorzystano utwór "Sunny" Boney M.
---
---