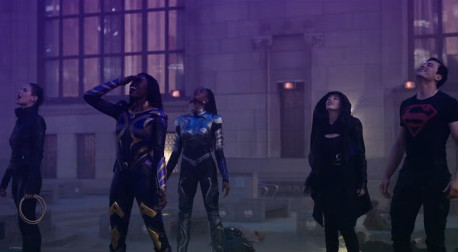 Tytuł odcinka: "Purple Rain"
Pierwsza data emisji: 21 października 2021
Reżyseria: Chad Lowe
Scenariusz: Richard Hatem, Greg Walker
Gdy Gotham ponownie jest na łasce terroru Crane'a, Tytani infiltrują posiadłość Wayne'ów i wykorzystują starożytną moc, która wykracza poza życie i śmierć.
W rolach głównych:
Brenton Thwaites – Dick Grayson/Nightwing
Mame-Anna Diop – Princess Koriand'r/Starfire
Teagan Croft – Rachel Roth/Raven
Ryan Potter – Gar Logan/Beast Boy
Conor Leslie – Donna Troy
Curran Walters – Jason Todd/Red Hood
Joshua Orpin – Conner/Superboy
Damaris Lewis – Queen Komand'r/Blackfire
Savannah Welch – komisarz Barbara Gordon
Gościnnie występują:
Vincent Kartheiser – dr Jonathan Crane
Iain Glen – Bruce Wayne
Jay Lycurgo – Tim Drake
Karen Robinson – Margarita Vee
Greg Bryk – Fletcher
W pozostałych rolach:
Vinson Tran – Stephen Chen
Ryan Allen – Jack Drake
Chantria Tram – Janet Drake
Kris Siddiqi – dr Artie Kind
Benedict Campbell – W.H. Auden (głos)
Nate Colitto – gliniarz
Kenzie Delo – GCPD gliniarz #1
Phi Huynh – GCPD Commando
---
3. sezon "Tytanów" dobiegł końca, i to jest największy pozytyw. Zapowiedziano też 4. sezon, ale po tym co przez większość sezonu serwowali twórcy nie daje to powodów do radości.
W finale sezonu, scenarzyści wyciągają króliki z kapelusza i kreują swój cudowny świat, bo jak się okazuje sytuacja w Gotham City nie była aż tak wyjęta z pod kontroli, a Tytani nie byli tak skłóceni. Tym razem wszystko idzie bohaterom jak po maśle. Nawet Barbara pozostaje komisarzem, bo się okazuje, że w jej otoczeniu działała agentka A.R.G.U.S. Oczywiście organizacja monitorowała całą sytuacja, ale nie raczyła interweniować, kiedy był na to odpowiedni moment. Lepiej było dopuścić by skorumpowani gliniarze miotali się po Wayne Manor. Ale mimo zniszczeń pewnie w rezydencji sekret Wayne'a cały czas jest bezpieczny.
Brak konsekwencji dopełnia wykorzystanie Jamy Łazarza w charakterze purpurowego deszczu by przywrócić do żywych mieszkańców Gotham City, których załatwił wybuch bomby z gazem Stracha na Wróble. Tak, w "Titans" nikt nie umiera, oprócz Hanka, wyraźnie on nie jest godny wskrzeszenia. Może teraz taki purpurowy deszcz serwować wszystkim. Co na takie wybiórcze traktowanie mieszkańców Gotham City powiedzą ci, których już magiczna woda, działająca bez żadnych konsekwencji, nie dotknęła. Ten pomysł to jedno z największych kuriozum serialu pokazujący kompletne pójście na łatwiznę.
Prawie jedna trzecia odcinka poświęcona jest na pożegnania bohaterów, bo opuszczamy Gotham, które początkowo stanowiło fajne tło i pozwoliło korzystać z mitologii Batmana, ale szybko się okazało, że twórcy nie mieli pomysłów. Nie zobaczyliśmy Crane'a w stroju Stracha na Wróble, a jego misterny plan szybko zaczął się walić, gdy Dick przestał grać w jego grę. Odcinek nie tylko nie oferuje dobrych efektów specjalnych, ale też porządnej akcji, której moglibyśmy oczekiwać po finale. Bo przecież Superboy musi robić za superkomputer a nie za mięśnie ze stali. Moce Starfire czy Raven też nie zostają wykorzystane. Usilnie próbuje się za to pokazać jaki to wspaniały jest Tim Drake, któremu wystarczą filmiki na YouTube, by opanować sztuki walki.
Różne zabiegi scenariuszowe próbują grać na emocjach, ale tych brak. Przez cały sezon skutecznie wybory bohaterów sprawiały, że ci stali się widzom obojętni. Ich kolejne błędy oraz błyskawiczne wzięcia się do kupy tylko zwiększają irytację. Nie jest żal, że zamiast odrzutowcem przyjdzie im wracać do San Francisco autobusem. Może taka wspólna 24 godzinna przejażdżka sprawi, że gdzieś zaginą po drodze, bo na takich Tytanów nie warto czekać. Lepiej oglądać wersję młodych bohaterów z "Young Justice", gdzie sensowniejsze historie i lepszy rozwój postaci.
Ocena: 2,5 nietoperka

---
Ciekawostki:
Crane śpiewa "If I Only Had a Brain" z filmu "Czarnoksiężnika z Oz", w którym piosenkę też wykonywał Strach na Wróble.
Okazuje się, że Vee pracuje dla A.R.G.U.S.
Tytani wywołują burzę nasyconą Lazarus Pit, która wskrzesza wszystkich ludzi w Gotham City, którzy zginęli przez toksynę Stracha na Wróble.
Bat-komputer puszcza piosenkę "Tell Me Something Good" w wykonaniu Rufusa, po tym jak błędnie interpretuje polecenie Dicka.
Kiedy Tytani czekają w hangarze na Dicka, słychać piosenkę "Just Like Heaven" grupy The Cure.
Podczas napisów końcowych słychać piosenkę "What a Wonderful World" Joeya Ramone'a.
---
Cytaty:
Barbara Gordon: Is "Vee" even your real name?
Vee: Depends. Do you like it?
Barbara Gordon: It suits you.
Vee: Good. I'll keep it.
Donna Troy: There's always more bad guys than good.
---
---