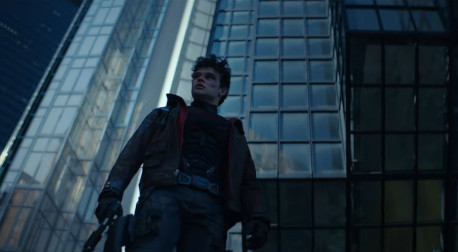 Tytuł odcinka: "Prodigal"
Pierwsza data emisji: 14 października 2021
Reżyseria: Carol Banker
Scenariusz: Jamie Gorenberg, Bryan Edward Hill
Po walce Nightwinga i Red Hooda, Rachel i Gar próbują uratować przyjaciela. Tymczasem Jason kwestionuje swoje posłuszeństwo. Podczas gdy Barbara jest za kratkami, Donna prowadzi własną akcję oporu, a Conner pomaga Blackfire odzyskać jej statek.
W rolach głównych:
Brenton Thwaites – Dick Grayson/Nightwing
Mame-Anna Diop – Princess Koriand'r/Starfire
Teagan Croft – Rachel Roth/Raven
Ryan Potter – Gar Logan/Beast Boy
Conor Leslie – Donna Troy
Curran Walters – Jason Todd/Red Hood/Robin
Joshua Orpin – Conner/Superboy
Damaris Lewis – Queen Komand'r/Blackfire
Savannah Welch – komisarz Barbara Gordon
Gościnnie występują:
Vincent Kartheiser – dr Jonathan Crane
Jay Lycurgo – Tim Drake
Greg Bryk – Fletcher
W pozostałych rolach:
Kris Siddiqi – dr Artie Kind
Vinson Tran – Stephen Chen
Ryan Allen – Jack Drake
Chantria Tram – Janet Drake
Derek Barnes – funkcjonariusz Voss
Mustafa Bulut – funkcjonariusz Diaz
Idrissa Sanogo – młodzieniec
Brendon G.E. Smith – detektyw GCPD #1
Andrew Hinkson – detektyw GCPD #2
Sean Clement – John Grayson
Taj Levey – mały Dick Grayson
Lillian Monize – mała dziewczynka Dicka
---
Wydawało się, że poniżej pewnego poziomu nie da się zejść. Twórcom "Titans" z łatwością przychodzi realizacja najgłupszych pomysłów, których oglądanie zamienia się w katorgę.
Zgodnie z przewidywaniami Dick po kąpieli w Jamie Łazarza wraca do świata żywych. Oczywiście Rachel i Gar znajdują go bez problemu, a nikt z tłumu nie raczył nawet zajrzeć by przekonać się kto kryje się pod maską bohatera, czy wziąć sobie jakieś trofeum. Prawdzie kuriozom fundują nam twórcy chmarą nietoperzy, które wraz z Garem zmienionym w latającego ssaka przetransportowują ciało Graysona. Widok ten skutecznie może przekonać do rezygnacji z dalszego oglądania odcinka jak i całego serialu, ale skoro to przedostatni odcinek sezonu, to może warto dotrwać do końca. Ogólnie "Tytanowa" wersja Jamy Łazarza jest wyjątkowo łagodna. Nie wpływa na psychikę i wystarczy uporać się z własnymi słabościami i mieć chęć powrotu i już można wyskoczyć z wody w nowym wdzianku. Tak, dodatkowa moc Jamy, to zamiana kostiumu Nightwinga w codzienne ubrania.
Niestety pozostałe wątki też sięgają dna. Crane zaczyna świrować, kiedy odkrywa swój stary sierp na łańcuchu, a żeby pokazać widzom jak bardzo jest zły dodajemy do tego oszpeconą twarz. W tym całym zawirowaniu jest też Jason, który zaczyna podejmować własne decyzje i dostrzega, że Crane go nie obchodzi. Jak zadajemy się ze złoczyńcą, to trzeba się liczyć, że ten nas wykorzysta.
W "Prodigal" irytujących momentów jest tak wiele, że nie warto o nich wspominać, jak chociażby Barbara na wózku uciekająca z celi. Ta cała sytuacja, która sprawia wrażenie, że każdy gliniarz w mieście jest na usługach Crane to obraza dla inteligencji widzów. Zamiast interesującego spojrzenia na pogrążone w chaosie Gotham City i odcięte od świata, mamy jakąś utopię, w której spełnia się marzenia Crane'a. Wątpliwe jednak byśmy byli świadkami jego sennego marzenia.
Ciężko uwierzyć, że po dobrym starciu sezonu, dotarliśmy do punktu, w którym wytrwanie przy oglądaniu odcinka jest wyzwaniem większym niż złapanie Jokera. Z Tytanów nie został nikt, kto by swoim zachowaniem nie irytował, a twórcy już sprowadzają kolejnego herosa na złą ścieżkę, więc po 3. sezonach eksperyment Dicka zapowiada się na klęskę. Ale nie obawiajcie się scenarzyści jakoś to wszystko poskreślają, by Tytani wyszli na bohaterów, których mieszkańcy San Francisco czy Gotham City potrzebują. Pytanie, czy widzowie też tego samego chcą?
Ocena: 2 nietoperki

---
Ciekawostki:
Kiedy Dick zostaje zanurzony w Lazarus Pit ma na sobie strój Nightwinga, ale kiedy powraca do świata żywych ma na sobie zwyczajne ubranie.
Wśród trofeów w jaskini jest parasol Pingwina i laska Riddlera.
Crane żegnając się Barbarą używa wyrażenia "Crane Channel oraz Same Crane Time", co jest nawiązaniem do serialu "Batman" z lat 60.
Podczas napisów końcowych słychać piosenkę "New Rose" grupy The Damned.
---
Cytaty:
Jason Todd: Did you hear me? I said Nightwing is dead.
Jonathan Crane: So? Wasn't my monster. He's your monster. Do you want a cookie?
Jason Todd: How do I know you're not going to kill me?
Dick Grayson: Because now I know what it's like to die.
---
---