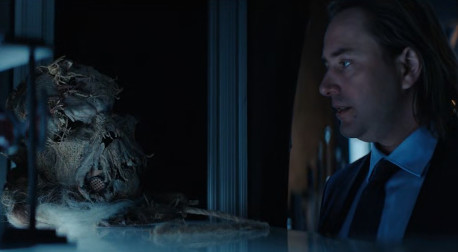 Tytuł odcinka: "The Call Is Coming from Inside the House"
Pierwsza data emisji: 7 października 2021
Reżyseria: Carol Banker
Scenariusz: Stephanie Coggins
Podczas gdy Crane skupia się na Nightwingu, Gar i Rachel badają miejsce odrodzenia Red Hooda, Donna i Tim ponownie się spotykają w prawdziwym świecie, a Kory poznaje prawdę o swojej przeszłości.
W rolach głównych:
Brenton Thwaites – Dick Grayson/Nightwing
Mame-Anna Diop – Princess Koriand'r/Starfire
Teagan Croft – Rachel Roth
Ryan Potter – Gar Logan
Conor Leslie – Donna Troy
Curran Walters – Jason Todd/Red Hood
Joshua Orpin – Conner
Gościnnie występują:
Vincent Kartheiser – dr Jonathan Crane
Iain Glen – Bruce Wayne/Batman (głos)
Jay Lycurgo – Tim Drake
Andrew Moodie – King Myand'r
W pozostałych rolach:
Vinson Tran – Stephen Chen
Ryan Allen – Jack Drake
Chantria Tram – Janet Drake
Makambe Simamba – Kapelwa
Asha James – Queen Luand'r
Steven Yaffee – Max
Ben Beauchemin – Owen
Lili Francks – wróżbitka
Mark Sparks – strażnik #1
Stuart Fink – aptekarz
Sarah Dodd – niecierpliwa klientka
Alec Dahmer – uzbrojony chłopak
Lara Zaluski – policjantka #1
Emilio Vieira – policjant #2
---
Twórcy "Tytanów" chcą zaskoczyć i zaszokować widzów, ale zamiast tego serwują nudny dramat. Sytuacja w Gotham ma być beznadziejna, ale tego nie odczuwamy. Bohaterowie są zaś bezradni a ich zrywy to tylko chwilowe przebłyski, które nie na wiele się zdają.
W "The Call Is Coming from Inside the House" okazuje się, że każda postać musi się mierzyć z problemami. Crane nie może być złoczyńcą, który wie co robić. Wystarczy odsłuchanie plików Wayne'a, by nasz Jonathan stracił pewność siebie. Wcześniej widzieliśmy, że nie potrzebuje persony Stracha na Wróble by zabijać, a nagle wychodzi na to, że Crane sam powinien zażyć swojego lekarstwa na lęki.
Od początku sezonu Kory miała problemy z wizjami, ale jak się okazuje przypadkowa kobieta, narażenie życia i wizja z dnia narodzin załatwiają sprawę. Strach przed tym co oznaczają nowe moce Starfie, chociaż przy takim obrocie spraw powinna zmienić imię. Jest to kolejny wątek, który wprowadzono tylko by dodać nowe problemy dla bohaterki, a sposób w jaki dochodzi do rozwiązania lepiej przemilczeć.
Nie lepiej jest u Dicka, który ponownie bawi się w Batmana. Po co mu drużyna skoro chce wszystko załatwić sam. I na co komu Superboy, skoro najwyraźniej z jego mocy nikt oprócz Blackfire nie chce korzystać. Akcja w wykonaniu Nightwinga mogłaby jeszcze się obronić. Bohater wykorzystuje sztuczki Batmana, doprowadzając do tego, że Red Hood nie wie co robić. Grayson wykorzystuje swoje doświadczenie, ale na nic się ono zdaje, kiedy okazuje się, że mieszkańcy Gotham City wielbią Red Hooda? Za co? Kilka video wrzuconych przez Stracha na Wróble zrobiło z niego ulubieńca? Twórcy wykorzystują czas na snujących się bohaterów, ale nie potrafią nadać odrobiny logiki ich poczynaniom.
Gdzieś głęboko na drugim planie pojawia się wątek Jamy Łazarza, którą odkrywają Rachel i Gar. Po doświadczeniach z Donną, Rachel najwyraźniej ma robić za specjalistkę od powrotów z zaświatów, tylko wątpię by wskrzesili Hanka, ale inni bohaterowie nie muszą się już lękać żadnych kul. Najwyraźniej motyw śmierci herosów przestaje mieć już jakiekolwiek znaczenia, skoro nawet postrzelonego Drakke'a można bezpiecznie sprowadzić do świata żywych.
W "The Call Is Coming from Inside the House" nic się nie sprawdza, bohaterowie popełniają te same błędy co wcześniej, a złoczyńcy powtarzają te same schematy. Historii by najmniej nie ratuje też cudowny powrót z zaświatów Tima Drake'a, którego kryjówka jest lepiej przygotowana do obecnej sytuacji w Gotham City niż porozrzucani Tytani. Im bliżej końca sezonu tym gorzej. Bohaterom zdarzają się przebłyski, które mogą się podobać, ale przez większość czasu widz z poirytowaniem śledzi ich losy i po tym wszystkim jest już obojętny na ich nieudolne próby powstrzymania chaosu i Stracha na Wróble.
Ocena: 2,5 nietoperka

---
Ciekawostki:
Kiedy Crane się goli i później odsłuchuje plików Wayne słychać utwór "Waterfalls" grupy TLC., podczas napisów końcowych tą samą piosenkę ale w wykonaniu Death Cab for Cutie.
---
Cytaty:
Gar Logan: Smell like bagels to you?
Rachel Roth: Yeah, Gar, I'm sure the creepy abandoned building sells bagels.
Gar Logan: A simple no would suffice.
Gar Logan: I guess bringing people back from the dead isn't all sunshine and rainbows.
---
---