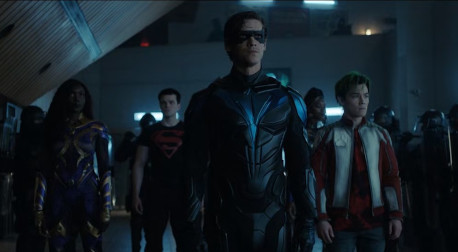 Tytuł odcinka: "Troubled Water"
Pierwsza data emisji: 30 września 2021
Reżyseria: Larnell Stovall
Scenariusz: Melissa Brides
Sprawy przybierają zły obrót, gdy przez fałszywe oskarżenia Tytani zostają obwiniani o zatrucie miasta, co stawia ich w niebezpiecznej sytuacji, gdy pracują nad odzyskaniem zaufania Gotham.
W rolach głównych:
Brenton Thwaites – Dick Grayson/Nightwing
Mame-Anna Diop – Princess Koriand'r/Starfire
Teagan Croft – Rachel Roth
Ryan Potter – Gar Logan/Beast Boy
Conor Leslie – Donna Troy
Curran Walters – Jason Todd/Red Hood
Joshua Orpin – Conner/Superboy
Damaris Lewis – Queen Komand'r/Blackfire
Savannah Welch – komisarz Barbara Gordon
Gościnnie występują:
Vincent Kartheiser – dr Jonathan Crane
Karen Robinson – Vee
Greg Bryk – Fletcher
Eve Harlow – Molly Jensen
W pozostałych rolach:
Valerie Buhagiar – Lydia
Tova Epp – urzędnik DWP
Jeff Yung – urzędnik hrabstwa ds. zdrowia
Xavier Lopez – urzędnik z ratusza
Jeremiah Sparks – taksówkarz
Jamila Fleming – kelnerka
Basel Daoud – facet z tłumu #1
Greg Zajac – facet z tłumu #2
Patricia McPherson – kobieta z tłumu
Dennis Barham – chłopak kobiety
Michael Delaney – gwardzista #1
Allen Keng – gwardzista #2
---
Powracamy do głównych wydarzeń z Gotham City. Ale jeśli liczyliście na istny chaos w Gotham City to będziecie rozczarowani. Wiele się mówi o sytuacji w mieście, ale na ekranie tego nie widać. Namiastka tego pojawia się w kilku ujęciach pod koniec odcinka. W takim przypadku same słowa to za mało, a łatwość z jaką Crane realizuje swój plan tylko jeszcze pogłębia irytację u widzów.
"Troubled Water" wyraźnie wskazuje, że Barbara Gordon nie radzi sobie jako komisarz policji. Nie tylko nie panuje nad kryzysem, ale nie kontroluje własnych ludzi. Można by pomyśleć, że dostała te stanowisko tylko ze wzgląd na ojca. Lepiej by było gdyby została przy karierze złodziejki, bo z wcześniejszych retrospekcji wynika, że w tym była dobra. Jako komisarz skala wydarzeń ją przerasta.
Sytuacja przerasta też Tytanów, którzy najwidoczniej nie walczą o mieszkańców, a o to by ci ich lubili. Gdyby Batman dbał o tym co nim mówią, albo czy ściga go policja, czy zwykli obywatele, to jego działania zakończyłyby się nim na dobre by się rozpoczęły. Naszych bohaterów niszczy jedno video. Nie wiadomo co w tym wątku jest gorsze. Crane, który jednym naciśnięciem guzika rozsyła swoją wiadomość, głupota mieszkańców Gotham City, czy plan Dicka, który postanawia zgłosić się z resztą drużyny w GCPD.
Taki obrót spraw doprowadza do walki Tytanów z policją. Rezultat jest oczywisty. Sama akcja też nie ma nic dobrego do zaoferowania i wypada tak żenująco jak wcześniejsze starcie bohaterów na ulicach Gotham. Na tym problemy odcinka niestety się nie kończą. Jason Todd pozostaje pod wpływem Crane'a i dalego mu do Red Hooda, którego chciałoby się zobaczyć. Do Gotham zmierza też Donna Troy, która po drodze musi udowodnić Lydi, że jej powrót do świata żywych nie był błędem. W poprzednim odcinku do Wayne dostała się w oka mgnieniu, teraz wyprawa do Gotham to wręcz wyzwanie niczym ucieczka z zaświatów. Do miasta zawitała też Rachel, dla której z jej mocami nie było to żadnym problemem.
W odcinku Dick stwierdza, że skończyły mu się dobre pomysły, więc ma zamiar spróbować tych złych. Najwyraźniej takie samo podejście mają scenarzyści, którzy już od dłuższego czasu raczą nas tymi złymi wyborami. Kiedy do Tytanów dołączą Rachel i Titans oraz Blackfire z mocami, może to sprowadzi serial na właściwego tory, ale jako, że zbliżamy się już do końca sezonu, na naprawienie szkód jest już za późno.
Ocena: 2,5 nietoperka

---
Ciekawostki:
Kiedy Vee aresztuje Barbarę, a w mieście dochodzi do zamieszek słychać utwór "Meet Me in the City" grupy Lord Huron.
Podczas napisów końcowych słychać piosenkę "Back to Black" Amy Winehouse.
---
Cytaty:
Gar Logan: [o Tytanach] Oh, we're not much of a gang, really. More like roommates.
Dick Grayson: I'm running out of good ideas. Resorting to bad ones.
---
---