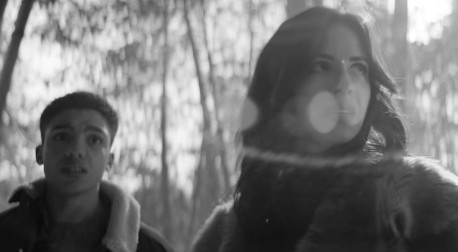 Tytuł odcinka: "Souls"
Pierwsza data emisji: 23 września 2021
Reżyseria: Boris Mojsovski
Scenariusz: Richard Hatem
Po przebudzeniu się w tajemniczym pociągu Tim Drake łączy siły z dwójką znajomych bohaterów, aby zlokalizować nieuchwytny most prowadzący do krainy żywych. Tymczasem Rachel zmaga się z własnymi mocami w desperackiej próbie wskrzeszenia Donny.
W rolach głównych:
Teagan Croft – Rachel Roth
Conor Leslie – Donna Troy
Alan Ritchson – Hank Hall
Gościnnie występują:
Iain Glen – Bruce Wayne
Jay Lycurgo – Tim Drake
Tenika Davis – Myrrha
Elliot Knight – Don Hall/Dove
W pozostałych rolach:
Derek Moran – Charles MacFayden
Valerie Buhagiar – Lydia
Jonathan Kim – Malcolm
Jasmin Geljo – konduktor w pociągu
Brett McCaig – doktor
Stephanie Herrera – pielęgniarka
---
Dostajemy przerwę od wydarzeń z Gotham City i wracamy do dawno niewidzianej Rachel, oraz Donny. Powracają też stary znajomy i Tim Drake. Twórcy kolejny raz starają się ostudzić oczekiwania widzów i zamiast bezpośredniej kontynuacji, dostajemy wypełniacz.
"Souls" to 9. odcinek sezonu i niektórzy mogliby zapomnieć, że gdzieś w poprzednich była Rachel Roth/Raven, która postanowiła wykorzystać swoje moce by sprowadzić do świata żywych Donnę Troy. Kolejny raz można odnieść wrażenie, że twórcy źle wszystko zaplanowali. Zamiast stopniowo sugerować działania na Themyscirze, znowu dostajemy odcinek, który wybija z rytmu.
Zgodnie z tytułem skupiamy się na trójce dusz błąkających się w zaświatach. Po wydarzeniach z poprzedniego odcinka żywot Tima zawisł na włosku. Twórcy jednak nie decydują się na odważne rozwiązanie, czyli uśmiercenie Drake'a. To byłby interesujący i oryginalny pomysł ostrzegający przed wplątywaniem się zwykłych osób w życie superbohaterów, ale nic z tego.
Cała wędrówka w zaświatach dzięki wybraniu czarno-białych zdjęć dobrze oddaje klimat zagubionych dusz. Donna wydaje się być pogodzona ze śmiercią, a Hank, jak to Hank pragnie zemsty na Jasonie. Pojawienie Halla wprowadza humor i luz, którego brakuje serialu. Dobrze, że przynajmniej na moment znowu nam dane było pobyć w jego towarzystwie, a on sam odnalazł swoje miejsce w zaświatach i cały czas może być bohaterem. Nie można też pominąć Rachel, której pobyt w otoczeniu Amazonek, ma tylko uzmysłowić, że nie powinna wskrzeszać Donny dla siebie, ale przynajmniej wygląda, że już panuje nad swoją mocą. W całości nie brakuje różnych metafor czy to w postaci pociągu, czy mostu, ale jak na wątek służący do przywrócenia dwójki postaci do świata żywych jest to zbyt rozciągnięte.
Całość nie wypada najgorzej, ale pomysł z Bruce'em Wayne'em spisującym testament i próbującym popełnić samobójstwo i jest mocno chybiony. Nawet z wyrzutami po "śmierci" Jasona i zabiciu Jokera, takie postępowanie nie jest w stylu Wayne'a. Prędzej zdecydowałby się na życie pustelnika niż na odebranie sobie siły. Ale twórcy najwyraźniej potrzebowali jakieś mocnego powodu by przywrócić Donnę, która natychmiast zjawia się u Wayne'a.
"Souls" ma kilka dobrych momentów, brak też większych głupot, których ostatnio w serialu nie brakowało, ale i tak jest to co najwyżej średni odcinek, pokazujący, że twórcy tak naprawdę nie wiedzą jak dobrze wszystko rozplanować na sezon liczący 13 odcinków.
Ocena: 3 nietoperki

---
Ciekawostki:
Poznajemy pełne imiona dwójki bohaterów, Bruce'a Thomasa Wayne'a i Timothy'ego S. Drake'a.
Jest to pierwszy odcinek, którego znaczna cześć nakręcona została w czerni i bieli.
W odcinku do świata żywych wracają Donna Troi i Tim Drake.
Kiedy w walce z upiorami Hank i Donna próbują wyczarować broń, Donna przypadkowo przywołuje ulubiony napój Gartha, a Hank przywołuje stare Birdarangi Dicka Graysona.
Hank porównuje kostium Red Hooda do Deathstroke'a i Gimpa.
Kiedy Donna i Tim uciekając przed upiorami trafiają na Hanka, w tle słychać piosenkę "Livin' On a Prayer" zespołu Bon Jovi.
Kiedy Hank przedstawia bohaterom Malcolma i wyjaśnia jak funkcjonują zaświaty słychać utwór "In the Mood" Glenna Millera.
---
Cytaty:
Donna Troy: [dowiedziawszy się o śmierci Hanka] Dawn. She must be devastated.
Hank Hall: She'd better be.
Tim Drake: Miss Troy?
Donna Troy: Would you stop calling me "Miss Troy"? I mean, how old do you think I am, anyway?
Tim Drake: Old. Like, 30.
---
---