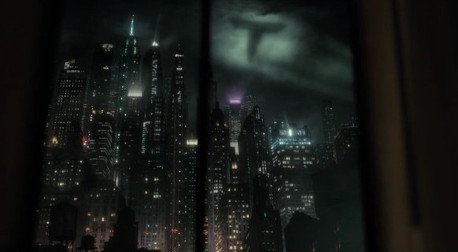 Tytuł odcinka: "Home"
Pierwsza data emisji: 16 września 2021
Reżyseria: Larnell Stovall
Scenariusz: Tom Pabst
Gdy ośmielony Crane chce wpuścić swoją truciznę do wodociągów Gotham, Starfire – wciąż nękana wizjami – korzysta z pomocy Blackfire i Superboya, a Gar w końcu namierza Jasona.
W rolach głównych:
Brenton Thwaites – Dick Grayson/Nightwing
Mame-Anna Diop – Princess Koriand'r/Starfire
Ryan Potter – Gar Logan/Beast Boy
Curran Walters – Jason Todd
Joshua Orpin – Conner/Superboy
Damaris Lewis – Queen Komand'r/Blackfire
Savannah Welch – komisarz Barbara Gordon
Gościnnie występują:
Vincent Kartheiser – dr Jonathan Crane
Jay Lycurgo – Tim Drake
Eve Harlow – Molly Jensen
Karen Robinson – Vee
W pozostałych rolach:
Viktor Sawchuk – młody Dick
Melissa Murray-Mutch – pielęgniarka
Sheldon Davis – inspektor Demo
Katie Buitendyk – Razz Berry
Garrett Hnatiuk – Johnny Cake
Maroc Rey – taksówkarz
Terrance Balazo – Building Super
Debra Hale – matka Crane'a
Makambe Simamba – Kapelwa
---
Miotanie się Tytanów trwa dalej, a co gorsza dotyka to także Jasona i Crane'a. I jakby mało było nowych komplikacji, to Starfire znowu nękana jest przez wizje. W ten sposób w 8. odcinku sezonu liczącym 13 epizodów wracamy do punktu wyjścia.
Otwarcie sezonu sugerowało, że twórcy mają jakiś dobry pomysł, ale szybko okazuje się, że była to tylko zasłona mająca zakryć wszystkie niedoróbki scenariusza, a także te związane ze stroną techniczną. Gdzie podział się Red Hood, którego lękała się mafia. Po odstawieniu substancji Crane'a Jason nie wie czego chce, a po tym jak ratuje Dicka, bohaterowie nie chcą postawić na nim krzyżyka.
W odcinku nie popisuje się też Crane, który przez niedopatrzenie nie mógł zrealizować swojego planu zatrucia wodociągów, co uzmysłowił mu zwykły inspektor. Co w takiej sytuacji robi superzłoczyńca? Udaje się do matki. Czy policja wykorzysta taką okazję. Nie, Crane zabija kobietę, a ci mimo, że wiedzieli gdzie będzie pozwalają mu uciec. Jeszcze gdyby to pokazano w atrakcyjnej formie, ale widzimy Jonathan w salonie, a kiedy oddział szturmowy wkracza go już nie ma. Nic dziwnego, że Batman opuścił Gotham City, jeśli policja nie radzi sobie w takich sytuacjach to już nie ma nadziei.
Na scenie pojawia się Tim Drake, który odkrył tożsamości Batmana, i Robina/Nightwinga, ale też wytropił Jasona Todda. Tak o to policja i bezradni Tytani muszą ustąpić miejsca bohaterowi, któremu wystarczy jeden rzut oka by rozpoznać czyjś styl poruszania się. W całym galimatiasie wątków w "Home" nie zabrakło Superboya i Blackfire, którzy wylądowali w łóżku i teraz czekają nas problemy w stylu czy będą kontynuować ten związek, czy nie. Ale przynajmniej znalazło się nowe zadanie dla Connera.
Wybory Tytanów ostatecznie doprowadzają do sytuacji, w której Strachowi na Wróble udaje się ziścić swój plan. Gotham czeka chaos większy niż w "Batman Begins", a co gorsza nie ma Batmana, który mógłby uratować sytuację. Nasi młodzi bohaterowie kolejny raz udowadniają, że nie dorośli do tej roli, a wcześniejsze lekcje nie na wiele się zdały, i za przedwczesne świętowanie przyjdzie im srogo zapłacić. Twórcy serialu inspiracji szukają w komiksach i w filmach, ale na nic się zdają te próby, kiedy całości towarzyszy nuda i poirytowanie na widok decyzji podejmowanych przez bohaterów.
Ocena: 2,5 nietoperka

---
Ciekawostki:
Podczas napisów końcowych słychać piosenkę "Francoise Hardy" grupy Shawn Lee's Ping Pong Orchestra.
---
Cytaty:
Blackfire: I guess home is just in us, whether we have one or not.
Jonathan Crane: I am both the dreamer and the thief!
---
---