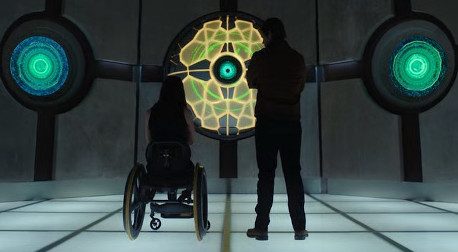 Tytuł odcinka: "51%"
Pierwsza data emisji: 9 września 2021
Reżyseria: Nick Gomez
Scenariusz: Kate McCarthy
Podczas gdy Crane z pomocą rodzin przestępczych Gotham przyśpiesza swoje działania, Tytani szukają wskazówek – od Oracle i informatorów – na temat jego następnego ruchu.
W rolach głównych:
Brenton Thwaites – Dick Grayson/Nightwing
Mame-Anna Diop – Princess Koriand'r/Starfire
Ryan Potter – Gar Logan/Beast Boy
Curran Walters – Jason Todd/Red Hood
Joshua Orpin – Conner/Superboy
Damaris Lewis – Queen Komand'r/Blackfire
Savannah Welch – komisarz Barbara Gordon
Gościnnie występują:
Vincent Kartheiser – dr Jonathan Crane
Wendy Crewson – Valeska Nox
Eve Harlow – Molly Jensen
W pozostałych rolach:
Rose Napoli – Trina Holmes
Al McFoster – Raphelson Roberts
Anthony J. Mifsud – Santiago Perez
Benjamin Liddell – Michael Nox
Matt Lancaster – Dennis Feeg
Nick Babatsikos – Dog Mobster
Chris Anton – Baker
Carlo Rota – Oracle (głos)
---
Postępowania Jasona, który wprowadził do obiegu małą próbkę substancji Stracha na Wróble, przynoszą trochę akcji. Widać jakieś działania bohaterów i także policji, jest też miejsce dla Oracle. Nie jest to jednak postać, ale sztuczna inteligencja, dla której nie ma żadnych ograniczeń i stanowi prawdziwe zagrożenie dla Crane'a.
W "51%" trochę się dzieje i jest to mały krok do przodu, ale do dobrego poziomu jeszcze brakuje. Kilka motywów może kojarzyć się Batmanami Nolana. Wykorzystanie technologi szpiegującej prywatne rozmowy, czy atak z zaskoczenia na zbirów, którzy nie widzą co ich dopadło. Oczywiście poziom serialu i filmów, to zupełnie inne ligi, więc na fajerwerki nie ma co liczyć.
Barbara i Dick szybko się dogadali, ale cały czas postępują według działań Crane'a. Nasłanie Lady Vic nie było przypadkowe. Do tej pory Strach na Wróble działał bezbłędnie prowadząc wszystkich jak po sznurku, ale nic nie trwa wiecznie. Szkoda tylko, że nie dowiadujemy się więcej o Oracle i o tym jakie okoliczności doprowadziły do tego, że Barbara przestała korzystać z tego systemu. W ten sposób motyw ten wydaje się być tylko po to by wrzucić kolejne nawiązania do świata Batmana.
Działanie bohaterów na dwóch frontach przynoszą skutki. Jednak postępowanie Kory dogadującej się z szefową mafii przynosi katastrofalne konsekwencje. Kolejny raz mamy przykład bezmyślnego działania. Układy z kryminalistami nigdy dobrze się nie kończą i teraz pozostaje kwestia czy te wydarzenia wpłyną na Starfire.
Wraz z kolejnymi odcinkami widać, że twórcy nie mają pomysłu na Superboya. Kolejny raz ma rozbroić bombę bo tylko do tego najwyraźniej się na daje, a co gorsza w stosunku do Blackfire zachowuje się jak zakochany szczeniak. Takie pomysły to dramat. Cierpi też postać Gara, ale końcówka odcinka sugeruje, że udało mu się znaleźć cenny trop. W gruncie rzeczy już dawno bohaterowie powinni trafić na przyjaciółkę Jasona, ale jak widać detektywi z nich żadni.
Po serii porażek Tytanom udaje się odnieść sukces. Crane nie docenił ich oraz zbyt pochopnie odstawił Red Hooda. Świętowanie wydaje się jednak zbyt przedwczesne, bo o ile kryzys został zażegnany, to złoczyńcy pozostają na wolności, ale latający po lody Superboy nie zwiastuje końca dramy w życiu Tytanów.
Ocena: 3,5 nietoperka

---
Ciekawostki:
Kiedy Dick rozpoznaje zdjęcie Dennisa Feega, plik błędnie identyfikuje go jako "Paula Feega".
Dick i Barbara odkrywają, że Jonathan Crane ukrywa się w dzielnicy Conroy. Kevin Conroy użyczał głosu Batmanowi m.in. "Batman: The Animated Series".
Fabryka lodów Snowy Cones, której Strach na Wróble używa jako bazy operacyjnej, została pierwotnie stworzona na potrzeby filmu "Batman i Robin" z 1997 roku, w którym pojawiła się jako kryjówka Mr. Freeze'a.
Kiedy Crane zatruwa Jasona, słychać piosenkę "Bright Lights" Gary'ego Clarka Jr.
W scenie, w której Tytani świętują sukces słychać utwór "Your True Name" grupy The Radio Dept.
Podczas napisów końcowych słychać piosenkę "Don't Let Me Be Misunderstood" Niny Simone.
---
Cytaty:
Kory Anders: I promised him he would be safe.
Valeska: Never make promises you can't keep.
Jonathan Crane: Like I said, I'm not the Batman.
---
---