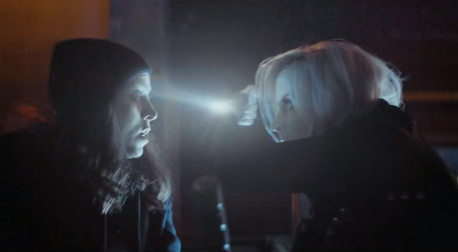 Tytuł odcinka: "Lady Vic"
Pierwsza data emisji: 2 września 2021
Reżyseria: Nick Gomez
Scenariusz: Joshua Levy Prathi Srinivasanl
Crane korzysta z pomocy zabójczyni Lady Vic, która łączy burzliwą przeszłość z Dickiem i Barbarą. Tymczasem Kory i Gar sprowadzają Blackfire do Wayne Manor.
W rolach głównych:
Brenton Thwaites – Dick Grayson/Robin
Mame-Anna Diop – Koriand'r/Kory Anders
Ryan Potter – Gar Logan/Beast Boy
Curran Walters – Jason Todd/Red Hood
Joshua Orpin – Conner
Damaris Lewis – Queen Komand'r/Blackfire
Savannah Welch – komisarz Barbara Gordon
Gościnnie występują:
Vincent Kartheiser – dr Jonathan Crane
Iain Glen – Bruce Wayne (głos)
Jay Lycurgo – Tim Drake
Kimberly-Sue Murray – Lady Vic
Raven Dauda – detektyw
W pozostałych rolach:
Jon McLaren – Phil
Susanna Fournier – Diane
Vinson Tran – Stephen Chen (głos)
Ryan Allen – Jack Drake
Danny Waugh – detektyw Jones
Calwyn Shurgold – Chill Guy
Maxime Savaria – Bivens
Shannon McDonough – kelnerka
Celest Chong – dr Christine Vo
Jeff Sinasac – naukowiec
Chris Handfield – neurochirurg
---
Po dobrym starcie, poziom wyraźnie spada. Zamiast posunąć akcję do przodu, mamy kolejne retrospekcje, oraz nową postać. Do tego brak poważnych konsekwencji ostatnich wydarzeń.
Czy Grayson po tym jak doprowadził do uwolnienia Crane'a zmienił swoje podejście, lub szczerze przeprosił nie. Podaje błahe wyjaśnienia o nienarażaniu innych i to wszystko. Barbara też nie specjalnie utrudnia mu życie. Nie widać też działań policji mających na celu złapanie Crane'a.
Na czym więc skupia się odcinek "Lady Vic"? Tytuł sugeruje, że na nowej postaci, ale ta jest tylko po to by pokazać, że Crane nie jest uzależniony od Red Hooda, oraz jaka wyglądała wspólna przeszłość Barbary i Dicka. Na takie retrospekcje było miejsce w premierowym odcinku. Wtedy ładnie mogłoby się zazębiać, a tak wydaje się być wątkiem wrzuconym na siłę. Nie pomaga też postać Lady Vic. Raz natknęła się na Dicka i Barbarę, straciła ukochanego, więc jest rządna zemsty. Tylko tyle.
Nie lepiej jest u pozostałych Tytanów. Obecność Blackfire wprowadza trochę świeżości, ale nie najlepszej jakości. Jej uwagi o służbie wbrew zamiarom twórców wzbudzają zażenowanie. Niemniej jednak przynajmniej coś się dzieje, ale z niewiadomych powodów twórcy planują obecnością siostry Kory zauroczyć Superboya, a z tego nie może wyjść nic dobrego.
"Lady Vic" to odcinek zapychający niż wnoszący coś więcej. Jedynie Crane się broni, który realizuje swój plan, ale nie docenia Jasona, który nie chce być tylko trybikiem w jego działaniach i podejmuje własne inicjatywy. Co one przyniosą o tym się przekonamy, ale najwyraźniej były Robin odpowiadać za punkt zwrotny w życiu swojego następcy.
Ocena: 3 nietoperki

---
Ciekawostki:
Telefon od Bruce'a Wayne'a, Babara dostaje na czerwony telefon, co stanowi aluzję do sposoby w jaki komunikowali się Batman i komisarz Gordon serialu z lat 60.
Dowiadujemy się, że kiedyś Barbara korzystała ze sztucznej inteligencji – Oracle.
Wspomniana zostaje Selina Kyle.
Sama Barbara wpadła na pseudonim Batgirl, Dick preferował Robingirl.
W scenie, w której Lady Vic zabija gliniarzy i udaje się do Gotham City słychać piosenkę "Ever Fallen in Love (with Someone You Shouldn't've)?" zespołu Buzzcocks.
Kidy Dick i Barbara są w barze słychać utwór "The Way" grupy Fastball.
Kiedy Crane zabiera Jasona, aby ten obserwował atak Lady Vic, słychać utwór "Salve Regina, RV 616: V. Et Jesum" w wykonaniu Jamesa Bowmana.
Kiedy Koriand'r z Connerem i Komand're podjeżdżają pod magazyn w radiu słychać piosenkę "Le Freak" grupy Chic.
Podczas napisów końcowych słychać "The National Anthem" zespołu Radiohead
---
Cytaty:
Kory Anders: You just got shot.
Dick Grayson: Bruce got shot all the time. It didn't stop him.
Kory Anders: Look how well that went.
Dick Grayson: Then I guess I'll just have to do better.
Barbara Gordon: You hurt?
Dick Grayson: A little.
Barbara Gordon: Good.
---
---