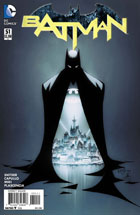 BATMAN #51
Tytuł historii: Gotham Is
Miesiąc wydania (okładka): Czerwiec 2016 (USA)
W sprzedaży od: 27.04.2015 (USA)
Scenariusz: Scott Snyder
Rysunki: Greg Capullo
Okładki: Greg Capullo, Danny Miki, FCO Plascencia; John Romita Jr., Klaus Janson, Alex Sinclair
Kolor: FCO Plascencia
Tusz: Danny Miki
Liternictwo: Steve Wands
Ilość stron: 32
Twoja ocena:

GD Star Rating
loading...
Batman walczył ze wszystkimi od Court of Owls przez pana Blooma do Jokera, ale jak sobie poradzi ze spokojną nocą w Gotham City…?
Alfred tak jak zawsze dba o Bruce'a, codziennie przynosi mu shake proteinowy ale brak blizn na plecach Wayne'a sprawia, że od czasu do czasu ma wątpliwości, czy tak być powinno.
Gdy w Gotham City dochodzi do awarii prąd, Batman wyrusza by zbada sprawę. Najpierw musi uporać się ze złoczyńcami w Arkham, ale nowe systemy bezpieczeństwa doskonale się sprawdzają.
Za całe zamieszczanie nie odpowiada też Court of Owls, o czym osobiście przekonuje się Bruce działając pod przykrywką.
Batman natrafia też na redaktora kolumny "Gotham jest", który kiedyś należał do gangu, z którym bohater miał do czynienia, kiedy chciał wytropić członków Court of Owls. Spotkanie z nim zmieniło życie młodego chłopaka, który wykorzystał drugą szansę.
Batman kontynuuje swoje poszukiwania, wielu złoczyńców uważa, że tej nocy to nie czas na realizację ich planów. Bohater ma okazję zobaczyć jaśniejsze strony miasta, aż w końcu otrzymuje informację od Alfreda, że do awarii prądu doszło z przyczyn naturalnym. Batman mimo to cały czas postanawia mieć oko na swoje miasto.
Po ciężkich starciach i rozwlekłych, epickich opowieściach na pożegnanie z serią "Batman" Scott Snydera pokazuje czytelnikom w gruncie rzeczy spokojną noc w Gotham. Nie brak tu odniesień do wcześniejszych historii Snydera, jak chociażby do ucieczki złoczyńców z Arkham Asylum z 1. numeru. Nawet rozmowa bohatera z Gordonem stanowi odzwierciedlenie spotkania bohaterów w "Batman #1".
Całość zgodnie z tytułem opatrzona jest komentarzem, czym jest Gotham. Miasto nie raz zaskakuje i tak jest i tym razem. Zabrani w podróż, odwiedzamy nie tylko różne miejsca ale i bohaterów i przekonujemy się jaki jest wpływ Batmana na Gotham City.
Pożegnanie z serią "Batman" duetu Snyder/Capullo nie kończy się wielkim wybuchem, czy wielką akcją. Istotą pozostaje postać Batmana i samo Gotham City. W gruncie rzeczy dość prostą opowieść dostarcza więcej emocji dostarcza niż można by się spodziewać. Jeśli dodamy do tego rysunki Capullo, które praktycznie w każdym panelu zachwycają, to wiemy że otrzymaliśmy coś wyjątkowego.
Scott Snyder i Greg Capullo żegnają się czytelnik w bardzo dobrym stylu i szkoda, że nie było więcej tego typu historii ich autorstwa.
Ocena: 5 nietoperków

---