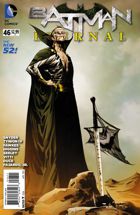 BATMAN ETERNAL #46
Tytuł historii: Batman… Eternal?
W sprzedaży od: 18.02.2015 (USA)
Scenariusz: Scott Snyder, James Tynion IV, Ray Fawkes, Kyle Higgins i Tim Seeley
Rysunki: Alessandro Vitti, Christian Duce i Ronan Cliquet
Okładka: Jae Lee, June Chung
Kolor: Romuoa Fajardo jr., Matt Milla
Liternictwo: Steve Wands
Ilość stron: 32
Twoja ocena:

GD Star Rating
loading...
Czy Batman jest wieczny? Być może … ale tylko jeden z wrogów Mrocznego Rycerza naprawdę zna znaczenie tego słowa!
Wściekły Batman wdziera się do kryjówki Ra'sa w Pakistanie. Złoczyńca planuje zaś odpowiednio go przywitać z pomocą Dr. Darrka.
Podczas gdy Poison Ivy planuje wynieść z Gotham City, Selina Kyle odwiedza w Blackgate swojego ojca. Podejrzewa, że to on może prowadzić interesy za jej plecami, ale kiedy ten zaprzecza, nowa szefowa światka przestępczego postanawia sprawdzić innych bossów.
Pod wpływem gazu halucynogennego Dr. Darrka Batmana zaczynają dręczyć wątpliwości na temat jego dziedzictwa. Następnie pojawia się Lord Death Man, którego Bruce pokonuje i dowiaduje się, że Ra's al Ghul cały czas dochodzi do siebie po ostatnich wydarzeniach. W ten sposób Batman dochodzi do wniosków, że to nie jego szuka. Złoczyńca wyznaje, że również otrzymał specjalne zaproszenie, ale je spalił. Jego celem nie jest bowiem pokonanie osłabionego Batmana, ale będącego w życiowej formie.
Rex Calabrese sprawdza dokumenty, które zaniepokoiły Selinę i zastanawia się, do czego potrzebne są te wszystkie rzeczy. Jak się okazuje ktoś spełnia zachcianki groźnych złoczyńców, takich jak Strach na Wróble, Mr. Freeze, Poison Ivy, czy Córki Jokera.
Wielka wyprawa Batmana na spotkanie z Ra's al Ghulem, tak jak było do przewidzenia, okazała się kompletną stratą czasu. Bruce'a pognębiły tylko wizje przyszłości Batmana, co oznacza, że mamy okazję zobaczyć różne wcielenia Mrocznego Rycerza. Do czego to wszystko ma prowadzić, tego sami scenarzyści pewnie nie wiedzą. Bohater miota się i nie wie co robić. Złoczyńcy za to w pełni korzystają z dobrodziejstw swojego wybawcy i przygotowują się by sprowadzić na Gotham City istny kataklizm.
Wraz z kolejnymi numerami Batman Eternal co raz trudniej uwierzyć, że na początku była to seria godna uwagi. Teraz niestety z wielkim trudem czytelnik musi dotrwać do jej końca. Jak tak dalej pójdzie to dopiero na ostatniej stronie, ostatniego numeru dowiemy się, kim jest tajemniczy przeciwnik. Czy to Lincoln March, a może ktoś inny? W gruncie rzeczy przestaje to już być interesujące.
Ocena: 2 nietoperki

---