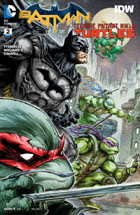 BATMAN/TEENAGE MUTANT NINJA TURTLES #2
Tytuł historii: Last Turtle Standing
Miesiąc wydania (okładka): Marzec 2016 (USA)
W sprzedaży od: 13.01.2016 (USA)
Scenariusz: James Tynion IV
Rysunki: Freddie E. Williams II
Okładka: Freddie E. Williams II
Kolor: Jeremy Colwell
Liternictwo: Tom Napolitano
Ilość stron: 32
Twoja ocena:

GD Star Rating
loading...
Uwięzieni w świecie, w którym trudno odgadnąć kto jest przyjacielem, a kto wrogiem. Żółwie muszą zmierzyć się z Mrocznym Rycerzem i przetestować swoje umiejętności w sztukach walki. Ponad to Batman i naukowiec Lucius Fox szukają wskazówek odnośnie pochodzenia dziwnych ninja. Shredder zawiera umowę z Pingwinem!
Wojownicze żółwie walczą z Batmanem. Niestety umiejętności całej czwórki to za mało aby pokonać Mrocznego Rycerza. Nierówne starcie przerywa szczur Splinter. Po walce, żółwie włamują się do kafejki Internetowej w celu znalezienia w sieci informacji o Człowieku Nietoperzu.
Tym czasem Bruce i Lucius Fox w jaskini analizują sai Raphaela, które Batman wykradł w czasie walki porywczemu mutantowi. Lucius wyodrębnia mutagen znaleziony na broni z innego wymiaru. Fox niestety nie ma dobrych wiadomości dla Żółwi. Mutagen w tym wymiarze zachowuje się nieprzewidywalnie a to znaczy, że Wjownicze Żółwie im dłużej będą przebywać w świecie DC mogą zniknąć, zamienić się w zwyczajne skorupiaki, lub też w istoty ludzkie. To jednak tylko hipotezy Luciusa. Po skończonej wizycie Foxa, Batman informuje Alfreda, że jedzie na patrol poszukać ludzi–żółwi, jak nazywa ich służący. Do jaskini prześlizguje się mistrz Splinter, który przysłuchiwał się w ukryciu niedawnej rozmowie.
Portowe doki w Gotham. Ludzie Pingwina dostarczają Shredderowi specjalny silnik wykradziony z fabryki Wayne–Tech. Gangster z Gotham liczy na sowitą zapłatę, jednak Shredder nie ma pieniędzy. Ludzie Cobblepota zostają bez wysiłku pokonani przez klan Stopy. Tchórzliwy gangster w zetknięciu z metalowymi pazurami Shreddera oferuje mu swoje usługi zupełnie za darmo. Ich "rozmowę" przerywa jeden z Ninji mówiąc, że nie znalazł śladu żółwi i szczura. Oroku Saki nie przejmuje się wiadomością stwierdzając, że jeżeli doktor Khan ma rację, to żółwie będą wkrótce martwe.
Czterech zmutowanych braci ze swoim mistrzem penetrują podziemne jaskinie pod rezydencją Wayne'a. W końcu zmutowani przybysze trafiają do Bat–jaskini i pierwsze co ukazuje się ich oczom, to wielki model T–Rexa.
James Tynion poszedł po najmniejszej linii oporu i zaserwował nam bezsensowną walkę Batmana z Żółwiami. Co prawda posuwa ona akcję do przodu, ale motyw jest to do bólu oklepany. Potem przeciwnicy szukają informacji o sobie. W przypadku śledztwa Batmana mamy do czynienia z pseudonaukowymi przypuszczeniami Luciusa Foxa. Scena w dokach też nie zachwyca. Pingwin i jego ludzie zbyt łatwo zostają pokonani przez klan Stopy. Największą wadą tej historii jest to, że zarówno mistrz Splinter jak i Żółwie bez problemu wchodzą do jaskini Nietoperza. Dla fanów Batmana historia ta jest zbyt naiwna i przewidywalna. Dla miłośników Żółwi Ninja to lekka opowieść, w której świetnie oddany jest charakter Żółwi. Dodatkowo znalazło się kilka zabawnych momentów. Gdyby nie rysunki Freediego E. Williamsa nie było by sensu sięgać po ten zeszyt. Fabuła jest naiwna, a Batman do tej historii zwyczajnie nie pasuje. To raczej opowieść dla miłośników wojowniczych mutantów.
Ocena: 3 nietoperki

---