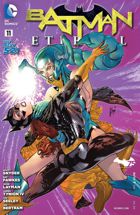 BATMAN ETERNAL #11
Tytuł historii: Day of Dads
W sprzedaży od: 18.06.2014 (USA)
Scenariusz: Scott Snyder, James Tynion IV, Ray Fawkes, John Layman i Tim Seeley
Rysunki: Ian Bertram
Okładka: Guillem March i Tomeu Morey
Kolor: Dave Stewart
Liternictwo: Dezi Sienty
Ilość stron: 32
Twoja ocena:

GD Star Rating
loading...
Rozpoczyna się proces Jima Gordona!
Na cmentarzu w Gotham City pewna kobieta przy jednym grobów znajduje pozostawioną wiadomość w kopercie.
W Brazylii Batgirl wdziera się na plan jednej z telenowel w poszukiwaniu Gonzolo Domingueza. Nim jednak będzie miała okazję z nim porozmawiać musi się uporać z Scorpianą z Club of Villains.
W rezydencji Wayne'ów, Alfred mimo starań nie może dogadać się z córką. Julia nie chce mieć z nim nic wspólnego, bo nie akceptuje tego że po tym jak rozstał się z jej matką wybrał inne życie. Uważa, że zmarnował swoje życie zostając kamerdynerem bogatego playboya.
Szukając informacji na temat swojego ojca Stephanie odkrywa nagranie ze starego teleturnieju. Odkrywając kolejne wydarzenia z przeszłości Arthura Steph zdaje sobie sprawę, że jej rodzina daleka była od ideału i że to co zapamiętała z dzieciństwa wcale nie było tak różowe. Noc podczas której Batman złapał jej ojca i dał mu drugą szansą nie była zaś sennym koszmarem.
Kiedy Batgirl wreszcie dopada Domingueza ten wyznaje, że to nie on jest na nagraniach z stacji metra. Twierdzi, że przez swoje długi musiał pójść na układ z Club of Villains i jednemu z ich członków Weapons Manowi użyczył swojej twarzy z pomocą dr Mangaritvite. Barbara nie jest specjalnie przekonana co do jego wersji ale ostatecznie ratuje go przed Scorpianą wyskakując przez okno. I chociaż Gonzolo nie trzyma się jej tak jak powinien to dzięki niespodziewanej pomocy Starfire udaje się go ocalić, a na drodze Scorpiany staje El Gaucho. Zaskoczono włączeniem się do akcji innych bohaterów Batgirl nie wie co robić, bo cały czas chce przesłuchać Domingueza. Obok niej zjawia się jednak Red Hood i wyjaśnia jej, że mężczyzna w metrze nie był Gonzolo.
Chociaż Julia już chciała odejść z rezydencji, to jej krwawiąca rana nie dopuszcza do tego. Po zszyciu rany Alfred przekazuje córce, że Wayne zapewni jej wszystko czego będzie potrzebowała jeśli tu zostanie, bo i mu zależy przede wszystkim by Falcone trafił za kratki.
Na cmentarzu przy grobie Loli Macintire, Selina odczytuje list od swojego ojca, który ufał że Lola dobrze się nią zaopiekuje, po tym jak rodzina Kyle'ów go zawiodła. Na miejscu zjawia się też Batman, który chce porozmawiać z Catwoman na temat Falcone'a, ale Selina nie potrzebuje nikogo kto by się nią opiekował. Nigdy nie miała ojca i jest pewna, że żadnego nie potrzebuje.
Dziwny numer pod względem rysunków i treści. Taki pewnego rodzaju przerywnik z okazji dnia ojca. Całość składa się z kilku wątków, których wspólny element stanowią postacie ojców.
Kuriozalna działania Batgirl w Rio de Janeiro bardziej przypominają południowoamerykańską telenowele niż z fachowe śledztwo. Barbara nie zbliża się do rozwiązania sprawy swojego ojca i jej caławyprawa tak naprawdę nie była konieczna. Jeśli jednak jesteście fanami Batmanów z Batman Inc. i Club of Villains, to gościnne występu kilku postaci mogą wam się spodobać.
Więcej o swoim ojcu dowiaduje się Steph, ale po ostatnich wydarzeniach nie jest to nic nadzwyczajnego. Interesująco, za sprawą mrocznej deszczowej pogody jest na cmentarzu, gdzie Selina odczytuje prawdopodobnie list od swojego ojca. Jest to najkrótszy wątek, ale najbardziej wymowny. Nie wiele wiadomo o przeszłości Catwoman i być może w Batman Eternal przedstawione zostaną pewne fakty, które na stałe wejdą do kanonu.
Najbardziej bezpośrednie relacje ojciec-córka dotyczą Alfreda i Juli. Wyraźnie widać, że po latach rozłąki ciężko im znaleźć wspólny język, a sekrety, które skrywa wierny lokaj Bruce'a, też nie ułatwiają naprawy tych relacji. Wątek ten może być jedną z mocniejszych stron przyszłych numerów, bo wyraźnie widać, że postać Juli na dłużej zagości w Bat-rodzinie.
11. numer Batman Eternal tak naprawdę nie wiele wnosi do całej historii, ale specyficzna kreska Bertrama całkiem dobrze pasuje do tak pokręconego wątku z Batgirl. Jednak przez to wyraźnie brak spójności z poprzednimi numerami, i tym samym czuć, że jest pewnego rodzaju przerywnik, przed ważnymi wydarzeniami, czyli procesem Gordona.
Ocena: 3,5 nietoperka

---