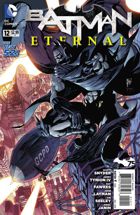 BATMAN ETERNAL #12
Tytuł historii: The Good Man
W sprzedaży od: 25.06.2014 (USA)
Scenariusz: Scott Snyder, James Tynion IV, Ray Fawkes, John Layman i Tim Seeley
Rysunki: Mikel Janin
Okładka: Guillem March i Tomeu Morey
Kolor: Jeremy Cox
Liternictwo: Taylor Esposito
Ilość stron: 32
Twoja ocena:

GD Star Rating
loading...
Jason Bard postanawia zakończyć wojnę gangów raz na zawsze. A proces Jima Gordona staje się sprawą rodzinną!
Wojna gangów w Gotham cały czas trwa, a nowy komisarz nie ma zamiaru interweniować. Są jednak policjanci tacy jak Jason Bard, Maggie Sawyer i Harvey Bullock, którzy nie zamierzają rezygnować z tej sprawy.
Komisarz Gordon przewożony jest z więzienia Blackgate do sądu. Batman udający jednego z gliniarzy zapewnia Jima, że cały czas pracuje nad jego sprawą i że znajdzie dowody na jego niewinności. James jednak wydaje się już być pogodzonym ze swoim losem.
Red Robin składa wizytę Pygowi, w międzyczasie Harper Row wykorzystuje sposobność, że Tim wcześniej korzystał z jej komputera i włamuje się do jego systemu. Ostatecznie jednak bohaterowi udaje się zablokować dostęp intruzowi.
W Brazylii Red Hoodowi udaje się wreszcie przekonać Batgirl, by z nim nie walczyła, a jako, że już rozpoczyna się proces jej ojca, Barbara postanawia wrócić do Gotham.
Na sali sądowej prokurator wspomina o zasługach Gordona, ale zaznacza, że nie to jest przedmiotem rozprawy, ale fakt, że Jim przyczynił się do śmierci 162 osób. Cała rozprawa jest szeroka relacjonowana w mediach i prasie, w tym przez Lois Lane z Daily Planet. Vicki Vale bardziej jednak interesuje trwająca w mieście wojna gangów, a z pomocą Jason Barda zdobywa nowy trop.
Rozmowa Alfreda z Julią, która cały czas nie może się pogodzić z tym, że jej ojciec postanowił zostać lokajem, zostaje przerwana przez pojawienie się Tima, który potrzebuje pomocy, po tym jak Harper dostała się do jego sytemu. Bohaterowie od razu udają do jaskini.
W nocy Jason Bard i Harvey Bullock spotykają się z Batmanem. Bard stwierdza, że wie jak powstrzymać wojnę gangów, wystarczy, że Batman da się złapać.
W Blackgate Gordon ma niespodziewanego gościa. Jest nim jego syn, James junior.
12. numer
Batman Eternal
niczym specjalnym nie zachwyca, ale są momenty, które mogą doprowadzić do czegoś lepszego. Vicki Vale nie zamierza zrezygnować ze swojego śledztwa w sprawie wojny gangów. Alfred coraz lepiej dogaduje się z Julią, którą pewnie niedługa zaniepokoi fakt, że w rezydencji Wayne'ów można się dosłownie rozpłynąć w powietrzu.
Kilka wątków zostaje poruszonych ale wreszcie po dłużej przewie wróciliśmy do Jima Gordona. Do rozwiązania całej sprawy jest jednak daleko, a różnego rodzaju niespodzianek nie brakuje. O ile więc sama historia nie o wiele posunęła akcję do przodu, to ponownie dostaliśmy niespodziankę na samym końcu. Tym razem na scenę zawitał James junior. Zapewne odbiór całości będzie lepszy w przypadku wydań zbiorczych, bo z taką fragmentarycznością opowiadanych historii ciężko utrzymać równy poziom.
Ocena: 3,5 nietoperka

---