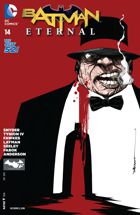 BATMAN ETERNAL #14
Tytuł historii: Natural Order
W sprzedaży od: 09.07.2014 (USA)
Scenariusz: Scott Snyder, James Tynion IV, Ray Fawkes, John Layman i Tim Seeley
Rysunki: Jason Fabok
Okładka: Dustin Nguyen
Kolor: Brad Anderson
Liternictwo: Carlos M. Mangual
Ilość stron: 32
Twoja ocena:

GD Star Rating
loading...
Kiedy wojna gangów osiąga krwawy szczyt, Batman i Jason Bard muszą być świadkami ostatniego bastionu Pingwina! Plus, Jim Gordon podejmuje straszną decyzję, która ukształtuje resztę jego życia.
W Arkham Asylum Strach na Wróble jest przerażony jak nigdy wcześniej, gdyż ściga go ktoś obdarzony niezwykłymi mocami, ktoś dla kogo mury zakładu nie są żadną przeszkodą.
Pingwin chociaż utracił to co przez lata pieczołowicie budował nie zamierza odpuszczać. W jedynym z motelowych pokoi planuje kolejne kroki. Nie ma zamiaru odpuszczać Falcone'owi, gdyż według niego jego czas już dawno się skończył i naturalną koleją rzeczy jest, że zostanie zastąpiony przez kogoś innego, Pingwina.
Jason Bard składa wizytę burmistrzowi Hardy'emu i przedstawia mu swoje dowody jakie zabrał na współpracę Forbesa z Falcone'em i grozi, że w prasie może się także w związku z tą sprawą ukazać nazwisko burmistrza. Ostatecznie Hardy zdradza lokalizację Carmine'a.
W Blackgate Gordon cały czas wspomina swoją rozmowę z synem i nie ma najmniejszej ochoty rozmawiać ze swoim ciekawskim współwięźniem.
Falcone jest zaskoczony kiedy do jego kryjówki wdziera się Pingwin, który postanowił załatwić sprawy osobiście. Tym razem Oswald nie obawia się ubrudzić sobie rąk. Jednak w chwili kiedy ma już poderżnąć gardło mafiosowi okazuje się, że na miejscu są również Bard z oddziałem oraz Vicki Vale. Wszystko jest nagrywane i teraz są niepodważalne dowody, że pozujący na filantropa Cobblepot chciał dopuścić się morderstwa. Aresztowany zostaje również Falcone, który nie może już liczyć na wsparcie Forbesa.
W nocy dokładnie o godzinie podanej przez Jamesa juniora Gordon wymyka się z celi. Przy wyjściu spotyka jednak Batmana. Komisarz wyjaśnia, że chciał tylko zamknąć drzwi, by nikt nie uciekł. Stwierdza również, że jest za stary i że jego czas już się skończył. Nie obawia się jednak, że wkrótce w Blackgate będzie bardzo niebezpiecznie, po tym jak Bard aresztował Pingwina i Falcone'a. Widzi w nim godnego następcę oraz nowego partnera Batmana i uważa, że taka jest po prostu kolej rzeczy.
Podczas lotu nad Pacyfikiem Red Robin czyta informacje o ostatnich wydarzeniach w Gotham i odkrywa również, że na pokładzie jego samolotu jest druga osoba, Harper Row.
W nocy Batman spotyka się z Jasonem Bardem na dachu komisariatu. Bohater jest pod wrażeniem dokonań policjanta, ale zaskakuje go fakt, że ktoś dał Pingwinowi cynk o lokalizacji Falcone'a, co doprowadziło do śmierci 12 osób. Batmanowi udało się namierzyć, że to z telefonu Barda wysłano wiadomość. Policjant jest gotowy przekraczać granicę i zrobić to co należy, czego Gordon i Batman nigdy nie robili.
Tymczasem Strach na Wróble ma poważne kłopoty bo wpadł w ręce Córki Jokera, która oczekuje na pojawienie się Batwinga i Spectre.
Jason Bard wziął sprawy w swoje ręce i poradził sobie z tym, z czym Batman i reszta gliniarzy nie mogła. Patrząc na jego dokonania można się zastanowić, czy nieskory do naginania zasad Gordon rzeczywiście jest tak potrzebny Gotham.
O ile Jason Bard wyrasta na nowego bohatera, który potrafi sobie radzić w Gotham City lepiej niż można było przepuszczać, to rozczarowuje sposób w jaki kończy Falcone. Miał wszystko pod kontrolą i wypuszcza to z rąk. Dobrze, że chociaż Oswald Cobblepot miał okazję pokazać swoje bardziej niebezpieczne, a wręcz krwawe oblicze i że zawsze należy się z nim liczyć.
Z drugoplanowych wątków wspomnieć należy tylko, że Tim Drake naprawdę zachowuje się idiotycznie. Nie tylko wcześniej nie zauważył, że Harper Row jest w jego kryjówce, to teraz okazuje się, że ta dostała się na pokład jego samolotu. Po takich wyczynach Red Robin udowadnia, że nie zasługuje na miano bohatera.
Batman Eternal #14 w doskonały sposób w pewnym stopniu kończy niektóre wątki i wprowadza bohaterów na nowy etap.
Ocena: 4,5 nietoperka

---