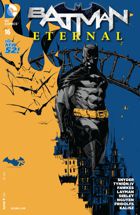 BATMAN ETERNAL #16
Tytuł historii: The Monster Machine
W sprzedaży od: 23.07.2014 (USA)
Scenariusz: Scott Snyder, James Tynion IV, Ray Fawkes, John Layman i Tim Seeley
Rysunki: Dustin Nguyen
Okładka: Dustin Nguyen
Kolor: John Kalisz
Tusz: Derek Fridolfs
Liternictwo: Taylor Esposito, Dezi Sienty
Ilość stron: 32
Twoja ocena:

GD Star Rating
loading...
Red Robin chce rozwiązać tajemnicę nanowirusa rozprzestrzeniającego się wśród najbiedniejszych mieszkańców Gotham, ale Harper Row nie zamierza pozwolić mu działać samemu! Czy Batwing może uciec spod szponów Córki Jokera?
Pan Bygone wyjaśnia Corriganowi, że to pobyt w Arkham tak go przemienił. Kiedyś był to szpital, gdzie leczono, ale te czasy już dawno minęły. Próbuje dotrzeć do tego co skrywa się w środku Jima, do Spectre. W kłopotach jest również Batwing. Co gorsza bohaterowie nie mogą liczyć na wsparcie Batmana, gdyż z tym skontaktowała się Córka Jokera, która idealnie naśladując głos Luke'a przekazała mu, że wszystko jest pod kontrolą.
Jason Bard, który cały czas ściga ludzi Falcone'a, po kolejnej akcji musi sobie poradzić z Vicki Vale, która che z nim porozmawiać i niekoniecznie musi to mieć związek ze sprawami policji.
O tym co wyprawia się w Arkham Asylum nikt nie wie, dlatego cały czas trafiają tam nowi pacjenci. Tym razem policja dostarcza profesora Pyga. Złoczyńca jednak nie zdaje sobie sprawy w jaki kłopoty się wpakował.
W Tokio, Red Robin zostaje zaatakowany przez roboty, a co gorsza okazuje się, że cały czas śledziła go Harper Row. Techniczne umiejętności bohaterki przydają się by unieruchomić roboty. Przed bohaterami jednak kolejne wyzwania, Sergei chce z nimi porozmawiać, i ma też dla niż inne testy.
Corrigan przeciwstawia się siłom Bygone'a i rusza na pomoc, Batwingowi. Luke'owi co prawda udaje się oswobodzić z rąk Córki Joekra, ale ta ma w zanadrzu Maxie Zeusa, który ze względu na swój stan bliski katatonii praktycznie nie czuje bólu, co czyni go nie do powstrzymania. Mimo pewnym problemów Batwingowi udaje się pokonać przeciwnika. Następnie udaje się w głąb tunelów i odnajduje Corrigana. Po chwili bohaterowie trafiają w kolejne tarapaty, kiedy okazuje się, że ktoś planuje przywrócić z piekła duszę Deacona Blackfire.
Jeśli podobał wam się klimat poprzedniego numeru, to ten jeszcze bardziej powinien wam przypaść do gustu. Nawiedzone Arkham, pełne sił nie z tego świata, tych rzeczy w
Batman Eternal #16
nie brakuje. Szkoda jednak, że nic konkretnego z tego nie wynika. Kto stoi za tym wszystkim, nie wiadomo. Jeśli ktoś wydawał się być ważniejszą postacią to szybko się okazuje, że tak jak Bygone jest tylko pionkiem w znacznie poważniejszej rozgrywce.
Szybki rzut oka na wydarzenia dotyczące innych bohaterów, też nic odkrywczego nie przynosi. Co prawda Tim odnajduje Sergeia, ale tak naprawdę wpada w jeszcze większe kłopoty i po raz kolejny udowodnia, że słaby z niego bohater i na dodatek bez autorytetu, skoro Harper Row ani raczy go słuchać.
Po Batman Eternal #16 spodziewałem się konkretniejszych wyjaśnień, a tak na wszystko trzeba poczekać do kolejnego numeru. Serii zdecydowanie przydałoby się szybsze tempo.
Ocena: 3 nietoperki

---