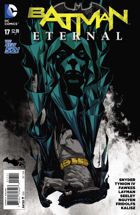 BATMAN ETERNAL #17
Tytuł historii: The Savior
W sprzedaży od: 30.07.2014 (USA)
Scenariusz: Scott Snyder, James Tynion IV, Ray Fawkes, John Layman i Tim Seeley
Rysunki: Dustin Nguyen
Okładka: Dustin Nguyen
Kolor: John Kalisz
Tusz: Derek Fridolfs
Liternictwo: Dezi Sienty
Ilość stron: 32
Twoja ocena:

GD Star Rating
loading...
Lata temu, Gotham City stawiło czoła sile, którą Batman ledwo pokonał… Teraz, głęboko pod Arkham Asylum, powstanie znowu i miasto pozna jego gniew.
Trzy lata temu. Deacon Blackfire miał wielu wyznawców, którzy byli gotowi zrobić dla niego wszystko. Obecnie chcą oni go przywrócić do świata żywych, a za jego nowe ciało ma posłużyć Maxie Zeus. Chociaż na miejscu obecni są Batwing i Corrigan, to w walce demonami nie mogą wiele z działać.
W Tokio Sergei po zapoznaniu się ze schematami nanobotów z Gotham City stwierdza, że rzeczywiście są to jego dzieła, ale skradziono mu je rok wcześniej. Red Robina nie przekonują te wyjaśnienia, dlatego chce by naukowiec wrócił z nim do Gotham City.
Trzy lata temu Blackfire nie tylko swoimi płomiennymi przemowami porywał mieszkańców zaniedbanych dzielnic, którzy marzyli o lepszej przyszłości, ale także schwytał Batmana, którego więził w piwnicy. Chciał go odurzyć narkotykami, które podawał swoim wyznawcom. Batman jednak znał swoją siłę i sprowokował Deacona do bezpośredniej walki. Mimo, że był skuty uwolnił się i tym samym przerażony Blackfire pokazał swoim wyznawcom swoje prawdziwe oblicze. Widząc jak ten błaga o życie jego zwolennicy odwrócili się od niego i zaczęli go bić, doprowadzając do jego śmierci.
Julia cały czas nie może zrozumieć dlaczego jej ojciec postanowił zostać lokajem Wayne'a, dlatego Alfred przypomina jej że służba u Wayne'ów to rodzinna tradycja. Ta jednak cały czas nie jest w stanie zrozumieć jak Alfred, bohater wojenny może pracować dla imprezowicza Bruce'a Wayne'a.
Bohaterom nie udaje się powstrzymać Córki Jokera i tajemniczego osobnika stojącego za wszystkim, złe siły zostają uwolnione.
W
Batman Eternal
twórcy serwują czytelnikom różne gatunki powieści. Ostatnio były to klimaty grozy i sił nie z tego świata. Chociaż całość będzie miało wielki wpływ na przyszłość Arkham Asylum, to brak udziału Batmana, a sprowadzenie Batwinga i Corrigan do statystów, którzy mimo prób nic nie są wstanie zrobić, rozczarowuje. Bo z ostatnich trzech numerów najważniejsze jest praktycznie tylko to, że dusza Deacona Blackfire'a powróciła do świata żywych.
Śledząc zaś kolejną rozmowę Alfreda z córką można się tylko zastanawiać, kiedy Julia pozna prawdę o Batmana. Czy sama to odkryje, czy też Alfred wreszcie zdradzi jej tą tajemnicę.
Po całej historii spodziewałem się chociaż minimalnych wyjaśnień, na temat tego co wyprawia się w Arkham, a tak przyjdzie nam na to jeszcze długo poczekać i tym samym może dojść do sytuacji, w której przestanie nas kompletnie interesować kto się bawi siłami nie z tego świata i czyich rozkazów słucha Córka Jokera.
Ocena: 3 nietoperki

---