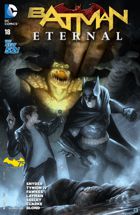 BATMAN ETERNAL #18
Tytuł historii: A Night on Earth
W sprzedaży od: 06.08.2014 (USA)
Scenariusz: Scott Snyder, James Tynion IV, Ray Fawkes, John Layman i Tim Seeley
Rysunki: Andy Clarke
Okładka: Alex Garner
Kolor: Blond
Liternictwo: Dezi Sienty
Ilość stron: 32
Twoja ocena:

GD Star Rating
loading...
Batgirl, Batwoman i Jason Todd śpieszą się by znaleźć dowód, który może ocalić komisarza Gordona!
W Brazylii Batgirl, Batwoman i Red Hood podążają za nowym tropem i docierają do fabryki wykorzystującej pracowników.
W Narrows uwagę Barda przykuwa mężczyzna niosący nieprzytomną dziewczynę do kanałów. Policjant od razu postanawia interweniować, ale Batman nie dopuszcza do tego by ten działał w pojedynką. Obaj schodzą do kanałów, gdzie od razu natrafiają na ciało mężczyzny ze zjedzoną twarzą. Bard zastanawia się czy nie jest to sprawka Killer Croca i po chwili na miejscu pojawia się sam zainteresowany. Złoczyńca zaprzecza jednak jakoby miał coś wspólnego ze śmiercią mężczyzny. Twierdzi, że ten, tak jak wielu innych, przychodził do niego bo szukał ochrony. Batmanowi udaje się uspokoić Waylona, kiedy stwierdza, że mu wierzy, gdyż zauważył dowód, który to potwierdza. Bohaterowie z Crociem w roli przewodnika, udają się w głąb kanałów, by odnaleźć większe zło, które się w czai w zakamarkach.
W Blackgate Gordon może liczyć na życzliwość ze strony jednego ze strażników, który odprowadza go do celi nim pod prysznic przychodzą Falcone i Pingwin.
Widząc jak w fabryce do pracy zmuszone są dzieci Red Hood ma ochotę trochę postrzelać, ale Batwoman wyraźnie stwierdza, że nie ma tu miejsca na zabijanie. Ostatecznie to ona rozstrzyga spór pomiędzy Batgirl i Red Hoodem na temat planu ataku. Chociaż Jason modyfikuje go i pozostawia Barbarę bez ochrony, bo wie, że ta potrafi o siebie zadbać, to nie przewiduje jednego. Bohaterka odnajduję mężczyznę, którego szukała, ale ten wykorzystując hipnotyzujące umiejętności sprawia, że ta atakuje swoich przyjaciół.
Timowi Seeleyowi udaje się znaleźć równowagę pomiędzy poszczególnymi wątkami. Najważniejszy jest ten z trójką bohaterów w Brazylii i tu się dzieje zdecydowanie najwięcej. Za sprawą Red Hooda relacje pomiędzy postaciami są interesujące i mamy też możliwość przekonania, się jak w oczach innych członków Bat-rodziny postrzegana jest Barbara.
Interesująco zapowiada się wyprawa Batmana i Barda w towarzystwie Killer Croca w głąb kanałów. Wizualnie złoczyńca w wersji Clarke'a prezentuje się zarazem jak niebezpieczny stwór, którego nie łatwo pokonać, ale też wyraźnie widać w nim ludzką stronę.
Nawet krótki fragment z Gordonem z Blackgate jest na swoim miejscu. Wystarcza do wprowadzenia Falcone'a i Oswalda do więziennego życia, a to oznacza, że kłopoty są murowane.
Batman Eternal #18 to udany numer, który stanowi oderwanie od ostatnich elementów nie z tego świata, ale obserwując jak kolejne tropy doprowadzają do kolejnych chciałoby się jakiś większych wyjaśnień, a niestety obawiam się, że ich zbyt szybko nie dostaniemy. Czeka nas więc momentami zapewne bardzo przyjemna, ale jeszcze długa droga.
Ocena: 4 nietoperki

---