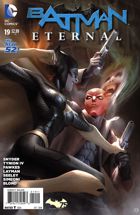 BATMAN ETERNAL #19
Tytuł historii: Breaking Bat
W sprzedaży od: 13.08.2014 (USA)
Scenariusz: Scott Snyder, James Tynion IV, Ray Fawkes, John Layman i Tim Seeley
Rysunki: Emanuel Simeoni
Okładka: Alex Garner
Kolor: Blond
Liternictwo: Taylor Esposito
Ilość stron: 32
Twoja ocena:

GD Star Rating
loading...
Jason Bard i Batman zmuszeni są pomóc Killer Crocowi, kiedy jego zwolennicy zostają zaatakowani przez demonicznego potwora z Black Maze!
Batgirl pod wpływem hipnozy zamiast swoich przyjaciół widzi Jokera i Jamesa jr.
Batman i Bard cały czas podążają za Killer Crociem i chociaż pojawiają się wątpliwości co do jego intencji, to Bruce wie, że można mu zaufać, gdyż dręczy go poczucie winy, że nie ochronił osób, które szukały u niego schronienia. W końcu docierają do miejsca, gdzie Waylon trzyma swoje trofea, czyli ciała osób opętanych przez czyste zło, które kryje się głęboko pod Gotham City, a ostatnio wydostało się na powierzchnię.
W Blackgate po ostatnich wydarzeniach, czyli walkach członków gangu Falcone'a i Pingwina, które doradziły do tego, że część strażników wzięto na zakładników, naczelniczka Zorbatos postanawia prosić Gordona o pomoc. Gdyż tylko on może powstrzymać obie grupy przed uwolnieniem swoich szefów.
W Japonii Sergei jest pod dużym wrażeniem technicznych umiejętności Harper, z czym zgadza się również Red Robin.
W Brazylii urządzenie do hipnozy dr Falsario nie działa na Batwoman, która korzysta z technologii Mad Hattera. W zanadrzu ma też gaz strachu, który skutecznie przeraża mężczyznę. Widząc czerwonowłosego diabła Falsario przyznaje się do tego, że ktoś zlecił mu zahipnotyzowanie Gordona. W międzyczasie Batgirl cały czas atakuje Red Hooda, i chociaż udaje się jej rozbić jego hełm, to ten dociera do niej przypominając jej jak się poznali, dzięki czemu efekt hipnozy przestaje działać.
James Gordon toruje sobie drogę przez kolejne oddziały uzbrojony w gaśnicę.
Batman i Bard oraz Killer Croc odnajdują porwaną dziewczynkę, która wpadła w ręce Ten Eyed Mana, który szykuje się do odprawienia jakiegoś rytuału. Niestety szybko zostają dostrzeżeni przez przeciwników.
Co raz częściej poszczególne numery
Batman Eternal
są tylko poprawne. Jak dla mnie w ostatnim czasie zdecydowanie za dużo jest elementów z jakimiś rytuałami i tym podobnymi rzeczami. Po gangsterskich starciach z początkowych numerów taki stan rzeczy rozczarowuje. O ile w poprzednich zachowana była równowaga, to tym razem kolejny raz takie dwustronicowe wstawki jak chociażby z Red Robinem wydają się być zbędne.
Większość numeru pozostawia spory niedosyt, ale wynagradza nam to jeden człowiek. James Gordon w zasłonie dymnej nokautujący zbirów w więzieniu. Na plus tak jak w poprzednim numerze wypadają relacje pomiędzy Jasonem, a Barbarą, ale jednak tempo w jakim różni bohaterowie zdobywają nowe informacje jest zbyt wolne.
Ocena: 3,5 nietoperka

---