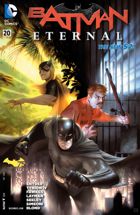 BATMAN ETERNAL #20
Tytuł historii: Wild Animals
W sprzedaży od: 20.08.2014 (USA)
Scenariusz: Scott Snyder, James Tynion IV, Ray Fawkes, John Layman i Tim Seeley
Rysunki: Emanuel Simeoni
Okładka: Alex Garner
Kolor: Blond
Liternictwo: Dezi Sienty
Ilość stron: 32
Twoja ocena:

GD Star Rating
loading...
James Gordon zajmuje się armią Falcone'a z Blackgate!
W podziemiach Gotham bohaterom udaje się wygrać starcie z przeciwnikami i uratować Jade. Obłąkanemu wizją zbliżającego się zła Ten-Eyed Manowi udaje się jednak uciec.
Sytuacja w Blackgate jest coraz cięższa i chociaż ludzie Pingwina są gotowi wymienić zakładników za Falcone'a, to po rozmowie z Harveyem Bullockiem, Zorbatos postanawia czekać na to co zrobi Gordon.
Batgirl za wszelką cenę stara się zmusić Falsario do zdradzenia, kto go zatrudnił. Ściga go po dżungli, ale ostatecznie znajduje tylko trupa.
Sprawy w Blackgate nie układają się po myśli Jima, ale z niespodziewaną pomocą przychodzi mu współwięzień, Rex Calabrese, zwany Lion. Kiedyś był szefem mafii w Gotham, a ostatnio na własne życzenie ukrywał się w więzieniu. Gordonowi pomógł zaś dlatego, że nie chciał by czyjaś córka, tak jak jego, wychowywała się bez ojca.
Po udanej akcji uratowania dziewczyny Jason Bard postanawia aresztować Killer Croca pod zarzutem zabójstwo trzech funkcjonariuszy policji, których kamizelki zauważył wcześniej w kryjówce Waylona. Złoczyńca nie ma jednak zamiaru tłumaczyć się z zabicia skorumpowanych gliniarzy, dlatego rozwala część tunelu, skutecznie odcinając się od bohaterów.
Chociaż Falsario nie żyje, to nie wszystko jest stracone. Red Hoodowi i Batwoman udało się odzyskać wiele cennych informacji z komputera, które świadczą o niewinności Gordona.
Stephanie Brown zamieszcza w sieci ostatni rozdział zdradzający plany jej ojca, a skoro nikt nie wierzy w prawdziwość jej doniesień, postanawia wziąć sprawy we własne ręce i działać jako Spoiler.
Wraz z kolejnymi numerami losy bohaterów budzą co raz mniejsze zainteresowanie. Co prawda dokonują przełomowych odkryć, ale tak naprawdę nic specjalnego z tego nie wyszło. Rozczarowują też sceny akcji, a tych w numerze nie brakuje. Nie wiele dowiadujemy się na temat działań Ten-Eyed Mana, a i po zamieszkach w Blackgate oczekiwałem czegoś lepszego. Co prawda dowiadujemy się, że współwięzień Jima, to Rex Calabrese i kto wie, może jego wzmianka o córce dotyczyć będzie pewnej bohaterki?
Rozczarowująca jest też przemiana Stephanie w Spoiler, która jakby nigdy nic nagle uznała, że najbezpieczniej będzie bawić się w bohaterkę w fioletowym kostiumie. Ciekawe skąd go wzięła, czyżby w bibliotece, był jakiś kufer z bohaterskimi strojami?
Otrzymaliśmy kolejny przeciętny numer. Najwyższy moment na mocne uderzenie, a czytając zapowiedzi kolejnych numerów, być może wkrótce coś w tej kwestii się zmieni.
Ocena: 3 nietoperki

---