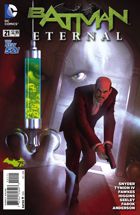 BATMAN ETERNAL #21
Tytuł historii: Ten Forty-Eight
W sprzedaży od: 27.08.2014 (USA)
Scenariusz: Scott Snyder, James Tynion IV, Ray Fawkes, John Layman i Tim Seeley
Rysunki: Jason Fabok
Okładka: Dustin Nguyen
Kolor: Brad Anderson
Liternictwo: Dezi Sienty
Ilość stron: 32
Twoja ocena:

GD Star Rating
loading...
Po tym jak wstrzyknięto mu toksyną strachu, Alfred zostaje zaciągnięty do Arkham Asylum!
Jason Bard odwiedza w mieszkaniu Vicki Vale. Ma powody do świętowania, gdyż wygrał wojnę z gangami i został nowym komisarzem policji.
James Gordon skazany został na dożywocie, a Falcone ma zostać odesłany do Hong Kongu. Przed opuszczeniem murów Blackgate Carmine ucina sobie pogawędkę z Rexem Calabrese, którego uważał za zmarłego. Ostrzega go, że jeszcze wróci do Gotham i dokona zemsty. Na tym kończy się dobry dzień Falcone'a, gdyż okazuje się, że czeka go jeszcze spotkanie z Batmanem, który chce poznać szczegóły na temat wrobienia Gorodna. Mafiozo uświadamia bohaterowi, że ten tak naprawdę cały czas nie ma pojęcia kto za tym wszystkim stoi.
Po tym jak Harvey Bullock radzi Jasonowi, by ten nie starał się wypełnić pustki po Gordonie tylko wypracował swój własny styl, wizytę nowemu komisarzowi składa Batman. Wręcza mu dowody potwierdzające, że Jim jest niewinny. I chociaż Nietoperz nie wie kto za tym wszystkim stoi, to wie, że to jeszcze nie koniec.
W Wayne Manor włącza się alarm, kiedy Alfred rozmawia z córką przy kominku. Lokaj od razu otwiera tajne przejście i zabiera Julię do bezpiecznego pokoju. Tam niespodziewanie ją ogłusza i zabiera jej broń, by osobiście zająć się intruzem. Alfred ostrzego, przeciwnika by ten się wycofał i wspomina o swojej wojskowej przeszłości. Chociaż, jak mu się wydaje, oddaje celny strzał, to okazuje się, że tajemniczy przeciwnik zakradł się do tytułu. O czym Pennyworth za późno się orientuje. Hush zdradza mu, że przebył tu specjalnie po niego i wstrzykuje mu toksyna strachu.
Po odzyskaniu przytomności Julia znajduje w holu leżącego Alfreda. Nim toksyna zaczyna działać ojciec przekazuje jej by ustawiła zegar w pokoju na godzinę 10:48
Jason Bard zjawia się w Blackgate by odebrać Falcone'a. Przy okazji, chce też by wypuszczono Zachary'ego Gatesa. Nowy komisarz potrzebuje Architekta by wprowadzić plan, który realizuje od miesięcy na nowy etap. Po opuszczeniu więzienia Bard kontaktuje się z Hushem, z którym współpracuje, i zapewnia, go że Gotham należy już do nich. W trakcie rozmowy niszczy pendrive otrzymany od Batmana, na którym były dowody na niewinność Gordona.
Batman Eternal #21
to najlepszy numer od dłuższego czasu. Na scenie pojawia się nowy gracz, który do tej pory pozostawał sprawy i okazuje się, że nie wszyscy są tacy jak się wydawało. Akcja dzięki temu nabrała tempa i wszystko nabiera świeżości. Szkoda tylko, że cały czas wygląda na to, że to Batman daje sobą pogrywać, zamiast przejąć inicjatywę.
Cała historie wprowadzona zostaje na nowy poziom. Jeśli uważaliście, że Jason Bard mimo swoich metod okaże się wybawcą Gotham City, to byliście w błędzie. Nowy komisarz skrywa nie jeden sekret, a jego znajomi, oprócz Vicki Vale, nie należą do osób, których można posądzić o dbanie o dobro Gotham.
Zgodnie z okładką swoje chwile ma Alfred, który szykując się do obrony Wayne Manor robi to w stylu prawdziwego twardziela. W razie zagrożenia od razu sięga po broń. Niestety tym razem przeciwnik okazał się sprytniejszy, gdyż go znał. Z cienia wyszedł Thomas Elliot aka Hush. Powraca również postać znana z Gates of Gotham, czyli Architek. Podsumowując jeśli kolejne numery otrzymają taki poziom to będzie znakomicie.
Ocena: 5 nietoperków

---