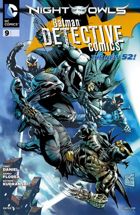 DETECTIVE COMICS #9
Tytuł historii: The Owls Take Arkham, 50/50
Miesiąc wydania (okładka): Lipiec 2012 (USA)
W sprzedaży od: 02.05.2012 (USA)
Scenariusz: Tony S. Daniel
Rysunki: Eddy Barrows; Szymon Kudrański
Okładki: Tony S. Daniel, Sandu Florea, Tomeu Morey; Jason Fabok i Peter Steigerwald
Kolor:Tusz: Sandu Florea
Liternictwo: Jared K. Fletcher; Dezi Sienty
Ilość stron: 40
Twoja ocena:

GD Star Rating
loading...
"The Owls Take Arkham"
Scenariusz: Tony S. Daniel
Rysunki: Eddy Barrows
Kolor: Tomeu Morey
Tusz: Sandu Florea
Liternictwo: Jared K. Fletcher
Jeremiah Arkham uważa Arkham Asylum za najbezpieczniejsze miejsce w Gotham. Z taką ochrona i systemami zabezpieczeń nie obawia się nikogo. Mimo ostrzeżeń policji przed atakiem zabójców, nie podejmuje żadnych dodatkowych środków ostrożności. Doktor woli zająć się innymi sprawami m.in. głodówką Romana Sionisa. Złoczyńca jest gotowy zakończyć swój strajk jeśli Jeremiah oda mu jego "partnera". Kiedy Arkham stwierdza, że złoczyńca nigdy już nie odzyska swoje maski, nagle gasną światła i na miejscu pojawiają się Talony. Przy użyciu paralizatora Jeremiah powstrzymuje jednego. Ale dopiero pojawienie się Batmana ratuje go z opresji. Nietoperz każe mu uciekać przez jedno z tajnych przejść, o których Aaron Cash, szef ochrony Akrham, nie ma pojęcia.
Podczas gdy Batman walczy z dwoma Talonami Jeremiah decyduje na podjęcie niecodziennych środków by ocalić swoje życie. Postanawia oddać Romanowi jego maskę pod warunkiem, że Black Mask go ochroni.
Po otwarciu cel złoczyńcy nie rzucają się na Batmana, ale zaczynają walczyć z Talonami. Nietoperz wykorzystuje okazje i przechodzi do innego skrzydła, by samemu nie stać się celem szaleńców. Na miejscu już czeka na niego Black Mask. Złoczyńca tak jak obiecał Jeremiahowi zatrzyma wszystkich intruzów w tym także Batmana. W tym celu próbuje wykorzystać mentalne możliwości maski na Nietoperzu.
Kiedy Arkham jest przekonany, że wszystko jest pod kontrolą, do jego tajnego centrum dowodzenia dobija się Talon. Po chwili stalowe drzwi zostają wyważone i na podłogę pada, znokautowany przez Batmana, Talon. Nietoperz wyjaśnia Jeremiahowi, że odstawił Black Mask do celi. Żeby bez komplikacji uratować doktor bohater nokautuje go i zabiera do Batmobila.
W rozmowie z Nightwingiem Batman zdradza, że teraz musi znaleźć Birds of Prey i Lincolna Marcha.
---
"50/50"
Scenariusz: Tony S. Daniel
Rysunki: Szymon Kudrański
Kolor: John Kalisz
Liternictwo: Dezi Sienty
Harvey Dent spotyka się z prokuratorem Dominiciem Sterano, który w zamian za wyświadczenie pewnej przysługi, chce mu zapewnić powrót do starej pracy. Two-Face musi odnaleźć niejakiego Freakshowa. Żeby zdobyć potrzebne informacje Harvey nie waha się zabijać, a kiedy już wie gdzie szukać natrafia wprost na grupę ninja, którzy oświadczają, że Two-Face został wybrany przez ich przywódcę. Niewiedzący, o co chodzi bohater szybko zostaje przebity ostrzem miecza.
Pierwotnie Detective Comics nie miało być częścią Night of the Owls. I może gdyby trzymano się tego planu 9. numer byłby lepszy. Chociaż miałem spore obawy, że historia będzie wrzucone w cały crossover bardzo na siłę, to ogólnie sam pomysł nie był zły. Na tym niestety kończą się dobre strony. Pojawienie się Black Mask, a nawet pomysł, by to złoczyńcy zaczęli walczyć z Talonami byłyby dobre gdyby nie "mentalne, magiczne" moce maski. Poprzednie części crossoveru Night of the Owlspokazały też , że Talony to nie byle jacy wojownicy, tymczasem u Daniela w gruncie rzeczy jest ich aż trzech, a specjalnie Batman się z nimi nie męczy. Czyżby Tony nie wiedział, że zabójców Court of Owls nie da się unieszkodliwić tak jak zwykłych łotrów? Jeśli dłużej by się zastanawiać nad pewnymi kwestii to takich błędów znalazłoby się jeszcze klika.
Jeden z plusów to natomiast końcówka, w której wspominany zostaje Lincolna March, o którym dawno nic nie mówiono. Wygląda na to, że przynajmniej inni twórcy należycie wykorzystają trwający crossover.
Poziomu Detective Comics #9 nie podnosi też dodatkowa historia z Two-Face'em, mimo, że rysunki do niej przygotował Szymon Kudrański. Pomysł by Two-Face mógł wrócić do pracy prokuraturze jest kompletnie niedorzeczny, a pojawienie się na końcu grupy ninja też nie pomaga.
Tony Daniel wcześniej udowodnił, że jest dobrym rysownikiem, ale jako scenarzysta cały czas odsłania swoje braki.
Ocena: 3 nietoperki

---