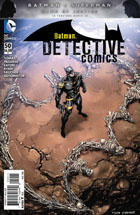 DETECTIVE COMICS #50
Tytuł historii: The Bronze Age: Martyrs and Madmen
Miesiąc wydania (okładka): Maj 2016 (USA)
W sprzedaży od: 09.03.2016 (USA)
Scenariusz: Peter J. Tomasi
Rysunki: Fernando Pasarin, Scot Eaton
Okładki: Tyler Kirkham; Rafael Grampa
Kolor: Chris Sotomayor
Tusz: Matt Ryan, Wayne Faucher
Liternictwo: Wes Abbott
Ilość stron: 48
Twoja ocena:

GD Star Rating
loading...
Jim Gordon stawia czoła swojej przeszłości i nierozwiązanej sprawie. Zmuszony do refleksji o swojej roli Batmana, Gordon musi podjąć decyzję czy jego przyszłość wiąże się z Gotham City.
Batman z trudem może zapanować nad sobą, bo cały czas nie dostrzega motywu złoczyńcy. Nie wie też czy ten będzie chciał zabić kolejną kobietę, po tym, gdy jedną z ofiar udało się uratować. Dlatego razem z Bullockiem postanawia przycisnąć kilak osób, by znaleźć nowy trop.
Tajemniczy zabójca kontynuuje realizację swojego planu. W zoo porzuca zabitego psa. Po perypetiach z misiem polarnych policjantom udaje się zabezpieczyć szczątki psa.
Batman sprawdzając pomnik Balto, legendarnego psa zaprzęgowego, zwraca uwagę, że ten wskazuje na wschód. Biorąc pod uwagę poprzednie pomniki Jim ustala, że wszystkie są skierowane w jednym kierunku – pomnika św. Jerzego walczącego ze smokiem. Najważniejsze informacje, przekazuje jednak Julia. Badania psa pozwoliły ustalić, że wcześniej przebywał on na terenie XVIII wiecznego cmentarza.
Po uprowadzeniu pary z samochodu, tajemniczy zabójca przygotowuje się do stworzenie swojego kolejnego dzieła. Tym razem jednak nie dochodzi do tragedii bo na miejscu w porę dociera Batman. Przeciwnik z mieczem sprawia trochę problemów Gordonowi, ale ostatecznie udaje mu się powstrzymać szaleńca.
W numerze znajduje się jeszcze historia "The 11 Curious Cases of Batman" jest to jednak przede wszystkim zbiór rysunków będących hołdem dla okładek "Detective Comics".
Historia The Bronze Age do samego początku swoją zagadkowości i działaniami złoczyńcami pozytywnie się wyróżniała. Zakończenie pokazuje jednak, że ciekawy, intrygujący pomysł to jedyne co mieli do zaoferowanie twórcy. Duży potencjał został w pełni zmarnowany. Zamiast jakiś wyjaśnień i odpowiedzi na nękające czytelników pytania otrzymaliśmy tylko postać szaleńca, który o dziwo dość długo nie daje się pokonać w walce Batmanowi. Nie tego się spodziewałem po bardzo przyzwoitych poprzednich numerach. Sam Jim też się nie wykazał detektywistyczną robotą, bo główny trop zapewniły próbki z psich łap. Przeciwnik ostatecznie rozczarował i detektywistycznej strony też nie za wiele.
Zwiększona liczba stron posłużyła tylko po to by zamieścić zbiór rysunków, które opatrzone luźnym komentarzem mają tworzyć jedną historie. Hołd jak najbardziej udany. Jednak nawet to nie pomaga w ocenie całości.
Po jubileuszowych numerach, tak jak w tym przypadku 50-tego numeru "Detective Comics" oczekuje się czegoś wartego zapamiętania. Cała budowana w ostatnich dwóch numerach historia pozwalała mieć nadzieje, że coś takiego otrzymamy. Niestety z tego numeru najlepiej zapamiętać tylko ostatnie strony z rysunkami różnych artystów, które poniekąd opowiadają z jakimi zagrożeniami każdej nocy musi mierzyć się Batman.
Ocena: 3 nietoperki

---