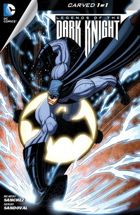 LEGENDS OF THE DARK KNIGHT #22
Tytuł historii: Carved
Data wydania: 01.11.2012 (USA)
Scenariusz: Paul Tobin
Rysunki: Tradd Moore
Okładka: Tradd Moore i Randy Mayor
Kolor: Rex Lokus
Liternictwo: Saida Temofonte
Ilość stron: 24
Twoja ocena:

GD Star Rating
loading...
Nowa fala przestępstw zalewa Gotham City, dziwniejszych niż cokolwiek wcześniej: znikają ludzie i otaczające ich przedmioty, a w ich miejsce pojawiają się repliki z mahoniu. Czy Mroczny Rycerz zdąży rozwiązać tę zagadkę i ocalić życie porwanych osób?
W Gotham City dochodzi do serii porwań, a w miejscu zaginięcia pojawiają się drewniane statuy przedstawiające zaginione osoby. Batman nie może rozgryźć motywów działania porywacza. Szaleństwo działań sugerowałoby Jokera, ale Bruce zdaje sobie sprawą, że wariatów w Gotham nie brakuje.
Wiedząc gdzie dochodziło do porwań, Batmanowi udaje się namierzyć grupę podkładającą drewniane statuy. Jak się okazuje są to amatorzy, których zatrzymanie nie stanowi żadnego wyzwania. Niestety nic niewiedzą na temat porywacza. Namierzenie drewna też okazuje się ślepym zaułkiem. Ktoś potrafi zacierać ślady, a Batmanowi zaczynają kończyć się pomysły.
Podczas przyjecie w Wayne Manor, Bruce Wayne jest świadkiem kłótni kilku kobiet na temat jednego z obrazów. Wtedy dociera do niego, że zbrodnia i sztuka mają wiele wspólnego.
Policja rzecz jasna sprawiła podejrzanych artystów, ale Batman postanawia poszukać gdzie indziej. W ten sposób natrafia na Benjamina Carvera. Rodzina mężczyzny została zabita przez Black Maska i następnie ich ciała zostały zamknięte w drewnianych trumanach. Zrozpaczony mężczyzna celując z broni w Batmana domaga się wskrzeszenia swoich bliskich. Wie że bohaterowie co raz powracają do życia i chce tego samego dla swojej rodziny. Chociaż mężczyzna grozi, że jeśli nie uzyska tego czego chce to zakładnicy zginą, to Batman od razu go obezwładnia. Wcześniej dokładnie zapoznał się z jego życiorysem i już skontaktował się z Gordonem i kazał mu sprawdzić grób znajdujący się obok rodziny Carvera. Po zatrzymania Benjamina Bruce otrzymuje wiadomość, że policji udało się uratować zakładników, a w odpowiedzi na pytanie Carvera stwierdza, że domyślił się gdzie szukać porwanych osób, gdyż sam wie co znaczny ból po stracie rodziny, wie, że chce się ich mieć jak najbliżej.
Historia sama w sobie nie jest zła. Całość to przyjemna opowieść, w której Batman ma okazje się wykazać i która pokazuje, że nie tylko znani złoczyńcy mogą czymś zaskoczyć Nietoperza. Największy zgrzyt to warstwa graficzna. Styl rysunków Tradda Moore'a nie sprawdza się w tym przypadku. Brak proporcji, kanciaste kształty po prostu nie współgrają ze scenariuszem Tobina.
Ocena: 3,5 nietoperka

---