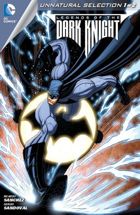 LEGENDS OF THE DARK KNIGHT #23
Tytuł historii: Unnatural Selection, Part 1
Data wydania: 08.11.2012 (USA)
Scenariusz: Ricardo Sanchez
Rysunki: Sergio Sandoval
Okładka: Tradd Moore i Randy Mayor
Kolor: David Lopez i Santi Casas z Ikari Studio
Liternictwo: Saida Temofonte
Ilość stron: 23
Twoja ocena:

GD Star Rating
loading...
Kiedy dochodzi do włamania w rezydencji uznanego kryptozoologa, ten jest wstrząśnięty gdy okazuje się, że skradziono jeden z jego okazów. Ale jest jeszcze bardziej zaskoczony, gdy Batman rozpoczyna w tej sprawie śledztwo!
Badając zwłoki kolejnej ofiary Batman stwierdza, że chociaż wyniki DNA nie są jednooczna, to za atak nie odpowiada Killer Croc. W Gotham pojawił się jakiś osobnik z zupełnie nowego gatunku, który morduje mieszkańców miasta.
W nocy Batman odwiedza pana Roadsa. Nie zagraża mu żaden psychopata pokroju Jokera, ale chodzi o kradzież do której doszło w jego rezydencji kilak tygodni wcześniej. Bohater chce obejrzeć miejsce w którym doszło do kradzieży, bo w swoich zbiorach ma on wiele okazów kryptozoologicznych. Zabrano jednak tyko Barghesta (mitycznego psa-goblina). Co prawda nie ma żadnego zdjęcia przedstawiającego skradziony okaz, ale opis przedstawiony przez Roadsa nie pozostawia złudzeń, że ten osobnik pasuje do spradzy krwawych zabójstw. Wiedząc kto stworzył ten okaz, Bruce każe Alfredowi sprawdzić Joela Garfielda. Życiorys grabarza, sugeruje, że może mieć on coś wspólnego z całą sprawą.
Garfielda odwiedza Franklin Perry, który chce kupić Barghesta podobnego do tego którego Joel zrobił dla Roadsa. Ten jednak pokazuje inne swoje twory, którymi kupiec nie jest jednak zainteresowany, bo chce tylko Barghesta. Podenerwowany Joel w mało uprzejmy sposób wyprasza Franklina. Jak się okazuje pod postacią Perry'ego ukrywa się Bruce, który mu już pewność, że Garfield coś ukrywa.
W nocy dzięki wykorzystaniu satelity Wayne Enterprises Batmanowi udaje się być w odpowiednim miejscu i czasie, kiedy bestia znowu atakuje. Jednak mimo jego próby powstrzymani Barghest rani mężczyzny i ucieka.
Atak dziwnego stworzenia już nie dawno był w Batman: Legends of the Dark Knight. Tym razem to nie smok, ale Barghest – mityczny pies-goblin. Zadziwiających pomysłów twórcom nie brakuje. Cała opowieść trzyma w napięcia, które potęguje wszech obecne niepewność, czy mityczne stworzenie naprawdę odpowiedzialne jest za ataki. Bruce ma okazuje na trochę detektywistycznej roboty i działanie pod przykrywką. Jest po prostu ciekawie. Rysunki i kolory oddają mroczna aurę opowieści, ale kiedy pokazany zostaje Barghest w akcji to cała aura tajemniczości znika. Od kolejnego numeru będzie zależeć, czy twórcom uda się w miarę logiczny sposób wytłumaczyć pojawienie się mitycznej bestii, bo na razie jest dobrze.
Ocena: 4,5 nietoperka

---