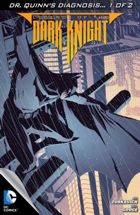 LEGENDS OF THE DARK KNIGHT #49
Tytuł historii: Dr. Quinn's Diagnosis, Part 1
Data wydania: 09.05.2013 (USA)
Scenariusz: Jim Zubkavich
Rysunki: Neil Googe
Okładka: David Williams i Elizabeth Breitweiser
Kolor: Kathryn Layno
Liternictwo: Saida Temofonte
Ilość stron: 23
Twoja ocena:

GD Star Rating
loading...
Kiedy śledztwo w sprawie ostatnich planów Jokera staje w miejscu, Batman staje się kreatywny. Harley Quinn może zdradzić sekret swojego ukochanego… jeśli Batman zgodzi się na jej żądania.
W zimowy wieczorem Batman dociera do opuszczonej lodziarni, gdzie czeka na niego Harley Quinn. Bohaterka pragnie się trochę zabawić, ale jej sztuczki i różne gadżety nie robią na Nietoperzu żadnego wrażenia. Chce jak najszybciej zakończyć tę sprawę. Harley nie ma mu jednak zamiaru powiedzieć gdzie jest Joker, mimo że stawką jest życiu wielu niewinnych ludzi.
Harley w końcu wyciąga spod lady budzik, który dostała od Jokera i obiecuje Batmanowi, że powie mu gdzie jest Joker, ale tylko pod warunkiem, że ten zgodzi się na sesję psychiatryczną w stylu dr Quinn.
O śledztwie Batmana oraz o zagrożeniu ze strony Jokera nie wiadomo nic. To tylko element fabuły, który posłużył po to by dać pełne pole do popisu Harley Quinn. Batman co prawda próbuje ją powstrzymać, ale to ukochana Jokera rozdaje karty. I to jej musi się podporządkować bohater, by złapać klauna.
Kreskówkowy styl doskonale się sprawdza w ukazywaniu wariactw Harley i chociaż fakt, że Batman pozwala wciągnąć się w tę grę jest trochę naciągany, to pomysł na sesję psychiatryczną Nietoperza z Harley zapowiada się niezwykle obiecująco. Druga część tej historii zadecyduje czy twórcy naprawdę mają coś ciekawego do opowiedzenia na temat Batmana.
Ocena: 4 nietoperki

---