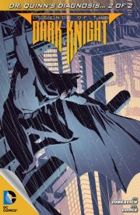 LEGENDS OF THE DARK KNIGHT #50
Tytuł historii: Dr. Quinn's Diagnosis, Part 2
Data wydania: 16.05.2013 (USA)
Scenariusz: Jim Zubkavich
Rysunki: Neil Googe
Okładka: David Williams i Elizabeth Breitweiser
Kolor: Kathryn Layno
Liternictwo: Saida Temofonte
Ilość stron: 23
Twoja ocena:

GD Star Rating
loading...
Batman zgodził się na żądania Harley: pozwoli jej wykorzystać szkolenie psychiatryczne, by go zdiagnozować! Czy spodoba mu się to co powie?
Harley zaczyna diagnozować Batmana od swojego standardowego zestawu pytań. Interesuje ją dzieciństwo bohatera. Ten udziela krótkich odpowiedzi "tak", lub "nie" a odpowiednia pytania pozwalają Harley dowiedzieć się, że rodzice Batmana padli ofiarą zbrodni i że ten poprzysiągł zemstę. Następnie ukochana Jokera próbuje dowiedzieć się dlaczego bohater zdecydował się na symbol nietoperza. Tym razem jednak Batman odpowiada pytaniem i dochodzi tym samym do odwrócenia ról. To on zaczyna poddawać Harley psychoanalizie.
Po sugestiach, że jest tylko marionetką w rękach Jokera, Harley zaczyna być szczera. Wyznaje, że łamanie prawa jest ekscytujące i daje jej pełną wolność. Klaunów zaś uważa za jedyne osoby, które widzą prawdziwy świat, który jest jednym wielkim żartem.
Wraz z kolejnymi pytaniami Batmana, Harley zdaje sobie sprawę co się dzieje i wraca do analizy bohatera. Tym razem skupia się na fakcie, że ten zawsze wszystko chce naprawić. Zastanawia się także nad kobietami w życiu Batmana, bierze również pod uwagę możliwość relacji bohatera z Robinem. Kiedy Batman ma już dość kolejnych pytań, Harley przedstawia swoją diagnozę. Według niej bohater jest samotny, niekochany i pusty. Ona zaś jest wiecznie uśmiechniętą osobą, która potrafi cieszyć się życiem.
Kiedy budzik Jokera zaczyna dzwonić Harley w podskokach oświadcza, że udało jej się przechytrzyć Batmana. Joker wyznaczył jej zadanie by zajęła czymś bohatera i chociaż wątpił, że jej się to uda, to Harley tego dokonała i tym samym wygrała. Batman od razu aresztuje Harley i przekazuje ją czekającym na zewnątrz policjantom i Gordonowi. Bohaterka widzi, że nikt nie panikuje i że miasto nie zostało spustoszone przez Jokera. Batman złapał bowiem klauna kilka godzin wcześniej, a przez całą tę rozgrywkę z Harley chciał się tylko dowiedzieć, czy ta została zmuszono do pomocy szaleńcowi, czy też robiła to z własnej woli.
Harley diagnozująca Batmana, to gwarancja niezłej zabawy. Pomocnica Jokera jest przezabawna i dość trafnie odgaduje co też kryje się w głowie Batmana. Pozwala sobie również na dwuznaczne aluzje na temat relacji Batman-Robin. Jednak o żadnych wielkich odkryciach nie może być mowy. Bo przecież Bruce nie dałby sobą tak pogrywać, bez żadnego powodu.
Twórcom tej dwuczęściowej opowieści, udało się z dużą dawką humoru przedstawić Harley Quinn taką jak wszyscy znają z "Batman TAS". Jeśli więc jesteście fanami takiej wersji bohaterki to śmiało możecie sięgnąć po tą opowieść.
Ocena: 4,5 nietoperka

---