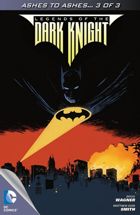 LEGENDS OF THE DARK KNIGHT #76
Tytuł historii: Ashes to Ashes, part 3
Data wydania: 12.11.2013 (USA)
Scenariusz: Doug Wagner
Rysunki: Matthew Dow Smith
Okładka: Francesco Francavilla
Kolor: Wendy Broome
Liternictwo: Saida Temofonte
Ilość stron: 23
Twoja ocena:

GD Star Rating
loading...
Wiedząc kim jest zabójca i dlaczego atakuje prominentnych mieszkańców Gotham, Bruce Wayne musi odłożyć na bok swoją wyrozumiałość dotyczącą człowieka, który znalazł siły by pokonać najmroczniejsze koszmary, ale pozwolił by zemsta pochłonęła jego duszę.
Korzystając z różnych gadżetów jak batarangi Batman stara się powstrzymać Fiesera. Ten jednak nie zamierza się poddawać. Odłącza kuchenkę nie przejmując się tym, że zaczyna ulatniać się gaz. Sytuacja staje się jeszcze bardziej dramatyczna, gdy na miejscu pojawia się młoda policjantka. Batman w ostatniej chwili ratuje ją przed eksplozją.
W rozmowie z komisarzem Batman zastanawia co on by zrobił gdyby znalazł się w sytuacji Adama, wie jednak, że dziś wszystko sie zakończy. Dzięki batarangowi, który wbił się w ciało nieczującego bólu Fiesera Nietoperz namierza go.
Batman nie chce jednak walczyć z Adamem. Próbuje go przekonać by ten opowiedział swoją historią i w ten sposób poradził sobie z wielką stratą. Fieser pamięta jednak ostatnie słowa swojej siostry, która przed śmiercią była pewna, że uratuje ich Batmana. Obrońca Gotham City jednak wtedy się nie pojawił. Ze względu na fakt, że jego siostra tak uwielbiała Batmana, Adama postanowił zabić go na samym końcu. W płonącym budynku Bruce próbuje dotrzeć do swojego przeciwnika. Ten jednak nie chce być uratowany.
Po powrocie do jaskini Bruce wyznaje Alfredowi, że tego dnia zrozumiał, że dla mieszkańców Gotham Batman nie jest symbolem zemsty, czy sprawiedliwości, ale zaufania, że zawsze będzie chronił miasta.
Ashes to Ashes okazała się niespodziewanie dość dobrą historią. Nie brakowało tu detektywistycznej strony pracy Batmana, a co najważniejsze główny przeciwnik okazał się kimś więcej niż tylko seryjnym podpalaczem. Kiedy łotrom da się solidną motywację ich czynów a ich starć z Batmanem nie ograniczy się do walki, to otrzymamy coś ambitniejszego. W przypadku historii Douga Wagnera poprzez postać Fiesera pokazano jak różne może być podejście Bruce'a do swoich przeciwników. Nie zawsze musi ich pokonywać gadżetami czy swoją siłą, czasami do skrzywdzonych przez los osób trzeba dotrzeć w inny sposób. Nie zawsze jest na to czas, ale w ten sposób Batman zostaje przedstawiony, jako prawdziwy strażnik Gotham.
W Batman: Legends of the Dark Knight ukazują się różne historie, Ashes to Ashes zalicza się do tych ciekawszych i mam nadzieje, że Doug Wagner i Matthew Dow Smith na niej swojej przygody z Batmanem nie zakończą.
Ocena: 4 nietoperki

---