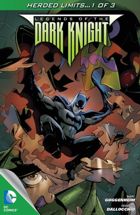 LEGENDS OF THE DARK KNIGHT #77
Tytuł historii: Herded Limits, part 1
Data wydania: 19.11.2013 (USA)
Scenariusz: Marc Guggenheim
Rysunki: Federico Dallocchio
Okładka: Federico Dallocchio i Esther Sanz
Kolor: Alejandro Sanchez
Liternictwo: Saida Temofonte
Ilość stron: 23
Twoja ocena:

GD Star Rating
loading...
Po tym jak Mroczny Rycerz udaremnia ostatni plan Riddlera, dr Chase Meridian przedstawia dowody, że Edward Nigma wcale nie jest wariatem!
Podczas rozprawy sądowej Edwarda Nigmy zeznaje dr Chase Meridian, która stwierdza, że ten cierpi na zaburzenia obsesyjno-kompulsyjne. W jego przypadku jest to chęć przeciągnięcia uwagi stróżów prawa. Informuje więc o zamiarach popełniania przestępstw i daje tym samym szanse stróżom prawa, w tym także Batmanowi, na powstrzymanie go. Z tego powodu dr Meridian uważa, że Edward powinien trafić do więzienia Blackgate a nie Arkham Asylum. Sąd jednak nie podziela jej teorii i po raz kolejny wysyła Nigmę do zakładu dla obłąkanych.
Wieczorem podczas kolacji z Bruce'em Wayne'em Chase cały czas rozmyśla o Riddlerze i o tym jak rozprawa sądowa będzie dla niego kolejną okazją do gry. Wracając z kolacji para zostaje napadnięta, Bruce chociaż od razu wie jak poradzić sobie z przeciwnikiem na kilka sposób, to początkowo nic nie robi. Jednak coś w nim pęka kiedy napastnik chwyta za naszyjnik z pereł Chase. Tragiczne wspomnienia sprawiają, że Wayne zaczyna okładać pięściami bandytę i tylko reakcja Meridian powstrzymuje go przed popełnieniem wielkiego błędu.
W Arkham Asylum dr Chase Meridian odwiedza Edwarda. Pragnie uzyskać potwierdzenie swojej teorii i dowiedzieć się czy w działaniach Riddlera jest jakieś drugie dno. Uważa, że zamiast kradzieży pieniędzy bardziej go interesuje sama rozgrywka z Batmanem i policją.
Bruce nie zapomina o sprawie napadu. Chociaż pozwolił napastnikowi uciec, to w jego oczach dostrzegł żółte wybroczyny, które wskazują na zatrucie vertigo, niebezpiecznym narkotykiem. Po tym jak rabuś zdobywa kolejną działkę na rozmowę zabiera go Batman.
Po rozmowie z Nigmą, dr Meridian zmienia swoją pierwotną diagnozę. Nie ma wątpliwość, że Edward jest geniuszem i doskonałym strategiem, ale największym problemem jest to, że dla niego wszystko jest grą i jest w nich ekspertem. Dlatego zastanawia się, dlaczego Edward tak często przegrywa swoje starcia z policją? Wytłumaczenie może być tylko jedno. Gra w zupełnie inną grę, o której jeszcze nikt nie zdaje sobie sprawy i jeśli gracze nie odkryją co tak naprawdę planuje Riddler, to czeka ich porażka.
W międzyczasie w Arkham, Edward po wyjęciu zęba w którym miał ukryty pewien przedmiot, wychodzi ze swojej cieli i spokojnie schodzi do ukrytego pomieszczenia w podziemiach, gdzie odnajduje czarny notatnik.
Batman, Riddler i dr Chase Meridian, ta trójka bohaterów od razu kojarzy się z filmem Batman Forever. Nie ma jednak powodów do obaw, w historii przynajmniej jak na razie nie ma Two-Face'a ani Robina. W gruncie rzeczy nie jest to też opowieść o Batmanie, który jest tu drugoplanowym bohaterem. Otrzymaliśmy pewnego rodzaju pojedynek dr Chase Meridiana i Edwarda Nigmy. Pani psycholog, która jest nowa w Gotham City, stara się rozgryźć Riddlera i jak się okazuje jej diagnoza nie jest wcale niedorzeczna.
Riddler zawsze był postacią z potencjałem, który nie zawsze w pełni był wykorzystywany. W przypadku Herded Limits wygląda na to, że będzie to przeciwnik znacznie trudniejszy do pokonania niż można przypuszczać. Na plus zasługuje też wprowadzenie postaci dr Chase Meridian. Jako, że pewną wersję tej bohaterki znamy z filmu, to nie przeszkadza brak informacji na temat jej przeszłości.
Ocena: 4,5 nietoperka

---