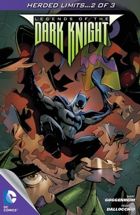 LEGENDS OF THE DARK KNIGHT #78
Tytuł historii: Herded Limits, part 2
Data wydania: 26.11.2013 (USA)
Scenariusz: Marc Guggenheim
Rysunki: Federico Dallocchio
Okładka: Federico Dallocchio i Esther Sanz
Kolor: Alejandro Sanchez
Liternictwo: Saida Temofonte
Ilość stron: 23
Twoja ocena:

GD Star Rating
loading...
Podczas gdy dr Meridian walczy by przekonać do swojej teorii o Edwardzie Nigmie inne osoby, inna strona Riddlera wychodzi na światło dzienne! Czy Batman jest gotów by rozwiązać nową zagadkę? A może Riddler gra już w zupełnie inną grę?
Z opinią dr Chase na temat Rddlera nie zgadza się dyrektor Akrham Asylum, który uważa Edwarda za jednego za najmniej niebezpiecznych ze wszystkich swoich podopiecznych.
Tymczasem Riddler wreszcie znalazł to czego chciał. Specjalnie dał się złapać, by po długich poszukiwaniach w jednym z najstarszych budynków w Gotham odnaleźć to czego szukał. Dlatego teraz już nie musi dłużej przebywać w Arkham. Unieszkodliwia sprzątacza, który go dostrzegł a następnie nie ma większych problemów z pokonaniem strażników, gdyż dla niego wszystko jest grą, a on jest genialnym strategiem. Żeby zyskać przewagę bierze na zakładniczkę dr Meridian. Kiedy na miejscu pojawia się Batman, Chase przestrzega go przed niedocenianiem Edwarda.
Atakując Nigmę, Bruce szybko się orientuje, że jego przeciwnik jest znacznie zwinniejszy niż wcześniej. Na dodatek zna sztuki walki i umie posługiwać się bronią. Jak nowicjusz Batman pozwala Riddlerowi się wymknąć ale przynajmniej dr Meridian jest bezpieczna. Na miejsce znajduje za to karteczkę z napisem "Mister Polo".
W jaskini Bruce podaje dogłębnej analizie karteczkę pozostawioną przez Nigmę. Okazuje się, że "mister polo" to anagram "metropolis".
Riddler doskonale orientuje się w historii Gotham wie, że norweski najemnik Bartol Goth zdobył na plądrowaniu wielką fortunę, która obecnie jest bezcenna. Jednak nikt jej nie odnalazł. Nieprawdą jest, że Goth zmarł nie pozostawiając potomka. Tajemnica o lokalizacji skarbu przekazywana była z pokolenia na pokolenia aż trafiła do Amadeusa Arkham. Ten jednak tak jak jego matka popadł w obłęd i w ten sposób informacja o miejscu ukrycia skarbu przepadła, aż do tej pory.
W upuszczonym tunelu metra Nigma przygotowuje się wraz ze swoim ekspertem od wybuchów. Jak się okazuje planowana eksplozja może zniszczyć wszystko w obrębie pięciu przecznic.
Intryga, którą zaplanował Riddler jest wciągająca. Można się dopatrzeć pewnego rodzaju elementów zbliżonych do historii Snydera, jak chociażby tajemnica związana z historią Gotham. W ten sposób Edward staje się poszukiwaczem skarbu, który jak na razie nie ma godnego przeciwnika. Sposób w jaki tego wszystkiego dokonuje wydaje jednak zbyt prosty. Geniusz Riddlera nigdy nie podlegał wątpliwości, a teraz kiedy do jego atutów doszły umiejętności walki i posługiwania się bronią, wydaje się, że jest to drobna przesada. Być może wygląda to tak, dlatego, że Batman daje się łatwo zaskoczyć i tym samym Edward wydaje się lepszych wojownikiem niż jest w rzeczywistości?
Na uwagę po raz kolejny zasługuje dr Chase, która udowadnia, że spojrzenie osoby z zewnątrz może rzucić zupełnie nowe światło na jakby się wydawało oczywiste sprawy. Jak do tej pory to Edward udowadnia, że jest górą i tylko dr Meridian zbliżyła się do rozszyfrowania jego zamiarów. Przed nami jednak jeszcze ostatnia część tej zaskakująco ciekawej opowieści.
Ocena: 4 nietoperki

---