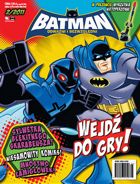 BATMAN – ODWAŻNI I BEZWZGLĘDNI #2
Data wydania: 9 czerwca 2011
Scenariusz: Matt Wayne
Rysunki: Phil Moy
Tusz: Phil Moy
Kolor: Heroic Age
Druk: kolor, kredowy cienki
Oprawa: miękka
Format: A4
Ilość stron: 32
Wydawca: Egmont Polska
Wydawca oryginalny: DC Comics
Cena: 7,99 zł
Redaktor naczelna: Ewa Drabikowska
Oto drugi numer magazynu "Batman – Odważni i Bezwzględni" pełen przygód ze świata Twojej ulubionej kreskówki.
ZOBACZ, CO CIEKAWEGO CZEKA NA CIEBIE W TYM NUMERZE!


Poznaj niezwykłaego chłopca, Jaime'go Reyesa, bardziej znanego jako BŁĘKITNY SKARABEUSZ. Przeczytaj komiks, w którym pełni główną rolę. Zobacz, jak przenika do gry komputerowej, by powstrzymać przestępców, którzy planują atak w realnym świecie!
Czy w tej szalonej misji Batman i Błękitny Skarabeusz dadzą z siebie wszystko? Czy uda im się wypełnić zadanie, zanim wyczerpią im się w grze punkty życia?
Ale na tym nie koniec atrakcji! Poznaj sylwetki niezwykłych bohaterów, rozwiąż dowcipne zagadki, a co najważniejsze, wyślij nam swój rysunek lub napisz do nas!
Kiedy Superman zostaje uwięziony z kryptonitem przyczepionym do szyi przez Toymana wydaje się, że to już jest jego koniec. Jednak na miejscu zjawia się Batmana, a po chwili Superman zrywa fałszywy kryptonit. Jak się okazuje bohaterowie wcześniej zamienili się miejscami i w ten sposób oszukali Toymana.
Kiedy w El Paso w Texasie grupa troli terroryzuje miasto, Batman próbuje ich powstrzymać. Jednak tuż po jego przybyciu złoczyńcy znikają. Batman podejrzewa, że ma do czynienia z postaciami z gier komputerowych, dlatego zwraca się do eksperta w tej dziedzinie, Jaimego Rayesa.
Razem z Blue Beetle'em Batman ponownie próbuje powstrzymać grupę złoczyńców. Tym razem bohaterowie zostają jednak wciągnięci do wirtualnego świata.
W wirtualnym środowisku bohaterom przychodzi zmierzyć się z Thinkerem, który dyktuje zasady gry. Pozbawiony swojej mocy Jaime zwraca się do graczy z całego świata o pomoc w pokonaniu złego złoczyńcy. Mimo, że to nie pomaga, to Batmanowi, dzięki specjalnemu kodowi udaje się przyjąć wygląd ogra, co pozwala mu na działania po, przez które udaje mu się zwrócić zrabowane skarby i pokonać przeciwnika.
Czy naprawdę twórcy muszą w historiach umieszczać tak wymyślnych przeciwników? Do tego jeszcze te moralizatorskie wypowiedzi Batmana i jego wspólny posiłek z rodziną Jaimego.


Jak na razie w serii najlepiej wypadają krótkie początkowe historie, reszta niestety jest średnia, ale zapewne młodym osobom mogą się podobać.
Ocena: 3 nietoperki

---
Komiks powstał na podstawie 2. numeru brytyjskiego magazynu dla dzieci
Batman: The Brave and the Bold
wydawanego przez Titan Magazines, który zawiera historię z amerykańskiego oryginału
BATMAN: THE BRAVE AND THE BOLD #2 (2009)
.
---