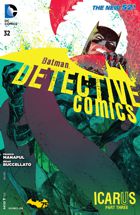 DETECTIVE COMICS #32
Tytuł historii: Icarus, Part 3
Miesiąc wydania (okładka): Sierpień 2014 (USA)
W sprzedaży od: 11.06.2014 (USA)
Scenariusz: Brian Buccellato
Rysunki: Francis Manapul
Okładki: Francis Manapul; Joe Quinones; Ant Lucia
Kolor: Brian Buccellato
Liternictwo: Jared K. Fletcher
Ilość stron: 32
Twoja ocena:

GD Star Rating
loading...
Kolejna wielka detektywistyczna zagadka Batmana cały czas pozostaje nierozwiązana w 3-części "Icarus" od uznanego duetu twórców od FLASHa. Batman wpada w szpony szefa mafii znanego jako "The Squid"!
Prowadząc swoje poszukiwania Batmanowi udało się odnaleźć samochód Eleny, który został zatopiony na nabrzeżu. O swoim odkryciu anonimowo zawiadomił policję. Już pierwsze spojrzenie na wrak sprawia, że Bullock domyśla się, że Nietoperz już tu był, a to oznacza, że pracują nad tą samą sprawą. Oprócz zatrzymania Sumo uwagę policji przykuwa również informacja o brakującym kontenerze.
Batmanowi udaje się odnaleźć Annie Aquile, która czuje się co raz bardziej zagubiona. Zapewnia ją, że uratuje to miasto i znajdzie winnych śmierci Eleny.
Po powrocie do mieszkania Harvey od razu karmi swoje koty i odsłuchuje wiadomości od matki, lekarza oraz od Mayi, której udało się ustalić związek z zaginionym kontenerem a Jebem Lesterem z Wayne Industries.
Przerażony Jeb, po tym jak dowiedział się, że policja chce go aresztować, rozmawia z Samem przez telefon, który wpakował go w te kłopoty. Po chwili jednak musi zakończyć rozmowę, gdyż teraz chce z nim osobiście porozmawiać Harvey Bullock.
Batman odnajduje kryjówkę Squida w opuszczonym akwarium, jednak nie zdaje sobie sprawy, że wkrótce może się stać przekąską ogromnej ośmiornicy ku radości gangstera i jego brata. Bruce jednak jest przygotowany na każdą ewentualność i przy użyciu odpowiedniej dawki prądu pozbywa się ośmiornicy, ale po chwili musi się zmierzyć z uzbrojonymi zbirami oraz Kings of the Sun, który chce zastrzelić Squida.
Pod względem graficznym seria
Detective Comics
pod okiem nowego duetu twórców jest co raz lepsza. Wszystko wygląda tak jak powinno, czyli olśniewająco. Nie ważne czy jest to walka Batmana z ośmiornicą, czy jego rozmowa z Annie lub szybkie spojrzenie na domowe życie Harveya.
Główny wątek stopniowo się posuwa do przodu, ale wydaje się, że momentami otrzymujemy przepiękne wizualnie sceny, ale w zamian ograniczona zostaje treść numeru. Tak naprawdę kiedy już dochodzi do ciekawych momentów i liczmy, że dowiemy się czegoś nowego, to okazuje się, że dobrnęliśmy do końca. Tak więc na poznanie motywów Lestera przyjdzie nam poczekać do kolejnego numeru, w którym być może twórcom uda się trochę przyśpieszyć akcję.
Ocena: 4,5 nietoperka

---