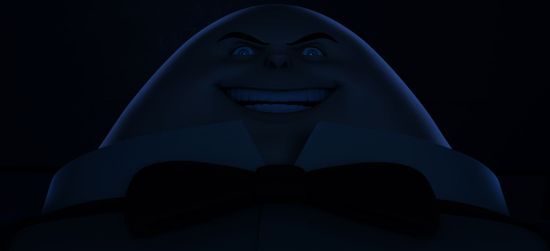 Tytuł odcinka:
"BROKEN"
Pierwsza data emisji:
10 sierpnia 2013
Reżyseria:
Rick Morales
Scenariusz:
Michael Ryan
Twoja ocena:
GD Star Rating
loading...
Obsada:
Anthony Ruivivar
Sumalee Montano
JB Blanc
Matt L. Jones
Matthew-Leon Valley
Tara Strong
Matthew Mercer
Michael Patrick McGill
Batman/Bruce Wayne
Tatsu Yamashiro
Alfred Pennyworth, bat-komputer
Humpty Dumpty
Tobias Whale
Barbara Gordon
Ice Pick Joe
oficer O'Brien
Dziwne, metalowe zabawki żołnierzy zaczęły pojawia się w całym Gotham… uzbrojone w prawdziwą broń. Podczas swojego śledztwa Batmana odkrywa, że to nie zabawki, ale ludzie uwięzieni w wypełnionymi materiałami wybuchowymi powłokach. Wszystkie poszlaki prowadzą do byłego księgowego mafii Humpty'ego Dumpty'ego, który oszalał po tym jak mafia próbowała uciszyć go nim zacznie zeznawać. Teraz pragnie zemsty i jednym z jego celi jest porucznik James Gordon!
Intryga uknuta przez Dumpty'ego sama w sobie zła nie jest, ale już sama postać złoczyńcy nie przekonuje. Oczywiście Humpty nigdy nie był typowym łotrem, ale zrobienie z niego kogoś na wzór Toymana to spora przesada. Jak skonstruował te wymyślne bomby?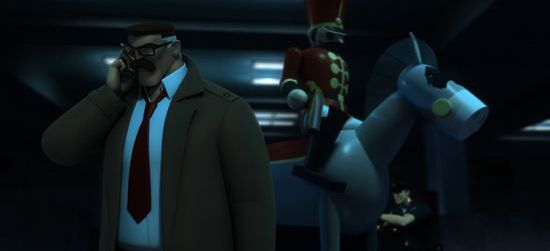 Wraz z kolejnymi odcinkami coraz bardziej rzucają się w oczy słabe punkty CGI, czyli przede wszystkim wszech obecna pustka na ulicach i w budynkach. Twórcy starają się to maskować faktem, że większość akcji rozgrywa się w nocy, dzięki czemu serial ma dość mroczny klimat, ale niestety to za mało. Sprawy nie poprawia też strzelająca laserami broń.
Współpraca Batmana z Gordonem rozwija się prawidłowo. Początkowo porucznik chce dopaść samozwańczego stróża prawa, ale nie ma problemów z docenieniem jego pracy. Nie brakuje też bezpośrednich rozmów, a także słynnego znikania Batmana. Pod tym względem twórcy spisują się doskonale. Wspomnieć jeszcze warto o kilku robiących wrażenie scenach jak chociażby Alfred wyciągający spluwę, czy też pokazanie jak działa miecz Soultaker. Niestety nie brakuje też momentów nielogicznych. Batman zamiast nie dopuścić by figurki wystrzeliły do siebie z armaty wysadza w powietrze latarnie, które upadając odbijają kule. Bardziej skomplikowanego rozwiązania tej sytuacji nie dało się wymyślić. Trudno też powiedzieć, że bohater odnosi sukcesy, bo już kolejny łotr, a nie ukrywajmy tego Humpty nie jest przeciwnikiem, którego trudno złapać, wymyka się bohaterowi. Sugeruje to, że jeszcze powinniśmy o nich usłyszeć, ale czyżby już tak trudno uzasadnić, że któryś z nich mógłby uciec z więzienia, czy też innego zakładu?
Ocena: 4 nietoperki

---
CYTATY:

Batman: I hacked your phone and modified your SIM chip. Gotham PD should really get better security for their equipment.
Lt. Gordon: I'll stick that in the suggestion box when I get a chance.
Barbara: Hey, Dad. I got us that low-fat low-salt corn-beef hash you like.
Lt. Gordon: Barb, you know I happen to like the one with extra fat and extra salt.
Tatsu: Is this a good idea? Are you sure Mr. Wayne is out of town on business?
Alfred: Oh, Mr. Wayne is almost always out on some kind of business. Best to make the most of it.

---
---