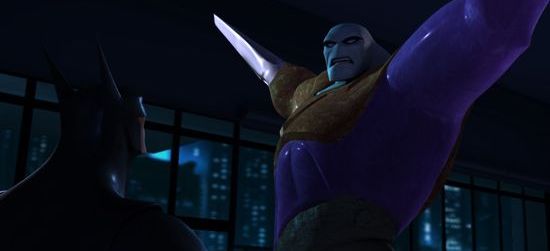 Tytuł odcinka:
"TOXIC"
Pierwsza data emisji:
17 sierpnia 2013
Reżyseria:
Curt Geda
Scenariusz:
Erin Maher, Kathryn Reindl
Twoja ocena:
GD Star Rating
loading...
Obsada:
Anthony Ruivivar
JB Blanc
Adam Baldwin
Jeff Bennett
Emmanuelle Chriqui
Cree Summer
Batman/Bruce Wayne
Alfred Pennyworth, bat-komputer
Rex Mason/Metamorpho Simon Stagg Sapphire Stagg Dr. Bethanie Ravencroft
W odpowiedzi na włamanie w Stagg Industries, Batman ratuje ochroniarza Rexa Masona, który został wystawiony na działanie toksycznego gazu bojowego zwanego projekt Metamorpho. Wkrótce Rex ulega mutacji, zyskuje możliwość kontroli poszczególnych elementów własnego ciała. Przerażony i niemogący kontrolować nowych umiejętności Rex zostaje zbiegiem. Zdając sobie sprawę, że metamorfoza powoli zabija Rexa, Batman postanawia znaleźć lekarstwo. Ale Rex martwi się tylko o kobietę, którą kocha – Sapphire Stagg i zaryzykuje całe Gotham by być z nią. Ale jej ojciec – Simon Stagg – ma własne sekrety i zrobi wszystko by trzymać ich z dala!
Pod względem fabuły w porównaniu do wcześniejszych odcinków Toxic prezentuje się nieźle. Wszystko jest w miarę składne i logiczne, ale niestety los Rexa nie specjalnie mnie zainteresował.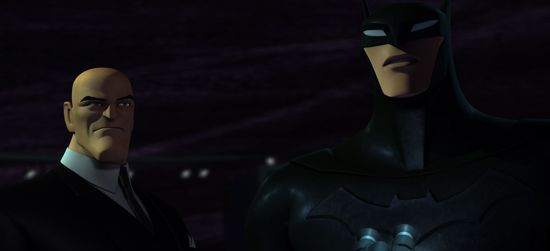 Kiedy sama historia nie wciąga nas, to trzeba szukać innych momentów godnych uwagi. W tym odcinku na taką uwagę zasługuje potyczka Batmana z Simonem Staggiem, którego bohater uratował w 1. odcinku oraz sposób, w jaki na końcu Batman triumfuje nad bezwzględnym biznesmenem. Warto też odnotować, że po raz pierwszy nie pojawia się Tatsu Yamashiro i że noga Alfreda jest już w pełni sprawna. Jednak największy plus odcinka to powrót pani dr Bethanie Ravencroft, która po raz pierwszy pojawiła się w odcinku
Secrets
, i która jak się okazuje ma ukryte zamiary wobec Wayne'a. Ten wątek zapowiada się bardzo interesująco i dobrze widzieć, że twórcy nie zapominają o wcześniej wprowadzonych bohaterach, bo także wspomniany zostaje dr Jason Burr.
Gdyby nie kilka interesujących momentów oraz końcowy odkrycie dotyczące postaci dr Ravencroft, to odcinek ten nie byłby wart większej uwagi, a tak warto czekać na kolejny.
Ocena: 4 nietoperki

---
CYTATY:

Alfred: Exactly what did we purchase in there?
Bruce: Hormone-free bovine glands. I'm experimenting with my body's need for sleep. Currently it's four hours. I'd like to get it down to two. Certain glands are rich in adrenals.
Alfred: Very good. I look forward to blending them up for you.
Bruce: Don't say one word.
Alfred: What, and make you even more flustered?
Bruce: I'm not flustered. I'm not!
Alfred: Don't worry. I'll keep your bovine glands on ice.
Simon Stagg: How did you know? How did you know he'd come?
Batman: There are two things in life everyone's powerless against. Love and revenge.

---
---