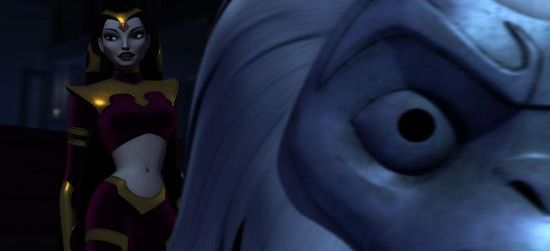 Tytuł odcinka:
"FAMILY"
Pierwsza data emisji:
7 września 2013
Reżyseria:
Sam Liu
Scenariusz:
Mark Banker
Twoja ocena:
GD Star Rating
loading...
Obsada:
Anthony Ruivivar
Sumalee Montano
J.B. Blanc
Cree Summer
James Remar
Finola Hughes
Batman/Bruce Wayne
Tatsu Yamashiro/Katana
Alfred Pennyworth, batkomputer
Dr. Bethanie Ravencroft
Silver Monkey
Lady Shiva
League of Assassins wie gdzie jest miecz Soultaker, ale nie mogąc zmusić Katany do oddania go, decydują się na jedyne rozwiązanie – porwanie Bruce'a Wayne'a dla okupu, którym mam być miecz. Oczywiście nie zdają sobie sprawy, że Bruce Wayne jest Batmanem! Kiedy zjawia się Katana by oddać miecz i uratować Wayne'a, Alfred przeprowadza dywersję umożliwiając Wayne'owi założenie kostiumu Batmana i włączenie się do walki. Wspólnie z Kataną walczy by zniszczyć Ligę, ale walka z ninja niespodziewanie kończy się zaskakującym wyznaniem.
Po krótkiej przerwie powróciły nowe odcinki i jest to powrót w świetnym stylu. Jeśli ktoś przegapił poprzednie, to poniekąd Family jest początkiem etapu, w którym to Batmanowi będzie partnerować Katana.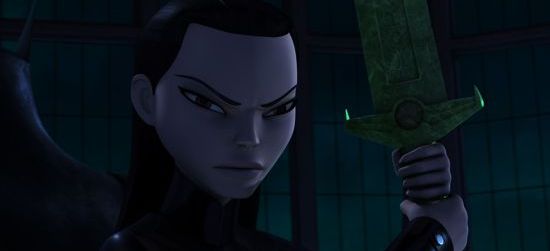 Odcinek zaczyna się od mocnego uderzania, kiedy to jesteśmy wrzucenie w sam środek walki bohaterów z Ligą Zabójców. Jednak oprócz samej walki, która w CGI prezentuje się naprawdę efektownie nie mniej interesujące jak do tej instytucji wyszło. Jak można się było spodziewać relacje Wayne'a z dr Bethanie Ravencroft nie mogły się dla niego dobrze zakończyć. Trochę szkoda, że już raczej pani doktor nie ujrzymy, ale być może pojawi się kobieta w życiu Wayne'a, dzięki czemu możemy lepiej przyjrzeć się osobie, która kryje się pod maską nietoperza.
Family
udowadnia, że wątki związane z Bruce'em wcale nie muszą być nudne, o czym najlepiej świadczy scena, w której miliarder dowiaduje się, co Tatsu i Alfred przed nim ukrywali.
Wydawać by się mogło, że Batman w tym odcinku sam swoja nieostrożnością wpakował się w poważne tarapaty, ale jak się okazuje wszystko to było po części zaplanowane, ale nie do końca się udało. Liga Zabójców nie jest więc dla Batmana czymś nieznanym i zapowiada się, że jeszcze nie raz o niej usłyszymy.
Dlaczego warto obejrzeć ten odcinek? Pojawia się w nim Lady Shiva, a Alfred strzela z bazooki, tego naprawdę nie chcecie przegapić.
Ocena: 5 nietoperków

---
CYTATY:

Bruce: You know, I've always argued that no one needs therapy more than therapists, and now you're proving my theory.
Bethany: A keen insight. It's a shame you have no one in your life to appreciate it.
Bruce: Said the shrink with the crossbow and the ninja boyfriend.
Alfred: One of these days, your luck will run out.
Bruce: Just hope you're not there when it does.
Alfred: Oh, I do, every day.

---
---