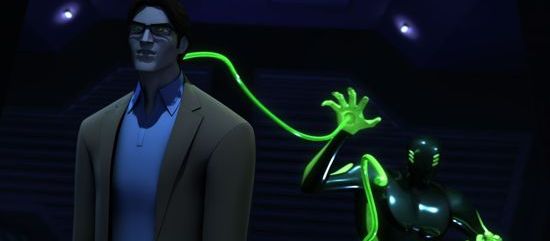 Tytuł odcinka:
"CONTROL"
Pierwsza data emisji:
21 września 2013
Reżyseria:
Curt Geda
Scenariusz:
Michael Stern
Twoja ocena:
GD Star Rating
loading...
Obsada:
Anthony Ruivivar
Sumalee Montano
J.B. Blanc
Kurtwood Smith
Matthew Lillard
James Arnold Taylor
Batman/Bruce Wayne
Tatsu Yamashiro/Katana
Alfred Pennyworth, batkomputer, policjant
James Gordon
Jason Burr
Cypher, William Benjamin, policjant Dunbrowski, motorniczy w metrze
Zdesperowana by uzyskać dostęp do Ion Cortexu, po tym jak plan porwania Jasona Burra się nie powiódł, League of Assassins wysyła jednego ze swoich wyspecjalizowanych członków, by ten wykradł informacje z umysłu Burra. Pół człowiek pół maszyna, Cypher włamuje się do laboratorium Jasona i przejmuje jego umysł. Batman i Katana próbują go powstrzymać, ale Katana przypadkowo pozwala się schwytać, kiedy widzi, że Jason jest ranny. Kontrolując Jasona i Katanę, Cypher ucieka, a Batman rusza za nim w pościg. Teraz Batman musi nie tylko zmierzyć się z Cypherem, ale także ze swoją dobrze wyszkoloną protegowaną Kataną!
Zawsze dobrze ogląda się serial, w którym poszczególne historie się zazębiają. Tym razem powrócił Jason Blood i tak jak było zasygnalizowane w poprzednim odcinku Liga Zabójców cały czas chce zdobyć Ion Cortex.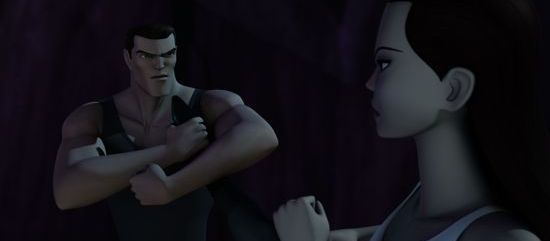 Niestety po kilku odcinkach robiących bardzo dobre wrażenie teraz mamy znaczący spadek formy. Kompletnie zawodzi główny przeciwnik, Cypher. Jego wygląd oraz umiejętności w CGI prezentują się nieźle, ale pozbawiona głosu postać jest bez wyrazu. Dobra prezencja, ale brak osobowości, to praktycznie gwarantuje, że łotr ten nie zostanie zapamiętany. Gdy zawadzi główny przeciwnik i brakuje innych elementów, to naprawdę nie ma specjalnych powodów by sięgnąć po ten odcinek, który jest jak Gotham w serialu, pozbawiony osobowości. Niby na pierwszy rzut oka wszystko dość dobrze się prezentuje, ale po chwili okazuje się, że to znacząco za mało.
Ocena: 3 nietoperki

---
CIEKAWOSTKI I UWAGI:
Od tego odcinka amerykański Cartoon Network rozpoczął emisję pełnego intra serialu, gdyż Katana jest już pełnoprawną bohaterką.
CYTATY:

Alfred: (przynosi shake proteinowy) Will it be one straw or two for dinner this evening?
Tatsu: Sorry, Alfred. I kind of promised Jason I'd let him make dinner for me tonight. I just hope the nerd can cook.
Alfred: You might consider taking it a little easier on her.
Bruce: I might, but I won't.
Batman: Autopilot.
Batcomputer: Engaged. The probability of successfully accomplishing this mission is less than 8%, Batman.
Batman: Then you'd better wish me luck.
Batcomputer: Good luck, Batman.
Batman: Thanks.
---
---