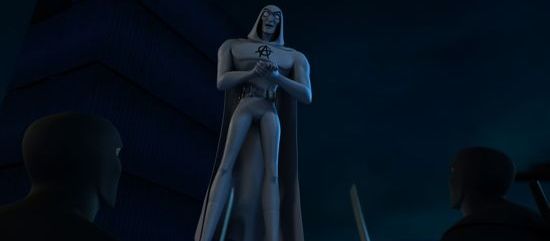 Tytuł odcinka:
"SACRIFICE"
Pierwsza data emisji:
28 września 2013
Reżyseria:
Sam Liu
Scenariusz:
Mark Banker
Twoja ocena:
GD Star Rating
loading...
Obsada:
Anthony Ruivivar
Sumalee Montano
J.B. Blanc
Kurtwood Smith
Finola Hughes
Wallace Langham
Dee Bradley Baker
Michael Patrick McGill
Beth Tapper
Batman/Bruce Wayne
Tatsu Yamashiro/Katana
Alfred Pennyworth, batkomputer, zbir, strażnik
James Gordon
Lady Shiva
Anarky
Mutant Ninja #1 i #2
oficer O'Brien, zbir
Jocelyn Kilroy
Anarky powraca by jeszcze raz rzucić wyzwanie Batmanowi – ale tym razem jego plan jest znacznie niebezpieczniejszy. Winę za kradzież cennego przedmiotu Ligi Zabójców, Anarky zrzuca na Batmana. W tym samym czasie Anarky informuje Batmana, że wie gdzie można znaleźć Ligę. Chociaż Batman wie, że to pułapka, to i tak wraz z Kataną postanawia to sprawdzić. Jak się okazuje Anarky zaprowadził Batmana, Katanę i przywódczynię Ligi Lady Shivę i jej ninja zabójców do budynku pełnego rzadkich i śmiertelnych chorób. Kiedy wszyscy są już w środku, Anarky wypuszcza w budynku wirusa przenoszącego się drogą powietrzną. Teraz Batman i inni muszą znaleźć sposób na ucieczkę nim zostaną zabici. I jeszcze jedno: jeśli wirus się wydostanie… Gotham czeka zagłada!
Anarky powraca. Tym razem przygotowuje rozgrywkę godną Riddlera i zagrożenie dla Gotham, którego przygotowania nie powstydziłby się sam Joker. Tylko co w tym wszystkim mamy z Anarky'ego, którego znamy z komiksów? Chociaż ważna rola należy do Ligi Zabójców, a przede wszystkim do Lady Shivy to potencjał tego wątku nie został wykorzystany.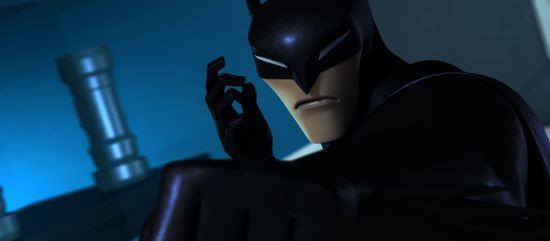 Pomysł Anarky'ego by zastawić pułapkę na dwie pieczenie, Batmana i lady Shivę jest dobry. W pewnym momencie zawodzą jednak sami bohaterowie. Otóż zamiast pokonać zmutowanych ninja i jak najszybciej zdobyć antidotum, próbują uciec. Do czego się ogranicza ta ucieczka? Do otworzenia kilku drzwi. Żadnej próby stworzenia innej drogi wyjścia. Kiedy zapowiada się ciekawe starcie Shiva kontra Batman, to wszystko kończy się szybciej nim się rozpoczyna.
Nie można też pominąć tytułowego "poświęcenia", Katana podejmuje się śmiertelnego zadania, mimo że sytuacja tego nie wymaga. I na koniec co się okazuje? Zdobycie antidotum i unieszkodliwienie ninja mutantów wcale takie ciężkie nie było. Tylko, gdyby od razu bohaterowie to zrobili, to odcinek skończyłby się po kilku minutach.
Jest jednak jeden, ale to bardzo ważny powód by obejrzeć ten odcinek – Ra's al Ghul. Liczę, że on i Liga Zabójców odegrają w kolejnych odcinkach ważną rolę, bo na Głowie Demona zawsze można polegać.
Ocena: 3,5 nietoperka

---
CYTATY:

Lady Shiva: You dare bargain with the League of Assassins? Are you mad?
Anarky: Without question.
Anarky: And who's this? A new pet?
Katana: Why don't you come down here in person so we can meet foot to face?
Anarky: I like her, Batman. She's like the pepper to your salt.
---
---