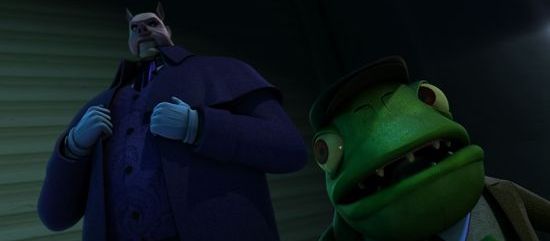 Tytuł odcinka:
"INSTINCT"
Pierwsza data emisji:
5 października 2013
Reżyseria:
Rick Morales
Scenariusz:
John Matta, Matt Weinhold
Twoja ocena:
GD Star Rating
loading...
Obsada:
Anthony Ruivivar
Sumalee Montano
Brian George
Udo Kier
Matthew Lillard
Finola Hughes
Batman/Bruce Wayne
Tatsu Yamashiro/Katana, Azzura
Professor Pyg
Mr. Toad
Dr. Jason Burr
Lady Shiva
Professor Pyg i Mr. Toad powrócili… i kierują swój wzrok ku elitom kulturalnym Gotham. Pozostawiając wskazówki, które tylko Batman może odczytać, atakują modelkę i projektanta mody, na których czekają z zabójczymi pułapkami. Chociaż Batman i Katana opanowują sytuację, to nie dostrzegają genialnego planu Pyga i Toda: zniszczyć jacht, gdzie odbywa się after-party Tygodnia Mody w Gotham. Każda ikona mody na świecie będzie tam… również Bruce Wayne!

Powrót Pyga i Toada pokazuje, że nie są to złoczyńcy, którzy zachwycają. Batman zaś bardzo dobre momenty przeplata tymi gorszymi.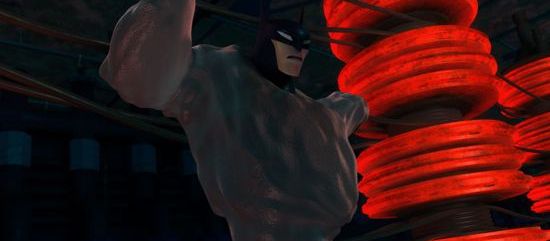 Zacznijmy jednak od plusów odcinka. Twórcy pokazują jak Bruce korzysta ze swojego "instynktu" nie ważne czy jest w restauracji, czy gdzie indziej, zawsze jest czujny. Podkradający z kasy kelner, czy kieszonkowiec za oknem, nawet tak drobni złodzieje nie umkną jego uwadze. Istotna jest również persona Wayne'a, gdyż jeśli chodzi o takie rzeczy jak moda czy jachty to wiedza miliardera w tym zakresie jest nieoceniona.
Odbiór całości psuje, co już stało się znakiem rozpoznawczym Beware the Batman brak innych mieszkańców Gotham City. Nawet mając taką okazję jak przyjęcie na jachcie, twórcy kompletnie pomijają sceny grupowe. Dlatego cały czas ma się wrażenie, że Gotham City to jakieś wymarłe miasto. Jak już wspominałem zawodzą złoczyńcy, którzy nie wydają się specjalnie trudnymi przeciwnikami, a mimo wszystko udaje im się zaskoczyć Batmana. Mają nawet okazję go wykończyć, ale tego nie robią gdyż za oknem słyszą syrenę policyjną. Kilka sekund by wykończyć Nietoperza, a oni odpuszczają.
Najciekawsze są dosłownie epizody oraz rąbki tajemnicy dotyczące kolejnych wątków. Pod koniec tego odcinka przekonujemy się, że Jason Blood jest coraz bliżej roli łotra oraz, że Lady Shiva jeszcze nie powiedziała ostatniego słowa i to ona wyrasta na najważniejszego przeciwnika Batmana, a nie Anarky jak wynikało to z zapowiedzi twórców serialu przed jego premierą.
Ocena: 3 nietoperki

---
CIEKAWOSTKI I UWAGI:
Logo Cole Plastics umieszczone na masce kota ma takie same kolory jak Plastic Man.
CYTATY:

Tatsu: Ugh! What's that smell?
Bruce: It's Parijat bark.
Tatsu: How is that even on the menu?
Bruce: I own this restaurant. Now let's get to your training.
Tatsu: Really? Now? Couldn't we wait until after the cheese course?
Bruce: You need to train your mind to let your instincts tell you when something is wrong.
Tatsu: When do you turn it off?
Bruce: I don't. I can't.
Mr. Toad: Batman. Welcome to our summer lair.
Professor Pyg: Yes, we've been meaning to invite you over for tea and a good old-fashioned pummeling. Sadly, we're all out of tea.
---
---