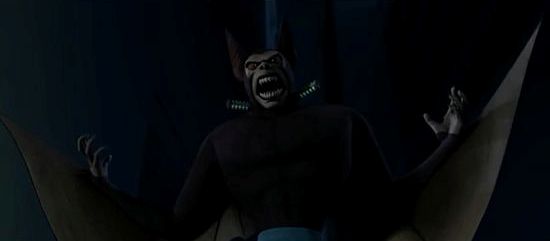 Tytuł odcinka:
"DOPPELGANGER"
Data premiery:
16 kwietnia 2014
Reżyseria:
Rick Morales
Scenariusz:
John Matta, Matt Weinhold
Twoja ocena:
GD Star Rating
loading...
Obsada:
Anthony Ruivivar
Sumalee Montano
Tara Strong
J.B. Blanc
Brian George
Udo Kier
Christopher McDonald
Robin Atkin Downes
Batman/Bruce Wayne
Tatsu Yamashiro/Katana
Barbara Gordon/Oracle, kobieta
Alfred Pennyworth, batkomputer
Professor Pyg
Mister Toad
Harvey Dent
Dane Lisslow, Kirk Langstrom/Man Bat
Batman i Katana napotykają dziwnego stwora Man-Bata, który jest wynikiem eksperymentów Pyga i Toada w celu stworzenia armii zmutowanych ludzi. W międzyczasie, w celu utrzymania swoich wrogów bliżej, Bruce Wayne zaprzyjaźnia się z Harveyem Dentem i dowódcą SCU, Dane'em Lisslowem, z którym łączą go wspólne pasje.
Po Killer Crocu tym razem przyszedł czas na Man-Bata. Wygląda na to, że twórcy starają się przed końcem sezonu chcą pokazać jak największą ilość znanych złoczyńców. Odcinek próbuje uchodzić za mroczną produkcję. I pod pewnymi względami się to udaje, ale Man-Bat z CGI momentami wygląda jak ulepiony z plasteliny, a gdy dorzucimy do tego Pyga i Toada to już mamy pewność, że nie należy tego traktować poważnie.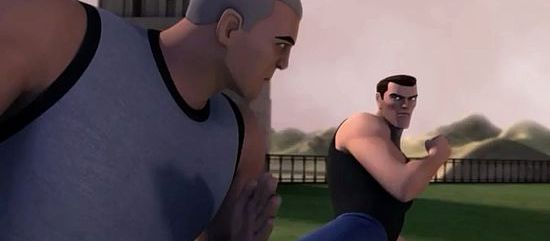 Główny wątek wypada przeciętnie. Naprawdę nie było potrzeby mieszania w originie Man-Bata, posłużyło to chyba tylko po to by w prostszy sposób przedstawić Kirka Langstrom jako pozytywnego bohatera. Żarty Toada i jego małżeńskie plany nie pasują do klimatu historii, chociaż trzeba przyznać, że jest zabawnie. Dodatkowo w decydującym momencie okazują się, że ślub jest ważniejszy niż stworzenie armii zmutowanych ludzi. Plany Pyga i Toada tak jak zawsze ostatecznie więc wcale nie są takie groźne jak powinny. Ciekawiej wypada to co się dzieje na drugim planie. Barbara Gordon trenowana jest przez Katanę by w razie zagrożenia Oracle mogła sobie poradzić, a Bruce Wayne zyskuje nowych przyjaciół. Na pierwszy rzut oka finansowanie kampanii Denta nie jest zbyt rozsądnym posunięciem, ale wrogów należy trzymać blisko siebie. O ile jednak z Harveyem Bruce wspólnych tematów nie ma, to już Dane'em Lisslowem łączy go zamiłowanie do sztuk walk. Jest więc materiał godny poruszenia w kolejnych odcinkach.
Ocena: 3,5 nietoperki

---
CIEKAWOSTKI I UWAGI:
Odcinek swoją premierę miał w Wielkiej Brytanii 16 kwietnia 2014 roku w ramach usługi Prime Instant Video od Amazon.
Barbara Gordon wybiera sobie pseudonim – "Oracle".
CYTATY:

Bruce: Batman needs to get back out there, Alfred.
Alfred: Given your current condition, are you sure that's wise?
Bruce: No. But when has Batman ever listened to reason?
Toad: One of you lucky girls is going to have the honor of becoming Mrs. Toad.
Pyg: Now, Mister Toad, this is the most important decision of your life. Choose with your heart.
Toad: Absolutely. Eenie… meenie… miney… moe! Would you do me the honor of making me the happiest manphibian on Earth? (kobieta krzyczy)
Pyg: That's Frightened for "yes."
Pyg: Do you, Mister Toad, take this soon-to-be non-human to be your unlawfully wedded wife?
Toad: I do.
Pyg: And do you, soon-to-be non-human, take Mister Toad to be your unlawfully wedded husband? (Katana jęczy)
Toad: That means "I do," keep going.

---
---