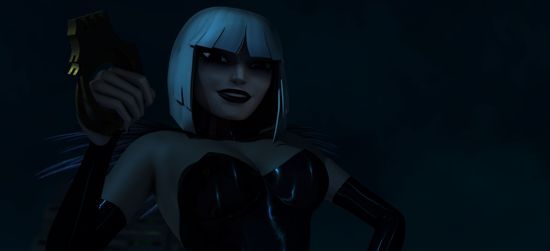 Tytuł odcinka:
"SECRETS"
Pierwsza data emisji:
20 lipca 2013
Reżyseria:
Rick Morales
Scenariusz:
Mitch Watson
Twoja ocena:
GD Star Rating
loading...
Obsada:
Anthony Ruivivar
Sumalee Montano
JB Blanc
Kurtwood Smith
Grey DeLisle
Tara Strong
Cree Summer
Ian James Corlett
Batman/Bruce Wayne
Tatsu Yamashiro
Alfred Pennyworth, Lunkhead
Porucznik James Gordon
Margaret Sorrow/Magpie
Barbara Gordon
Bethany Ravenclaw
Joe Braxton, policjant
Batman depcze po piętach niezwykle sprytnej i niebezpiecznej złodziejce zwanej Magpie, która nie tylko posługuje się ostrymi jak brzytwa szponami z dodatkiem trucizny oraz jest niewrażliwa na ból, ale także kradnie wspomnienia swoich ofiar. Batman nie jest jedynym, który wpadł na jej trop. Porucznik James Gordon także ją ściga… w końcu obu bohaterów czekać będzie wspólna konfrontacja, aby złapać złodziejkę.
Podobnie jak w przypadku Young Justice także Beware the Batman wzorem obecnych produkcji nie składa się tylko z oderwanych od siebie odcinków, które można oglądać w dowolnej kolejności. Drobne elementy fabuły się zazębiają, a wcześniejsze wydarzenia nie pozostają bez wpływu na bohatera, dlatego np. Alfred cały czas ma nogę w gipsie.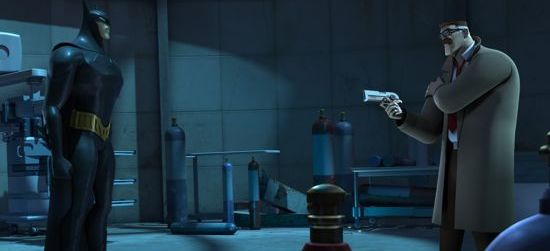 Pod względem fabuły
Secrets
jest naprawdę dobrze zbudowany. Poznajemy nowych bohaterów jak Barbarę Gordon i jej ojca, którego występ w poprzednim odcinku ograniczył się do krótkiego komunikatu w mediach. Wiele dowiadujemy się też o samym Bruce'ie, który nawet w zwykłej porannej rozmowie potrafi pokazać, że jest bardziej spostrzegawczy niż mogłoby się to wydawać na pierwszy rzut oko. Jeśli lubicie detektywistycznego Batmana, to ten odcinek powinien wam się spodobać. Bohater wielokrotnie udowadnia, że potrafi łączyć różne fakty, ale za to nie popisuje sie w bezpośrednich starciach z główną przeciwniczką. Magpie, która swoim wyglądem przypomina Lady Gagę, a relacjami z Batmanem Catwoman, wypada nieźle. Powiązanie jej z więzieniem Blackgate sprawia, że widz wie, że twórcy rezygnując z bardziej znanych złoczyńców nie zapomnieli o charakterystycznych lokacjach.
Dzięki bardziej rozbudowanej fabule oraz umocowywanym działaniom Maqpie otrzymaliśmy lepszy odcinek niż poprzednio. Zasygnalizowanie kilku pobocznych wątków jak Barbary Gordon, którą interesuje Batman, czy też Katany i jej relacji z Alfredem sprawiają, że kolejne historie zapowiadają się dość ciekawie.
Jako, że jest to pierwszy serial z Batmanem w całości realizowany przy wykorzystani animacji komputerowej, to nie sposób ponownie o tym nie wspomnieć. Niestety jeśli CGI w serialach animowanych wam nie odpowiada to w tej kwestii w Beware the Batman nie ma żadnej zmiany. Ruchy postaci są płynne, ale już samo otoczenie pozostawia wiele do życzenie, nie ma więc co liczyć na jakieś szczegóły, czy też mniej sztuczności w otaczających bohaterów przedmiotów.
Ocena: 4,5 nietoperka

---
CIEKAWOSTKI I UWAGI:
Miskatonic Psychiatric Hospital to nawiązanie do Miskatonic University, czyli fikcyjnego uniwersytetu w Arkham znanego z twórczości H.P. Lovecrafta.
Kostium Magpie inspirowany jest scenicznymi kostiumami Lady Gagi.
CYTATY:

Magpie: Hey, you just hit a girl.
Batman: No, I just hit a criminal.
Barbara: So, what perp are you after today?
Lt. Gordon: First, it's "dad," not "lieutenant." Second, "perp"?
Barbara: Yeah, perp. Bad guy.
Lt. Gordon: I know what perp means, Barbara.
Bruce: I don't like secrets, Alfred.
Alfred: You are the very definition of a secret, Bruce.
Magpie: You know, after I last met, I couldn't help wondering what makes someone put on a bat costume. Something to hide?
Batman: Who said this was a costume?
Magpie: Umm, I like that.

---
---