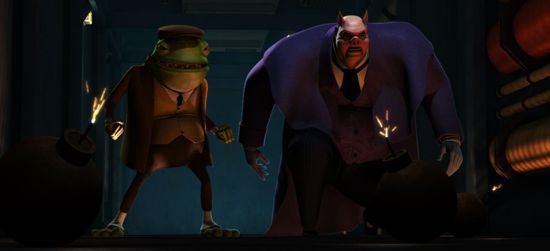 Tytuł odcinka:
"HUNTED"
Pierwsza data emisji:
13 lipca 2013
Reżyseria:
Sam Liu
Scenariusz:
Mitch Watson
Twoja ocena:
GD Star Rating
loading...
Obsada:
Anthony Ruivivar
Sumalee Montano
JB Blanc
Kurtwood Smith
Brian George
Jeff BennettS
Udo Kier
Gary Anthony Williams
Batman/Bruce Wayne
Tatsu Yamashiro, prezenterka wiadomości
Alfred Pennyworth, batkomputer, rabuś #2
Porucznik James Gordon
Professor Pyg
Simon Stagg, rabuś #1
Mr. Toad
Michael Holt
Batman powstrzymuje dwóch mścicieli przed zrealizowaniem zemsty związanej z podejrzanym układem. Starzejący Alfred zatrudnia swojego zastępce: młodą strażniczkę o imieniu Katana.
Po zakończeniu Young Justice nie długo trzeba było czekać na kolejny serial animowany z Batmanem. Tym razem mamy do czynienia z produkcją, która wprowadza animacje z Batmanem na nową ścieżką. Do tej pory zawsze mogliśmy oglądać Nietoperza w tradycyjnej animacji. Były rzecz jasna różne podejścia wpisujące się w trendy, teraz na modzie jest CGI, otrzymaliśmy więc serial w całości stworzony przy użyciu animacji komputerowej. Wybór ten po zaprezentowaniu pierwszych zdjęć czy fragmentów nie spodobał się wszystkim fanom, zwłaszcza tym, którzy cały czas doskonale pamiętają Batman TAS. Do nowego rodzaju animacji trzeba się przyzwyczaić, ale chociaż jest ona znośna, to jednak cały czas zwłaszcza przy zbliżeniach twarzy bohaterów, czy nawet przy pokazywaniu zwykłych mebli widać pewną rodzaju sztuczność. Animacja CGI dobrze sprawdza przy tworzeniu postaci nie z realnego świata, dlatego dobór łotrów do pierwszego odcinka profesora Pyga i Mr. Toada pozwala przychylniej spojrzeć na animacje.
Skoro już mowa o złoczyńcach, to pod względem marketingowych wybór mniej znanych czy też rzadziej wykorzystywanych łotrów powinien przełożyć się na większą sprzedaż różnego rodzaju zabawek, bo figurek z takimi postaciami jak Anarky czy Mr. Toad za wiele nie było.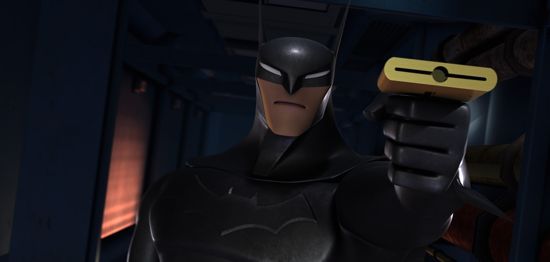 Pod względem fabuły pierwszy odcinek
Beware the Batman
prezentuje się momentami dość dobrze. Większość akcji rozgrywa się w nocy, dzięki czemu animacja tak nie drażni, czego nie można powiedzieć o scenach mających miejsce w dzień w Wayne Manor. Działania dwójki złoczyńców niestety nie porywają, bo zamiast stanowić realne zagrożenie są to bardziej postacie kuriozalne. Nie warto też analizować ich planu, bo tak naprawdę nic się pod ich działaniami głębszego nie kryje.
Na plus należy zaliczyć inne spojrzenie na Alfreda. Jest to prawdziwy twardziel, który nie zapomniał o latach swojej służby w MI6 i na dodatek odgrywa istotną rolę w całej fabule. Partnerować w akcji Batmanowi jednak nie będzie, ale jego relacje z Bruce'em mogą być interesujące. Biorąc pod uwagę przedstawienie poszczególnych postaci, to właśnie wierny lokaj najlepiej został nakreślony, czego niestety nie można powiedzieć o innych bohaterach. Być może w kolejnych odcinkach lepiej zostaną pokazane motywacje łotrów.
O pierwszym odcinku Beware the Batman można niewątpliwie powiedzieć, że ma w miarę mroczny klimat oraz pewien potencjał, który jak na razie nie został w pełni wykorzystany. Ekipa tworząca serial to jednak doświadczeni twórcy i być może jeszcze wszystkiego nie pokazali.
Osoby, którym serial nie odpowiada czy to ze względu na CGI czy fabułę powinny mieć na uwadze, że obecnie żywotność takich produkcja trwa kilka lat, tak więc pewnie za jakiś czas pojawi się nowy serial animowany z Batmanem, w którym ponownie zaprezentowane zostanie inne spojrzenie na bohatera Gotham City.
Ocena: 4 nietoperki

---
CIEKAWOSTKI I UWAGI:
W komiksach Simon Stagg to bezwzględny biznesmen, najbardziej znany jako człowiek odpowiedzialny za zatrudnianie Rexa Masona do zbadania meteoru, który przekształcił Rexa w Metamorpho.
W DC Comics, Michael Holt cywilna tożsamość Mr. Terrifica, the "Man of a Thousand Talents". Ma on 5 czarnych pasów w rożnych sztukach walki, ale w odcinku nie pokazuje żadnych swoich umiejętności.
Wypowiedź Bruce: "How Wind in the Willows of them", to nawiązanie powieści Kennetha Grahame'a pt. "O czym szumią wierzby". Książka w prosty i dowcipny sposób opisuje przygody antropomorficznych zwierząt: Kreta, Myszy, Ropucha, Borsuka i Wydry.
CYTATY:

Bruce: What's wrong?
Alfred: It took you five moves to subdue me. It should only have taken you three. Your reaction to me at the foot of your bed was sloppy at best. If I hadn't purposely…
Bruce: Do we need to do this now?
Bruce: We've had this conversation. Your job is to protect Bruce Wayne, not Batman.
Alfred: Are they not the same?
Bruce: No.
Mr. Toad: Boss! It's the Bat Guy.
Professor Pyg: It's Batman, Toad. Remember, respect our enemies.
Professor Pyg: I say, this isn't Bruce Wayne. I believe you've sacked the butler.
Mr. Toad: I was sure that was Wayne.
Professor Pyg: I told you to get your eyes checked. Retinal deterioration is the number one cause of blindness in amphibians.

---
---