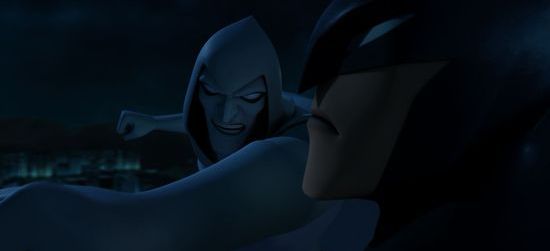 Tytuł odcinka:
"TESTS"
Pierwsza data emisji:
27 lipca 2013
Reżyseria:
Curt Geda
Scenariusz:
James Krieg
Twoja ocena:
GD Star Rating
loading...
Obsada:
Anthony Ruivivar
Sumalee Montano
JB Blanc
Wallace Langham
Bryton James
Carlos Alazraqui
Batman/Bruce Wayne
Tatsu Yamashiro
Alfred Pennyworth
Anarky
Daedalus Boch
Junkyard Dog
Nowy złoczyńca przybywa do Gotham by rzucić wyzwanie Batmanowi: Anarky. Przypominający zdjęcia ducha Batmana, Anarky szczyci się swoim blaskiem – i zamierza to udowodnić Batmanowi manipulując parą niczego nie podejrzewających pionków. Ale prawdziwy plan Anarky'ego jest o wiele bardziej złowieszczy: dąży do spowodowania katastrofy, którą dostrzeże całe Gotham i do udowodnienia, raz na zawsze, że nawet wielki Batman nie jest w stanie ochronić swojego miasta przed Anarky'm.
Po trzecim odcinku można już stwierdzić, że twórcy mają całkiem niezłe pomysły. Niestety o ile poboczne wątki są wciągające to w przypadku Tests zawodzi cała intryga związana z Anarky'm.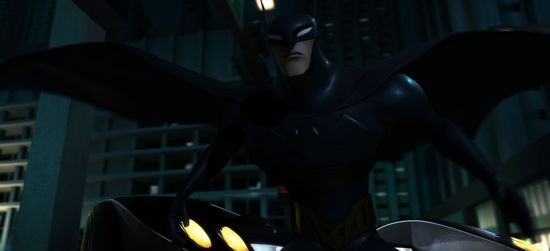 Zacznijmy jednak od tych dobrych stron. Próby na jakie wystawiana zostaje Tatsu są bardziej interesujące od całego planu Anarky'ego. Bardziej czekałem na kolejne poczynania Katany, która musiała się wykazać nie tylko sprawnością fizyczną, ale i inteligencją i przebiegłością. Początkowo nie byłem przekonany do pomysłu by to właśnie ta bohaterka partnerowała Batmanowi, ale sposób w jaki twórcy ją wprowadzają sprawia, że ten pomysł zyskuje moją akceptację.
Anarky sieje spustoszenie, ale czemu to robi tego nie wiemy, wydaje się, że chce niczym Joker i Riddler pobawić się z Batmanem, zamiast realizować swoje główne cele. Brakuje mu jednak humoru klauna. Ten co prawda wprowadzają jego dwaj niczego nieświadomi pomagierzy, ale to zdecydowanie za mało. Zmiana kostiumu na biały też się nie sprawdza. Od kiedy Anarky jest kimś w rodzaju ducha? Twórcy starają się przedstawić nowego złoczyńcę jako przeciwieństwo Batmana, który uważa się za godnego przeciwnika, ale takim nie jest. Aby w kolejnych odcinkach postać ta lepiej wypadła, bo jak na głównego złoczyńcę jest zdecydowanie za słabo.
Ocena: 4 nietoperki

---
CIEKAWOSTKI I UWAGI:
W odcinku po raz pierwszy pojawia się Soultaker Sword oraz Anarky.
Serialowy Anarky ma cechy Jokera z filmów Nolana (arcy-wroga Batmana, który widzi siebie jako jego godnego przeciwnika i kreuje się na pana chaosu) oraz Riddlera (egoistyczny strateg, który nie jest tak dojrzały jak mu się wydaje). Jego kostium przypomina Moon Knight i The Spectre.
Daedalus Boch i Junkyard Dog pojawili się wcześniej w odcinku Secrets jako dwaj wandale zatrzymani przez Batmana.
Daedalus Boch aka "Doodlebug" i Tucker Long aka "Junkyard Dog" to bohaterowie znani z Arkham Asylum: Living Hell.
CYTATY:

Daedalus: Down with creative oppression! This is justice.
Batman: No. I am justice.
Batman: Get this analyzed. Probably came off their shoes. Might give us something.
Alfred: From Cold War warrior to analyzer of sneaker goo. I've never been prouder.
Anarky: Congratulations! You countered my move. You passed the test.
Batman: It wasn't much of a test.
Anarky: Arrgh. You have no idea what an honor it is to be chosen as my enemy! It's a really big deal!
Batman: I thought I'd found an opponent to match wits with, but you're just another lunatic in a costume.
Anarky: Madness is the more interesting choice. Logic and orders are so predictable.
Batman: Unless… I make a logical decision to do something insane.
Tatsu: (o Bruce'ie) A secret elevator to a private library. Not only does this guy have too much time and too much money, he's a geek, too.

---
---