---
---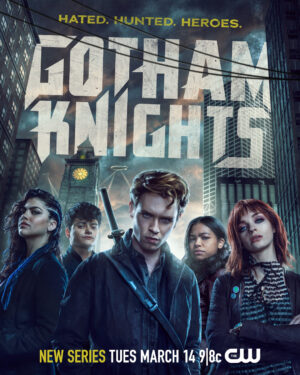 "Batman nie żyje, a Gotham bez Mrocznego Rycerza, który by je chronił jest jak podpalona beczka prochu. W następstwie morderstwa Bruce'a Wayne'a, jego adoptowany syn Turner Hayes (Oscar Morgan, "De Son Vivant") zostaje wrobiony w zabicie Mrocznego Rycerza wraz z dziećmi niektórych wrogów Batmana: Duelą (Olivia Rose Keegan, "Days of Our Lives"), nieprzewidywalną wojowniczką i wykwalifikowaną złodziejką, która urodził się w Arkham Asylum i został porzucona przez ojca, Harper Row (Fallon Smythe, "grown-ish"), mądra i zgryźliwa inżynierka, która potrafi wszystko naprawić, oraz jej bratem Cullenem Row (Tyler DiChiara, "The Virgin of Highland Park"), sprytnym transpłciowym nastolatkiem, zmęczona byciem grzecznym i miłym. Charyzmatyczny i zawzięty prokurator okręgowy Harvey Dent (Misha Collins, "Supernatural") i GCPD są na ich tropie, Turner będzie polegał na sojusznikach, w tym na swojej najlepszej przyjaciółce i budzącej grozę programistce Stephanie Brown (Anna Lore, "All American") oraz nieprawdopodobnej pomocnicy Batmana Carrie Kelley (Navia Robinson, "Ra dom vena"). Ale nasi Rycerze wkrótce dowiedzą się, że w Gotham City działa większa, bardziej nikczemna siła. Ta drużyna niedopasowanych zbiegów musi połączyć siły, aby stać się kolejną generacją zbawicieli znanych jako GOTHAM KNIGHTS.
W obsadzie znaleźli się również Anna Lore jako Stephanie Brown/Spoiler (córka Cluemastera), Rahart Adams jako Brody oraz Misha Collins w roli zawziętego prokuratora okręgowego Harveya Denta.
Twórcami serialu są Natalie Abrams, James Stoteraux i Chad Fiveash. Produkcja nie ma nic wspólnego z grą pod tym samym tytułem.
W Polsce serial dostępny jest w ofercie HBO Max.
---
Sezon 1 (2023)
Pilot (Pilot)
Batman nie żyje, a Gotham płonie bez Mrocznego Rycerza, który je chronił. Adoptowany syn Bruce'a Wayne'a zostaje wrobiony w morderstwo.
Scene of the Crime (Miejsce zbrodni)
Próbując oczyścić się z zarzutów, Turner, Duela, Cullen, Harper i Carrie wracają na miejsce zbrodni w poszukiwaniu dzienników Bruce'a Wayne'a. Harvey pragnie odkryć szczegóły śledztwa.
Under Pressure (Pod presją)
Przywódca Gangu Mutantów zostaje pokonany przez Carrie, a jego sojusznicy próbują wziąć odwet na Gotham, biorąc zakładników. Zmusza to Turnera, Duelę i Harpera do wyjścia z ukrycia, aby uratować nieszczęśników.
Of Butchers and Betrayals (O rzeźnikach i zdradach)
Po odkryciu potencjalnych tropów w swoim śledztwie, Turner i Harper badają możliwy związek między śmiercią Bruce'a Wayne'a a tajemniczym zniknięciem prawnika.
More Money, More Problems (Duża forsa, duży kłopot)
Nowy plan prowadzi Turnera i zespół do McKillenów, powszechnie znanej rodziny gangsterów. W międzyczasie Carrie i Stephanie przygotowują się do obiadu dla rodziców, a Harvey szuka pomocy u psychiatry.
A Chill in Gotham (Chill w Gotham)
Joe Chill ma zostać stracony za zabójstwo rodziców Bruce'a Wayne'a i zwraca się do Harveya z ostatnią prośbą – o rozmowę z Turnerem.
Bad to Be Good (Czasem zła, czasem dobra)
Drużyna wyrzutków odkrywa, że w Gotham City zaczyna dominować coraz bardziej złowroga siła. Muszą połączyć siły, aby stać się nową generacją wybawców miasta, zwanych Rycerzami Gotham.
Belly of the Beast (W paszczy lwa)
Drużyna wyrzutków odkrywa, że w Gotham City zaczyna dominować coraz bardziej złowroga siła. Muszą połączyć siły, aby stać się nową generacją wybawców miasta, zwanych Rycerzami Gotham.
Dark Knight of the Soul (Mroczny rycerz duszy)
Jeden z członków ekipy zostaje schwytany przez nieprzyjaciół i Rycerze rozpoczynają wyścig z czasem. Stephanie i Harper współpracują.
Poison Pill (Zatruta pigułka)
Gdy jeden z nich ma kłopoty, zespół stara się znaleźć rozwiązanie, zanim będzie za późno.
Daddy Issues (Problemy z tatą)
Urodzinowe spotkanie Dueli z jej mamą, Jane Doe, ujawnia szokujące informacje, które nieodwołalnie zmieniają wszystko.
City of Owls (Miasto Sów)
Zespół wkracza do akcji po odkryciu dowodów, które mogą oczyścić ich imię.
Night of the Owls
Rycerze Gotham zdają sobie sprawę, że wzajemne zaufanie może być jedynym sposobem na uratowanie siebie i miasta