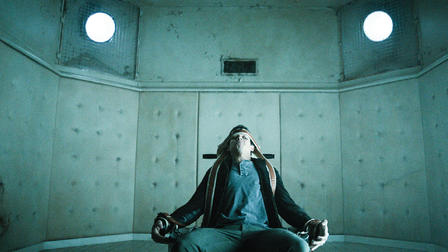 Tytuł odcinka: "Asylum"
Polski tytuł odcinka: "Szpital psychiatryczny"
Pierwsza data emisji: 23 listopada 2019
Reżyseria: Alex Kalymnios
Scenariusz: Bryan Edward Hill, Greg Walker
Twoja ocena: [yasr_visitor_votes size="medium"]
Kiedy Messenger ujawnia, że matka Rachel żyje i jest uwięziona przez Organizację w tajemniczym zakładzie psychiatrycznym, Rachel postanawia ją uratować. Ale kiedy są już środku, Tytani mają do czynienia z swoimi najgłębszymi słabościami i lękami.
W rolach głównych:
Brenton Thwaites – Dick Grayson/Robin
Anna Diop – Kory Anders
Teagan Croft – Rachel Roth
Ryan Potter – Gar Logan
Gościnnie występują:
Rachel Nichols – Angela Azarath
Reed Birney – Adamson
Rachael Crawford – doktor w Agnews Asylum
W pozostałych rolach: Tomaso Sanelli – młody Dick Grayson Torquil Colbo – technik z Asylum Rosemary Doyle – chirurg #1 Allen Keng – chirurg #2 Adam Bogen – technik #1 James Binkley – pielęgniarz #1 Craig Henry – pielęgniarz #2
---
"Titans" wracają do głównego wątku, czyli sprawy Rachel. Dość szybko dowiadujemy się o biologicznej matce bohaterki oraz poznajemy jej nową umiejętność – ożywienia, która już wcześniej została zasygnalizowana. Dalej niestety nie jest już tak różowo. Zgodnie z przewidywaniami nadgorliwość dwójki małolatów błyskawicznie doprowadza ich do kłopotów. Misja ratunkowa też się nie powodzi.
Opis odcinka sugeruje, że poznamy najgłębsze lęki bohaterów. Brzmi obiecująco, ale niestety całość sprowadza się do odkrywania obaw Dicka, które już wcześniej zostały wyraźnie pokazane. Momentami jest widowiskowo, ale ogólnie odcinek trochę przynudza. Po powrocie do drużyny oczekiwałbym szybszego przyśpieszania akacji. Poznajemy kilka nowych faktów oraz umiejętności bohaterów. Odkrywany też dobrze znany fakt, że jeśli podrażni się tygrysa, albo osobę, która może się w niego zmienić, to zwierzę może ugryźć. Niestety wszystkie nowe tropy można byłoby zmieścić w kilkadziesiąt minut. Zdecydowano się jednak poświęcić temu cały odcinek. Pomysł miał potencjał, ale nie w pełni go wykorzystano.
Problemem jest też sposób w jakich bohaterowie wychodzą z opresji. Taka poważna organizacja, wiele wiedząca na temat Rachel doprowadza na własne życzenie do sytuacji, w której ta daje upust swoim emocjom. Z jednej strony dobrze, że to nie Dick ratuje sytuację, ale takie zlekceważenie Rachel też nie jest dobrym rozwiązaniem.

Ocena: 3,5 nietoperka

---
Ciekawostki:
W odcinku wykorzystano utwór "Little Dark Age" MGMT.
---
---