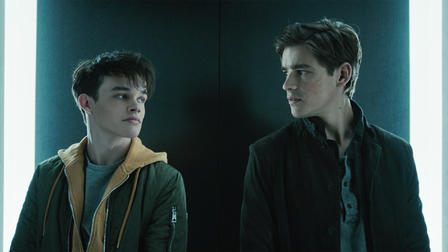 Tytuł odcinka: "Jason Todd"
Polski tytuł odcinka: "Jason Todd"
Pierwsza data emisji: 16 listopada 2019
Reżyseria: Carol Banker
Scenariusz: Richard Hatem, Jeffrey David Thomas
Twoja ocena: [yasr_visitor_votes size="medium"]
Zanim Dick ponownie spotka się z Tytanami, niechętnie współpracuje z Jasonem Toddem, nowym Robinem, by złapać seryjnego zabójcę, który atakuje artystów z zastępczej, cyrkowej rodziny Dicka, kiedy ten był członkiem Latających Graysonów. Ale spojrzenie Jasona na Bruce'a Wayne'a zmusza Dicka do ponownego zbadania prawdy kryjącej się za ich upadkiem.
W rolach głównych:
Brenton Thwaites – Dick Grayson/Robin
Anna Diop – Kory Anders
Teagan Croft – Rachel Roth
Ryan Potter – Gar Logan
Gościnnie występują:
Curran Walters – Jason Todd/Robin
Reed Birney – dr Adamson
Lester Speight – Clayton Williams/Atlas Strongman
Kyle Mac – Nick Zucco/Melting Man
W pozostałych rolach:
Tomaso Sanelli – młody Dick Grayson
Jeremy Crawford – ringmaster
Premika Leo – pogromczyni lwów;
Ess Hödlmoser – akrobata
Jesse Buck – kalun
David Boyce – ksiądz
Richard Zeppieri as Tony Zucco
Daniel Stolfi – odźwierny
Jason Jazrawy – federalny
Nola Palmer – kobieta w barze
Jamie Maczko – hipsterski chłopak
Desmond Campbell – strażnik w więźniarce
Todd Schroeder – kierowca więźniarki
Thomas Kane – człowiek Maroniego #1
Marcello Bezina – człowiek Maroniego #2
Arthur Kantemirov – linoskoczek
---
Chociaż "Titans" zbyt często odchodzą od głównego wątku, to niemniej jednak odcinki jak "Jason Todd" wypadają nadzwyczaj dobrze. Chociaż tytuł serialu sugeruje, że istotni są wszyscy bohaterowie tworzący Tytanów, to tak naprawdę pierwszy sezon w dużej mierze skupia się na postaci Dicka Graysona. Tu jeszcze działa jako Robin, mimo, że nie działa już z Batmanem, a ten znalazł dla niego następstwo. Tak jak wszyscy bohaterstwo i Dick jest zagubiony. Szuka dla siebie miejsca i wyraźnie widać, że musi znaleźć dla siebie nowy pomysł. Ma pewne umiejętności, które chce wykorzystywać. Dlatego liczę, że od następnego sezonu Grayson zdecyduje się, że nadszedł czas by działać jak Nightwing.Co raz większym mankamentem serialu jest brak pokazania Batmana. Za wiele z nim powiązań. Poprzez innych bohaterów możemy wysunąć wniosek że z Bruce'em nie jest najlepiej. Angażując Todda, który ma umiejętności, ale jest też zbyt obciążony wcześniejszymi doświadczeniami. Bicie zbirów, czy nawet policjantów sprawia mu zbyt dużą przyjemność, ktoś taki nie powinien walczyć z przestępczością. Już nie brakuje więc sygnałów, że Jason może źle skończyć.
Główny wątek wprowadzający nas w cyrkową rodzinę Dicka nie jest zły, ale rozczarowaniem jest główny przeciwnik. Motyw zemsty byłby jeszcze do przełknięcie, ale sposób w jaki domyślił się tożsamości Robina jest ze strony scenarzystów zbytnim pójściem na łatwiznę. Niestety po raz kolejny mamy pokazane, że Grayson ma problem w utrzymaniu sekretnej tożsamości w tajemnicy. Jednak bystrością nie grzeszą też osoby, które ją poznają. Bowiem jak mogą nie powiązać tego z Bruce'em? Widocznie Wayne doskonale opanował swój publiczny wizerunek i nikt nawet przy licznych wskazówkach nie jest wstanie uwierzyć, że mógłby być Batmanem. Tej jednej rzeczy Dick się od niego nie nauczył.
W odcinku pt. "Jason Todd" mamy kilka zgrzytów, ale mimo to cały czas poziom serialu jest naprawdę dobry. Lepiej by było gdyby aż tyle miejsca nie poświęcano pobocznym historiom, ale dobrze, że prezentują one odpowiedni poziom i stanowią pogłębienie niektórych bohaterów.
Ocena: 4 nietoperki

---
Ciekawostki:
"Kryjówka" to w rzeczywistości Galeria Sztuki w Ontario.
Kwiaty na grobach Graysonów przemieszczają się między ujęciami.
Fałszywe dokumenty Jasona są na nazwisko "Robert Plissken". Bramkarz od razu rozpoznaje o kogo chodzi i mówi "Nice try, Snake". Snake Plissken to główny bohaterów filmów "Escape from New York" i "Escape from L.A.".
Cytaty:
Gar Logan: [widzi dwie walizki na stole] Yo, when did you get another one?
Jason Todd: That one's mine.
Gar Logan: Yours? Wait, you're Robin, too?
Rachel Roth: I thought you were Robin.
Dick Grayson: I am.
Jason Todd: He was.
Gar Logan: Okay, how many Robins are there? Are there a lot? 'Cause I would love-…
Koriand'r: Okay, quiet.
Koriand'r: [do Gara i Rachel] Sit.
Koriand'r: [do Dicka] Bathroom.
[wychodzą]
Gar Logan: [do Jasona] Can I be Robin?
---
---