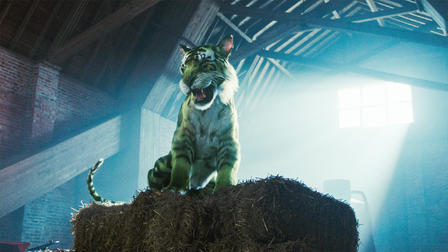 Tytuł odcinka: "Together"
Polski tytuł odcinka: "Razem"
Pierwsza data emisji: 9 listopada 2019
Reżyseria: Meera Menon
Scenariusz: Bryan Edward Hill, Gabrielle Stanton
Twoja ocena: [yasr_visitor_votes size="medium"]
Po uratowaniu Rachel przed dr Nilesem Caulderem, Dick i Kory wyruszają w drogę z Rachel i Garem. Ale kiedy Nuclear Family ponownie ich namierza, cała czwórka decyduje, że koniec z uciekaniem. Po raz pierwszy działają zgodnie. Kiedy mierzą się z Nuclear Family, jesteśmy świadkami narodzin zespołu, który będzie znany jako "Tytani".
W rolach głównych:
Brenton Thwaites – Dick Grayson/Robin
Anna Diop – Kory Anders
Teagan Croft – Rachel Roth
Ryan Potter – Gar Logan
Gościnnie występują:
Curran Walters – Jason Todd/Robin
Reed Birney – dr Adamson
Rachael Crawford – lekarz w Agnews Asylum

W pozostałych rolach:
Jeni Ross – Nuclear Sis
Logan Thompson – Nuclear Biff
Melody Johnson – Nuclear Mom
Zach Smadu – Nuclear Stepdad
Jill Frappier – starsza kobieta
Janet Porter – Sheila
Sistah Lois – Jan
Tyler Murree – Gerald


---
"Titans" trzyma dobry poziom. W nowym odcinku główni bohaterowie wreszcie mają okazją pobyć razem. Mamy więc trochę zabawy z prezentację umiejętności poszczególnych postaci. Nie brak też miejsca na chwilę sam na sam pomiędzy Kory i Dickiem.

Zgodnie z wcześniejszymi zapowiedziami powraca Nuclear Family. Znowu mamy ten specyficzny klimat jak ze Stepford ale mimo wszystko rodzince nie udaje się zrobić tak mocnego wejście jak w swoim debiucie. Tym razem najlepsze wejście ma Robin, który działa niczym Batman i mając pod opieką nastolatków stara się podejmować dojrzałe decyzje. Rozstaje się nawet ze swoim Porsche, które uwielbiał. Grayson wykazuje się też autorytetem, kiedy mimo otoczenie przez obdarzonych mocami bohaterów potrafi do nich przemówić i przekonać ich do wypełniania jego poleceń. Bez problemu zostaje liderem grupy. Sprzyja mu także szczęście, kiedy Nuclear Family dowiaduje się, że jest Robinem, a dokładnie byłym Robinem, bo aktualny Cudowny Chłopiec (Jason Todd) też ma swoje wejście, i nie ma okazji tego zdradzić swoim pracodawcom. Niemniej jednak Dick powinien wykazywać się większą ostrożnością, ale teraz przynajmniej cała drużyna wie kim naprawdę jest i to zdecydowanie powinno ułatwić im współpracę. Przeciwnik z którym się mierzą nie waha się bowiem eliminować własnych ludzi.

"Together" podtrzymuje to co dobre w serialu. Powoli zaczyna się kształtować tytułowa drużyna, ale obawiam się, że pojawienia się innych spraw, nie związanych z główną historią, może zbytnio odrywać od wątku Rachel. Mamy już dość klarowna formę serialu, gdzie poprzez różne wyzwania poznajemy bohaterów i zbliżamy się do odkrycia prawdy. Najważniejsze, że serial dobrze się ogląda i zachęca do niezwłocznego obejrzenia kolejnego odcinka.
Ocena: 4,5 nietoperka

---
Ciekawostki:
Motel 400 to prawdziwy zamknięty motel w Toronto.
Kiedy do domu przyjeżdża nowy tata, mama stoi po jego prawej stronie. Po zmianie ujęcia jest po lewej.
Cytaty:
Gar Logan: It's uh… little weird if you guys watch me and all. The first time I transformed I tore through my clothes and uh… this is my favorite jacket.
Dick Grayson: Hold on. You have to be naked to – ?
Gar Logan: Yeah, but it'll be worth it! I promise.
Koriand'r: Heard that before.
Koriand'r: We need to talk.
Dick Grayson: Um, can I get dressed first?
Koriand'r: I've seen Gar naked. Nothing can shock me.
---
---