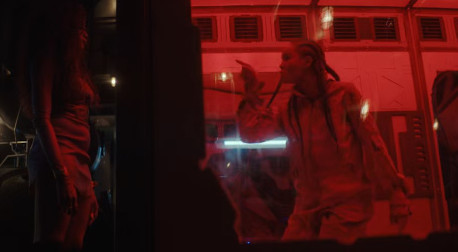 Tytuł odcinka: "Blackfire"
Pierwsza data emisji: 19 sierpnia 2021
Reżyseria: Millicent Shelton
Scenariusz: Stephanie Coggins
Zrozpaczeni stratą Tytani pogrążają się w chaosie. Podczas gdy Dick rzuca się na wyciąganie z cienia Red Hooda z Jonathanem Crane'em. Kory i Gar starają się zrozumieć narastające wizje Starfire, co doprowadza ich do zaskakującego źródła.
W rolach głównych:
Brenton Thwaites – Dick Grayson/Nightwing
Mame-Anna Diop – Princess Koriand'r/Starfire
Ryan Potter – Gar Logan/Beast Boy
Curran Walters – Red Hood
Joshua Orpin – Conner
Damaris Lewis – Queen Komand'r/Blackfire
Savannah Welch – komisarz Barbara Gordon
Minka Kelly – Dawn Granger
Gościnnie występują:
Vincent Kartheiser – dr Jonathan Crane
McKinley Freeman – dr Justin Cole
Karen Robinson – Vee
Paulino Nunes – Sanchez
W pozostałych rolach:
Kris Siddiqi – dr Artie Kind
Viktor Sawchuk – młody Dick
Tig Fong – dyżurny
Tyler Williams – funkcjonariusz z Arkham #1
Christopher Bautista – Strzelec wyborowy
---
Po dobrym początku następuje spadek formy. Bohaterowie znowu nie tworzą zgranej grupy i szereg nieprzemyślanych decyzji doprowadza do tego że Red Hood jest górą.
W odróżnieniu od poprzednich odcinków, w tym mamy dwa równorzędne wątki. Zgodnie z tytułem pierwszy dotyczy Blackfire i ostatnich problemów Starfire, które były sygnalizowane, a o których nie raczyła powiedzieć członkom zespołu. Drugi zaś to samowolka Dicka, który domyślił się, że to Crane stoi za Red Hoodem i postanowił w pojedynkę to załatwić.
Brawa dla Dicka, że przejrzał Red Hooda i zastawił na niego pułapkę. I to nie w pierwszym lepszym miejscu ale w głuszy, gdzie Bruce szkolił swoich Robinów, a te lekcje nie były mniej niebezpieczne niż starcie z bandytami na ulicach Gotham. Plus za młodego Dicka i kolejne pokazanie, że serialowy Wayne ma spore problemy natury psychicznej. Oczywiście nie wiemy czy nie czuwał nad samotnym chłopcem w lesie mierzącym się z głodnym wilkiem, ale jakby nie było jego metody wychowawczo-szkoleniowe musiały mocno namieszać w głowach chłopców i teraz skutki tego widać u Jasona. Na tym zalety się kończą.
Dzielny Dick, który już raz nie zatrzymał Jasona teraz zamierza go pokonać i utrzymać jednocześnie w uwięzieniu Crane'a. Po co przyjaciele z drużyny. Superboy mocno się obwinia za śmierć Hanka, ale to nie jego wina. Wystarczyło zabrać go do domku w lesie i postawić na straży. Z jego mocami na pewno by się przydał. Ale nie, Grayson postanowił wszystko zrobić samemu, ale Batmanem nie jest i tak zamiast złapania Red Hooda, który udowodnił wcześniej, że potrafi skrzywdzić Tytanów, teraz będzie musiał tłumaczyć się z fiaska całej operacji dzięki której Crane jest na wolności.
Brak komunikacji widać też u Kory, która odkrywa, że to jej uwięziona siostra wzywała ją wywołując u niej wizje. W odcinku scenarzyści pozwolili sobie na liczne skróty by przyśpieszyć akcję. Dick domyślił się działań Crane, a Blackfire, która ostatnio była wolna nagle znalazła się uwięziona w tajnej rządowej placówce. Więzienie kosmitów tylko dlatego, że mogą być niebezpieczni jako przykład działania prewencyjnego, to interesująca koncepcja ale oczywiście nie została rozwinięta. Całość jest tylko pratekstem by Starfire i Blackfire mogły zmierzyć i ostatecznie rozpocząć nowy rozdział. Czy wyjdzie z tego coś dobrego o tym przekonamy się w kolejnych odcinkach.
W "Blackfire" akcja idzie do przodu więc nie ma przestoju po stracie Hanka, ale za dużo tu skrótów i nielogicznych działań bohaterów. Wydawało się, że już wyszliśmy z etapu, kiedy nie tworzą zgranej drużyny, a wygląda na to, że wracamy do punktu wyjście, kiedy większość działa na własną rękę. Red Hoodowi udało się rozbić Tytanów, ale chyba nie było to tak trudne zadanie jak mogłoby się wydawać. Rola w całych działaniach Jonathana Crane'a jeszcze namiesza w głowach naszych bohaterów i zapewne przyjdzie im się zmierzyć ze swoimi lękami, a na to na razie nie są gotowi.
Ocena: 3,5 nietoperka

---
Ciekawostki:
Po raz pierwszy Gar zostaje określony mianem Beast Boya.
Kiedy Starfire i Beast Boy opuszczają placówkę rządową wraz z Blackfire, słychać utwór "Oh Bondage Up Yours!" grupy X-Ray Spex. Ten sam utwór słychać podczas napisów końcowych.
---
Cytaty:
Conner Kent: It was our job to save him.
Dawn Granger: It was our job to try.
Dick Grayson: I shouldn't have been afraid of the wolf. The wolf should have been afraid of me.
---