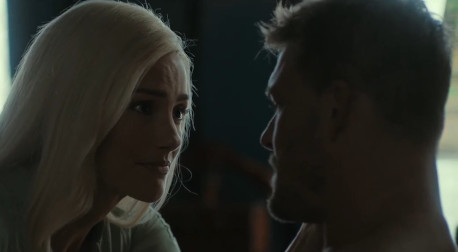 Tytuł odcinka: "Hank & Dove"
Pierwsza data emisji: 12 sierpnia 2021
Reżyseria: Millicent Shelton
Scenariusz: Jamie Gorenberg
Po odkopaniu pustego grobu Tytani mają pewności, że ich stary przyjaciel żyje i że stoi za najnowszym zagrożeniem miasta. Następnie, gdy Tytan wpada w pułapkę Red Hooda, zespół ściga się z czasem, aby uratować jednego z nich.
W rolach głównych:
Brenton Thwaites – Dick Grayson/Nightwing
Mame-Anna Diop – Koriand'r/Kory Anderse
Ryan Potter as Gar Logan
Curran Walters as Jason Todd/Red Hood
Joshua Orpin as Conner
Savannah Welch as Commissioner Barbara Gordon
Alan Ritchson as Hank Hall
Minka Kelly as Dawn Granger/Dove
Gościnnie występują:
Vincent Kartheiser – dr Jonathan Crane
Karen Robinson – Vee
W pozostałych rolach:
Carson Durvan – Ezekiel
Thomas Lorber – Cyrus Beake
Jason Gosbee – Gotham Armored Guard #1
---
Tytani szybko się przekonują, że z Red Hoodem się nie pogrywa. Jason zapewne nie działa sam, ale cały czas jest kilka ruchów do przodu, a nasi bohaterowie nie wyciągają wniosków za co spotykają ich poważne konsekwencje.
Po tym jak wcielający się w Hanka, Alan Ritchson został obsadzony w tytułowej roli w serialu "Reacher", było do przewidzenia, że jego udział w "Tytanach" zostanie ograniczony. Jak się okazuje przyszło nam na dobre pożegnać postać Hawka, która swoim zachowaniem stanowił dobre urozmaicenie w szeregach Tytanów. Nie owijał w bawełnę i nie był typem bohatera bez skazy. Miał swoje problemy, więc będzie go brakować.
Odcinek dostarcza dużo emocji i autentycznie czuć, że bohaterowie ścigają się z czasem i równocześnie widzimy jak Hank jest pogodzony ze swoim losem. O ile plan Red Hooda działa bez zastrzeżeń, to już działania bohaterów są gorzej skoordynowane. Wiedząc, że mają do czynienia z psychopatą, najpierw Hank a później Dawn dają mu się oszukać. W obu przypadkach konsekwencje są poważne.
Brakuje współpracy bohaterów, to co wydawało się, że udało im się osiągnąć w San Francisco, teraz szwankuje. Gdyby drużyna cały czas działała razem i nie pozwalała sobie na samowolkę wszystko mogłoby się potoczyć inaczej. Takie zabiegi sprawiają, że otrzymaliśmy kolejny mocny i emocjonujący odcinek, który pokazuje, że wprowadzenie Red Hooda było strzałem w 10. Pozostaje tylko pytanie, kto pociąga za sznurki, bo aż w taką przemianę i przenikliwość Jasona chyba nie wierzymy. Najpierw Bruce został oszukany, a teraz Tytani dali się podejść. Jak się okazało znajomość przeciwnika wcale nie ułatwia im zadania. Nie mierzą się z Jasonem, ale z Red Hoodem, któremu nie można ufać i który jest gotów na wszystko.
Ocena: 4.5 nietoperka

---
Ciekawostki:
Kiedy Hank jeździ po Gotham taksówką, czekając, aż Jason do niego oddzwoni, słychać utwór "Sloop John B" The Beach Boys. Ten sam utwór nuci Hank, kiedy kończy się odliczanie w bombie umieszczonej w jego ciele.
---
Cytaty:
Dove: What happened to you?
Jason Todd: Same thing that happens to everybody. I grew up.
Conner Kent: If Jason is alive and killing innocent people, we have to stop him. That's what Titans do.
---