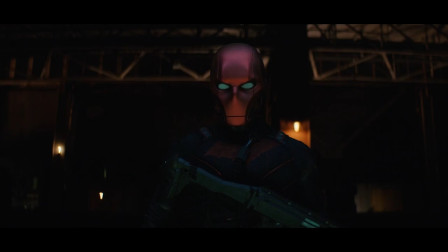 Tytuł odcinka: "Red Hood"
Pierwsza data emisji: 12 sierpnia 2021
Reżyseria: Carol Banker
Scenariusz: Tom Pabst
Gdy Joker zostaje wyeliminowany, tajemniczy Red Hood przejmuje władzę. Ale po sprowadzeniu Tytanów z powrotem do Gotham City, Dick musi stawić czoła nowemu złoczyńcy i jego szokującej prawdziwej tożsamości.
W rolach głównych:
Brenton Thwaites – Dick Grayson/Nightwing
Mame-Anna Diop – Koriand'r/Kory Anders/Starfire
Ryan Potter – Gar Logan
Curran Walters – Jason Todd/Red Hood
Joshua Orpin – Conner/Superboy
Savannah Welch – komisarz Barbara Gordon
Minka Kelly – Dawn Granger/Dove
Alan Ritchson – Hank Hall/Hawk
Gościnnie występują:
Vincent Kartheiser – dr Jonathan Crane
Wendy Crewson – Valeska
McKinley Freeman – dr Justin Cole
Karen Robinson – Vee
W pozostałych rolach:
Michael Dufays – Spiderweb Face
Afton Rentz – Goldcaps
Ilan Rosenberg – Scarface
Rose Napoli – Trina Holmes
Mal Dassin – Telly Rupp
Al McFoster – Rafelson Roberts
Anthony J. Mifsud – Santiago Perez
Miranda Calderson – Ann
Danny Smith – Tod
Olivia Barrett – reporter
Ted Ludzik – strażnik w więzieniu
Naomi Wright – kasjerka w banku
---
"Tytani" po dobrym otwarciu trzymają poziom. Na scenie pojawia się nowy gracz, Red Hood i od razu bez ogródek mamy pokazane, że jego metody są skuteczne. Aż ciężko uwierzyć, że pod maską złoczyńcy kryje się Jason Todd, dlatego, że ten rozgrywa mistrzowską partię szachów, a Tytani z Dickiem na czele robią dokładnie to czego się spodziewa.
Odcinek ujawnia tożsamość Red Hooda, nie będzie więc zbędnego przeciągania tej sprawy. Teraz kiedy bohaterowie wiedzą z kim się mierzą będzie im jeszcze trudniej, a jak widać Red Hood nie ma nic przeciwko zabijaniu, czy to zbirów czy niewinnych osób. Zapowiada się naprawdę solidny przeciwnik, który może w bezpośrednim starciu z bohaterami jest słabszy i nie tak dobry w obsłudze różnych gadgetów, ale jego bezwzględność i dokładny plan sprawia, że nikt nie ma przewagi.
W odcinku debiutuje też postać Jonathana Crane'a, który niczym Hannibal Lecter zza krat doradza policji. Nie jest to coś odkrywczego, ale sprawdza się i daje nam nowy wgląd w Stracha na Wróble. Teraz z jego wiedzy i będzie czerpał Dick Grayson, a przy starciu z Red Hoodem potrzebna mu będzie każda pomoc. Na razie udział Crane'a był dość epizodyczny, ale wiadomo, że zagości na dłużej i raczej wątpię by nie miał jakiegoś ukrytego planu.
Drugi odcinek 3. sezonu jeszcze bardziej pokazuje nam brutalny obraz Gotham City, to nie słoneczny Waszyngton, tutaj nasi bohaterowie będą mieć poważne problemy. Nie brakuje im też osobistych rozterek, czy dotyczących Hanka i Dawn, czy Kory, która traci kontrolę nad mocami. Sprawy Tytanów stanowią jednak cały czas drugi plan, dzięki temu odcinek utrzymuje dobre równe tempo i nic go z niego nie wybija.
Początek nowego sezonu pokazuje, że przeniesienie akcji do Gotham City, to nie tylko zmiana scenerii ale nowa energia, która wpływa na bohaterów. Red Hood w roli przeciwnika, z którym Tytani jeszcze niedawno wspólnie mieszkali, jest zaś godnym przeciwnikiem i teraz pozostaje czekać, aż twórcy ujawnią co też skłoniło Jasona do takich działań i jak to wszystko zaplanował, bo wygląda, że nauki u boku Batmana nie poszły na marne.
Ocena: 4.5 nietoperka

---
Ciekawostki:
Rozmawiając z Justinem Cole'em, Kory wspomina, o śmierci w rodzinie. Jest to wyraźne nawiązanie do kultowej historii "A Death in the Family", w której śmierć poniósł Jason Todd.
W scenie spotkania Hanka z Todem słychać "Spirit In the Sky" Normana Greenbauma.
Kiedy Tytani eliminują zbirów Red Hooda, aby Nightwing mógł spotkać się ze złoczyńcą słychać utwór "Sail On!" Sharon Jones i The Dap-Kings.
W Titans Tower podczas toastu za Jasona piosenkę "It Hurts to Be Alone" w wykonaniu Sharon Jones, The Dap-Kings.
Podczas napisów końcowych słychać piosenkę "Bad Bite" zespołu '68.
---
Cytaty:
Dick Grayson: Thank you all for coming on short notice. I wish it was under better circumstance.
Kory Anders: Nobody calls us under "better circumstances".
Dick Grayson: Whatchu eating?
Hank Hall: I don't know. Gar made it, I think. Some kind of meat thing.
Dick Grayson: That's Krypto's.
---